Analysis: At bottom-ranked Cherry School District, 100 percent fail annual exams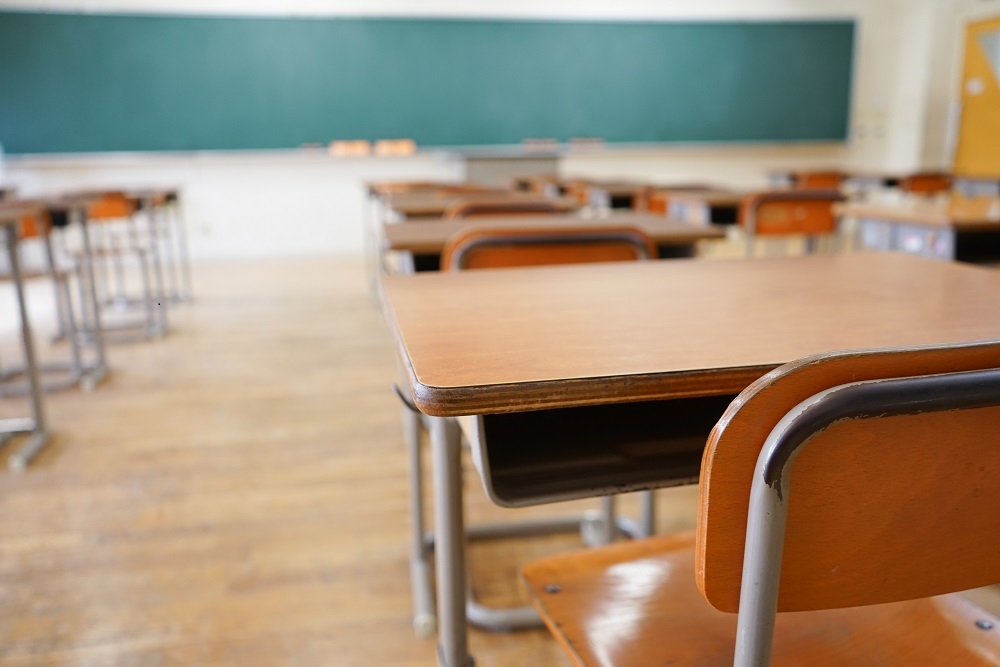 At Cherry School District 92 in Bureau County, 100 percent of students fell below standards on annual state assessments, putting it at the bottom of the state's 852 districts, according to a Prairie State Wire analysis of Illinois State Board of Education data.
Lisbon Community Consolidated School District 90 in Kendall County had the highest rate of students statewide – 83.1 percent – who passed the annual tests.
Statewide, 34 percent of students met or exceeded expectations. The remaining 66 percent did not meet, partially met or approached expectations.
The Partnership for Assessment of Readiness for College and Careers (PARCC) assesses a student's aptitude in math and English language arts for elementary to junior level of high school and is based on the Common Core State Standard principles. Illinois is one of eight states participating in PARCC as a means to measure a student's preparedness for higher education.
The scores – a composite derived from the combined results of the Math and English tests – reveal whether a student is or is not ready for the next level. Student scores either "did not meet," "partially met," "approach," "met" or "exceeded" expectations. Any student who meets or exceeds expectations is considered ready for the next level.
---
Top 100 Districts in Illinois
| | | | |
| --- | --- | --- | --- |
| District | County | Enrollment | Percent of students ready for the next level |
| Lisbon Community Consolidated School District 90 | KENDALL | 121 | 83.1 |
| Lincolnshire Prairie View School District 103 | LAKE | 1647 | 81.9 |
| Butler School District 53 | DUPAGE | 461 | 80 |
| Northbrook Elementary School District 27 | COOK | 1193 | 79.4 |
| Kenilworth School District 38 | COOK | 485 | 77.3 |
| Northbrook/Glenview School District 30 | COOK | 1128 | 76.8 |
| Deerfield School District 109 | LAKE | 3124 | 76.3 |
| Avoca School District 37 | COOK | 700 | 75.5 |
| Sunset Ridge School District 29 | COOK | 480 | 74.8 |
| Bannockburn School District 106 | LAKE | 180 | 74 |
| Western Springs School District 101 | COOK | 1501 | 73.1 |
| Damiansville School District 62 | CLINTON | 124 | 72.8 |
| Kildeer Countryside Community Consolidated School District 96 | LAKE | 3054 | 71.6 |
| Wilmette School District 39 | COOK | 3699 | 71.2 |
| Glencoe School District 35 | COOK | 1287 | 70.5 |
| Aptakisic Tripp Community Consolidated School District 102 | LAKE | 2127 | 70.5 |
| River Forest Public School District 90 | COOK | 1370 | 69.6 |
| Bartelso School District 57 | CLINTON | 156 | 69.2 |
| Hinsdale Community Consolidated School District 181 | DUPAGE | 3951 | 68.9 |
| Golf Elementary School District 67 | COOK | 575 | 68.5 |
| Lake Bluff Elementary School District 65 | LAKE | 906 | 68.5 |
| Aviston School District 21 | CLINTON | 387 | 68.3 |
| Adlai E. Stevenson High School District 125 | LAKE | 3978 | 67 |
| LaGrange Highlands School District 106 | COOK | 815 | 66.8 |
| Winnetka School District 36 | COOK | 1795 | 66.2 |
| Gower School District 62 | DUPAGE | 871 | 65.7 |
| Central School District 51 | TAZEWELL | 1135 | 65 |
| Naperville Community Unit School District 203 | DUPAGE | 16903 | 64.9 |
| Central Community High School District 71 | CLINTON | 535 | 64.6 |
| Vernon Hills Community High School District 128 | LAKE | 3404 | 64.1 |
| Libertyville School District 70 | LAKE | 2400 | 64.1 |
| Arlington Heights School District 25 | COOK | 5347 | 63.6 |
| LaGrange School District 102 | COOK | 3113 | 63.3 |
| Giant City Community Consolidated School District 130 | JACKSON | 265 | 63.2 |
| Frankfort Community Consolidated School District 157C | WILL | 2482 | 63 |
| Albers School District 63 | CLINTON | 189 | 62 |
| Germantown School District 60 | CLINTON | 269 | 61 |
| Lake Forest School District 67 | LAKE | 1945 | 61 |
| Prairie Crossing Charter School | LAKE | 391 | 60.5 |
| Schaumburg Community Consolidated School District 54 | COOK | 14552 | 60.4 |
| Pleasantdale School District 107 | COOK | 833 | 60 |
| Rondout School District 72 | LAKE | 158 | 59.8 |
| Lemont Township High School District 210 | COOK | 1411 | 59.4 |
| Prairie Hill Community Consolidated School District 133 | WINNEBAGO | 761 | 59.2 |
| Kings Consolidated School District 144 | OGLE | 99 | 59.2 |
| Community Consolidated School District 89 | DUPAGE | 2070 | 58.4 |
| St. Rose School District 14-15 | CLINTON | 149 | 58.3 |
| Park Ridge-Niles Community Consolidated School District 64 | COOK | 4300 | 58.3 |
| Fairview School District 72 | COOK | 644 | 58.3 |
| Barrington Community Unit School District 220 | LAKE | 8970 | 58.1 |
| Dunlap Community Unit School District 323 | PEORIA | 4348 | 58.1 |
| Palos Heights School District 128 | COOK | 736 | 58 |
| Indian Prairie Community Unit School District 204 | DUPAGE | 28283 | 57.9 |
| Glen Ellyn School District 41 | DUPAGE | 3539 | 57.8 |
| Bloomingdale School District 13 | DUPAGE | 1291 | 57.6 |
| Tri Valley Community Unit School District 3 | MCLEAN | 1032 | 57.6 |
| New Trier Township High School District 203 | COOK | 4206 | 57.5 |
| Steward Elementary School District 220 | LEE | 67 | 57.1 |
| Mount Prospect School District 57 | COOK | 2231 | 56.9 |
| Pecatonica Community Unit School District 321 | WINNEBAGO | 898 | 56.8 |
| Winfield School District 34 | DUPAGE | 350 | 56.8 |
| Community Unit School District 200 | DUPAGE | 13423 | 56.8 |
| South Wilmington Community Consolidated School District 74 | GRUNDY | 105 | 56.5 |
| Glenview Community Consolidated School District 34 | COOK | 4923 | 56.3 |
| Northbrook School District 28 | COOK | 1691 | 56.3 |
| Byron Community Unit School District 226 | OGLE | 1562 | 56.2 |
| Cass School District 63 | DUPAGE | 747 | 55.9 |
| Rockton School District 140 | WINNEBAGO | 1504 | 55.7 |
| Fremont School District 79 | LAKE | 2213 | 55.6 |
| Somonauk Community Unit School District 432 | DEKALB | 864 | 55.5 |
| Palos Community Consolidated School District 118 | COOK | 1926 | 55.5 |
| Dieterich Community Unit School District 30 | EFFINGHAM | 480 | 55.3 |
| Hinckley Big Rock Community Unit School District 429 | DEKALB | 692 | 55.3 |
| Monroe School District 70 | PEORIA | 316 | 55.2 |
| Riverside School District 96 | COOK | 1618 | 55.1 |
| Germantown Hills School District 69 | WOODFORD | 890 | 54.9 |
| Morton Grove School District 70 | COOK | 893 | 54.7 |
| Columbia Community Unit School District 4 | MONROE | 2061 | 54.7 |
| Shiloh Village School District 85 | ST. CLAIR | 593 | 54.6 |
| Nettle Creek Community Consolidated School District 24C | GRUNDY | 88 | 54.3 |
| North Palos School District 117 | COOK | 3301 | 54.2 |
| Waterloo Community Unit School District 5 | MONROE | 2741 | 54.2 |
| Emmons School District 33 | LAKE | 318 | 54.1 |
| Prairieview-Ogden Community Consolidated School District 197 | CHAMPAIGN | 244 | 54 |
| River Ridge Community Unit School District 210 | JODAVIESS | 536 | 53.9 |
| Smithton Community Consolidated School District 130 | ST. CLAIR | 518 | 53.8 |
| Elmhurst School District 205 | DUPAGE | 8436 | 53.6 |
| Union Ridge School District 86 | COOK | 604 | 53.5 |
| Lake Zurich Community Unit School District 95 | LAKE | 5958 | 53.4 |
| Itasca School District 10 | DUPAGE | 958 | 53.1 |
| Millburn Community Consolidated School District 24 | LAKE | 1461 | 53.1 |
| Hawthorn Community Consolidated School District 73 | LAKE | 4202 | 53 |
| Central Community Unit School District 301 | KANE | 3722 | 52.7 |
| St. Charles Community Unit School District 303 | KANE | 13464 | 52.5 |
| Morton Community Unit School District 709 | TAZEWELL | 2911 | 52.5 |
| Rutland Community Consolidated School District 230 | LASALLE | 66 | 52.5 |
| Skokie School District 73.5 | COOK | 1025 | 52.5 |
| Saratoga Community Consolidated School District 60C | GRUNDY | 785 | 52.4 |
| Geneva Community Unit School District 304 | KANE | 5874 | 52.2 |
| Prairie Grove Consolidated School District 46 | MCHENRY | 888 | 51.9 |
---
Bottom 100 Districts in Illinois
| | | | |
| --- | --- | --- | --- |
| District | County | Enrollment | Percent of students ready for the next level |
| Cherry School District 92 | BUREAU | 70 | 0 |
| Brooklyn Unit School District 188 | ST. CLAIR | 156 | 3.7 |
| Madison Community Unit School District 12 | MADISON | 792 | 5.3 |
| Cahokia Unit School District 187 | ST. CLAIR | 3512 | 5.3 |
| Cairo Unit School District 1 | ALEXANDER | 531 | 5.5 |
| East St. Louis School District 189 | ST. CLAIR | 6147 | 5.6 |
| Morton High School District 201 | COOK | 8290 | 6.4 |
| South Pekin School District 137 | TAZEWELL | 217 | 6.5 |
| General George Patton School District 133 | COOK | 307 | 6.8 |
| Dolton School District 149 | COOK | 2997 | 6.9 |
| Beardstown Community Unified School District 15 | CASS | 1439 | 6.9 |
| Kell Consolidated School District 2 | MARION | 117 | 7.1 |
| Fairmont School District 89 | WILL | 327 | 7.4 |
| Bloom Township High School District 206 | COOK | 3245 | 7.9 |
| Community Consolidated School District 168 | COOK | 1487 | 7.9 |
| Chaney Monge School District 88 | WILL | 495 | 8.3 |
| La Salle Elementary School District 122 | LASALLE | 922 | 8.3 |
| Pembroke Community Consolidated School District 259 | KANKAKEE | 285 | 8.4 |
| Rich Township High School District 227 | COOK | 3463 | 9.3 |
| Odin Public School District 722 | MARION | 305 | 9.6 |
| Lewistown Community Unit School District 97 | FULTON | 748 | 10.2 |
| Martinsville Community Unit School District 3C | CLARK | 416 | 10.4 |
| Hazel Crest School District 152.5 | COOK | 945 | 10.4 |
| Venice Community Unit School District 3 | MADISON | 121 | 10.5 |
| Ludlow Community Consolidated School District 142 | CHAMPAIGN | 95 | 10.6 |
| Patoka Community Unit School District 100 | MARION | 259 | 10.8 |
| Carbon Cliff-Barstow School District 36 | ROCK ISLAND | 232 | 10.8 |
| Cornell Community Consolidated School District 426 | LIVINGSTON | 111 | 10.8 |
| Pleasant Hill Community Unit School District 3 | PIKE | 318 | 11 |
| Learn 9 in Waukegan | LAKE | 194 | 11.1 |
| Bellwood School District 88 | COOK | 2476 | 11.2 |
| Decatur School District 61 | MACON | 9123 | 11.3 |
| Meridian Community Unit School District 101 | PULASKI | 507 | 11.4 |
| Astoria Community Unit School District 1 | FULTON | 402 | 11.4 |
| Hoover Schrum Memorial School District 157 | COOK | 939 | 11.4 |
| Villa Grove Community Unit School District 302 | DOUGLAS | 666 | 11.5 |
| Rantoul City School District 137 | CHAMPAIGN | 1635 | 11.6 |
| Cicero School District 99 | COOK | 13304 | 11.7 |
| Thornton Township High School District 205 | COOK | 4919 | 11.9 |
| Dongola Unit School District 66 | UNION | 283 | 12.3 |
| South Holland School District 151 | COOK | 1599 | 12.4 |
| Westville Community Unit School District 2 | VERMILION | 1267 | 12.4 |
| Edinburg Community Unit School District 4 | CHRISTIAN | 295 | 12.4 |
| Creve Coeur School District 76 | TAZEWELL | 669 | 12.4 |
| Tamaroa School District 5 | PERRY | 114 | 12.5 |
| New Simpson Hill School District 32 | JOHNSON | 246 | 12.5 |
| Wood River Hartford School District 15 | MADISON | 782 | 12.6 |
| Pleasant Hill School District 69 | PEORIA | 261 | 12.7 |
| Meredosia-Chambersburg Community Unit School District 11 | MORGAN | 238 | 12.7 |
| West Harvey-Dixmoor Public School District 147 | COOK | 1394 | 12.7 |
| Aurora East Unit School District 131 | KANE | 14758 | 12.8 |
| North Chicago School District 187 | LAKE | 3569 | 12.9 |
| Buncombe Consolidated School District 43 | JOHNSON | 61 | 13 |
| Limestone Community High School District 310 | PEORIA | 1125 | 13.6 |
| Dolton School District 148 | COOK | 2357 | 13.6 |
| Nauvoo-Colusa Community Unit School District 325 | HANCOCK | 277 | 13.7 |
| Calumet Public School District 132 | COOK | 1127 | 13.8 |
| East Moline School District 37 | ROCK ISLAND | 2709 | 13.9 |
| V.I.T. Community Unit School District 2 | FULTON | 377 | 13.9 |
| South Fork School District 14 | CHRISTIAN | 350 | 14.1 |
| Posen Robbins Elementary School District 143.5 | COOK | 1726 | 14.3 |
| Steger School District 194 | COOK | 1445 | 14.4 |
| Granite City Community Unit School District 9 | MADISON | 6580 | 14.5 |
| Homewood Flossmoor Community High School District 233 | COOK | 2811 | 14.5 |
| Horizon Science Academy-Belmont | COOK | 292 | 14.5 |
| Prairie Du Rocher Community Consolidated School District 134 | RANDOLPH | 167 | 14.6 |
| Christopher Unit School District 99 | FRANKLIN | 810 | 14.6 |
| Central City School District 133 | MARION | 321 | 14.6 |
| Waukegan Community Unit School District 60 | LAKE | 16819 | 14.8 |
| Paw Paw Community Unit School District 271 | LEE | 231 | 14.9 |
| Ohio Community High School District 505 | BUREAU | 34 | 15 |
| East Peoria Community High School District 309 | TAZEWELL | 1160 | 15 |
| Harvey School District 152 | COOK | 2166 | 15 |
| Calumet City School District 155 | COOK | 1196 | 15.1 |
| Rock Island Milan School District 41 | ROCK ISLAND | 6463 | 15.2 |
| Eldorado Community Unit School District 4 | SALINE | 1226 | 15.6 |
| Georgetown Ridge Farm Community Unit School District 4 | VERMILION | 1065 | 15.6 |
| Leland Community Unit School District 1 | LASALLE | 292 | 15.6 |
| Harvard Community Unit School District 50 | MCHENRY | 2440 | 15.7 |
| Freeport School District 145 | STEPHENSON | 4189 | 15.7 |
| Danville Community Consolidated School District 118 | VERMILION | 6208 | 15.8 |
| Zion Elementary School District 6 | LAKE | 2832 | 15.9 |
| Marengo Community High School District 154 | MCHENRY | 745 | 16 |
| Joliet Township High School District 204 | WILL | 6427 | 16.1 |
| Carbondale Elementary School District 95 | JACKSON | 1411 | 16.1 |
| Maywood Melrose Park Broadview School District 89 | COOK | 5157 | 16.2 |
| Prairie Hills Elementary School District 144 | COOK | 2704 | 16.2 |
| Kankakee School District 111 | KANKAKEE | 5292 | 16.3 |
| Century Community Unit School District 100 | PULASKI | 400 | 16.3 |
| Peoria School District 150 | PEORIA | 14042 | 16.4 |
| Cypress Elementary School District 64 | JOHNSON | 132 | 16.5 |
| New Holland-Middletown Elementary School District 88 | LOGAN | 110 | 16.5 |
| Shawnee Community Unit School District 84 | UNION | 395 | 16.5 |
| Depue Unit School District 103 | BUREAU | 441 | 16.7 |
| North Greene Community Unit School District 3 | GREENE | 968 | 16.7 |
| Sandoval Community Unit School District 501 | MARION | 485 | 16.7 |
| North Wamac School District 186 | CLINTON | 139 | 16.8 |
| Zion-Benton Township High School District 126 | LAKE | 2812 | 16.9 |
| Deland-Weldon Community Unit School District 57 | PIATT | 223 | 16.9 |
| Silvis School District 34 | ROCK ISLAND | 630 | 16.9 |
Source: Illinois State Board of Education
More News