Downstate Democrats are basically stabbing their own districts' teachers and schoolchildren in the back by supporting Senate Bill 1's provisions tailored to Chicago Public Schools (CPS), the Illinois Republican Party said in a press release.
"On every policy issue, the Madigan plan has always been more for Chicago, less for the rest of Illinois," Illinois GOP spokesperson Aaron DeGroot said in the statement. "So it's no surprise that downstate and suburban Democrats like Carol Ammons support less money for their own school districts because they're taking orders from Madigan. It's time for Democrats to stop the Chicago bailout and support a school funding plan that's fair for all Illinois schoolchildren."
Carol Ammons is the Democratic state representative from Urbana.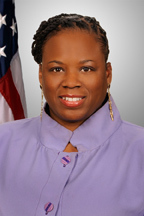 Rep. Carol Ammons (D-Urbana)
The Illinois GOP pointed to an article from the News-Gazette's Jim Dey, who asked Ammons whether she would support the bill's original form even if Gov. Bruce Rauner's amendatory veto would lead to more money for school districts in Urbana-Champaign.
According to the GOP, Ammons' chief of staff responded that she would like Rauner to pass the measure in its original form, which includes the CPS benefits.