Two new ads push Rauner school plan as what 'our kids deserve'
Two ads pushing for Gov. Bruce Rauner's school funding plan have been added to the ammunition against approving a plan that provides extra benefits to Chicago Public Schools (CPS) to the detriment of all other public schools, Citizens for Rauner said in a press release announcing the ads.
"Illinois' education system is broken," the first ad, titled "More for Our Kids," says. "Just more insider deals and special interests giveaways. Bruce Rauner's plan is based on bipartisan reforms. The Rauner plan gives 98 percent of Illinois' schools more money for our kids, focusing on districts that need the most help. More funding, more fairness, more for our kids. But now, Speaker [Michael] Madigan wants more money for his political buddies and less for our kids. Our kids deserve better."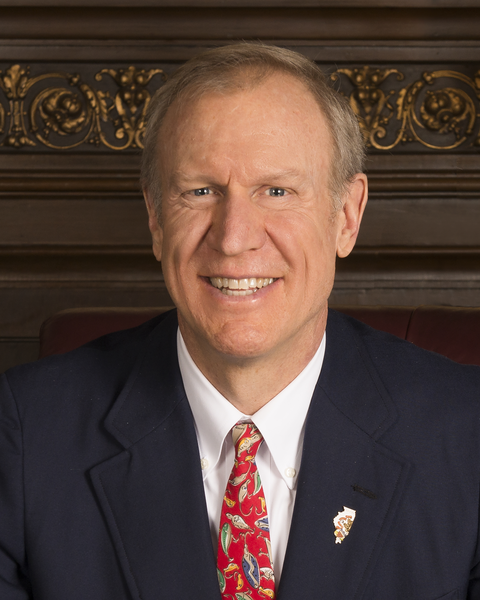 Gov. Bruce Rauner
Rauner's amendatory veto Senate Bill 1 removed a block grant that CPS has traditionally received from the district's base minimum funding and CPS pension considerations. An Illinois State Board of Elections analysis found that the change amount to a $463 million reduction in funding for CPS, the Chicago Sun Times reported, but Rauner's office said the figure drops to $242 million with the $221 million CPS pension pickup. The money taken from CPS would be redistributed to other school districts, with the vast majority receiving more money under Rauner's plan.
The Sun Times said Rauner's changes go beyond removing those special considerations for CPS, and Democrats have argued that the changes could mean some districts receive less money in a few years. According to Rauner, he changed the bill's hold harmless provision, which dictates the base funding that a school must receive. In the original legislation, this is determined on a district basis. The veto maintains the per-district hold harmless through the 2020-2021 school year, then switches to a per-pupil hold harmless, which stands to reduce funding for schools with declining enrollment.
Rauner also stipulated that districts with property tax extension law limits and tax increment financing districts in place will have to account for the full value of properties when determining how much the district can raise. His plan removes the original bill's minimum funding requirement, the calculation of which triggered an artificial inflation of minimum funding, according to Rauner.
Rauner explained his amendments as efforts to ensure that resources make it to children in poor and disadvantaged districts throughout the state. He also argued that his plan is a fair and equitable distribution of state funds -- a point echoed in the new ads from Citizens for Rauner.
"It's basic math," the second ad, titled "Basic Math," says. "Bruce Rauner's education plan gives more money for our kids. Under Rauner's plan, 98 percent of schools receive more funds for the classroom. But now Speaker Madigan wants more money for his political buddies and less for our kids. He wants to bailout Chicago Public Schools with your tax dollars. That's wrong. Tell Speaker Madigan we've had enough. Support Gov. Rauner's plan and put our kids first. More money, more equity, more for our kids."
Want to get notified whenever we write about
Illinois Governor Bruce Rauner
?
Next time we write about Illinois Governor Bruce Rauner, we'll email you a link to the story. You may edit your settings or unsubscribe at any time.
Sign-up for Alerts
Organizations in this Story
Illinois Governor Bruce Rauner
More News