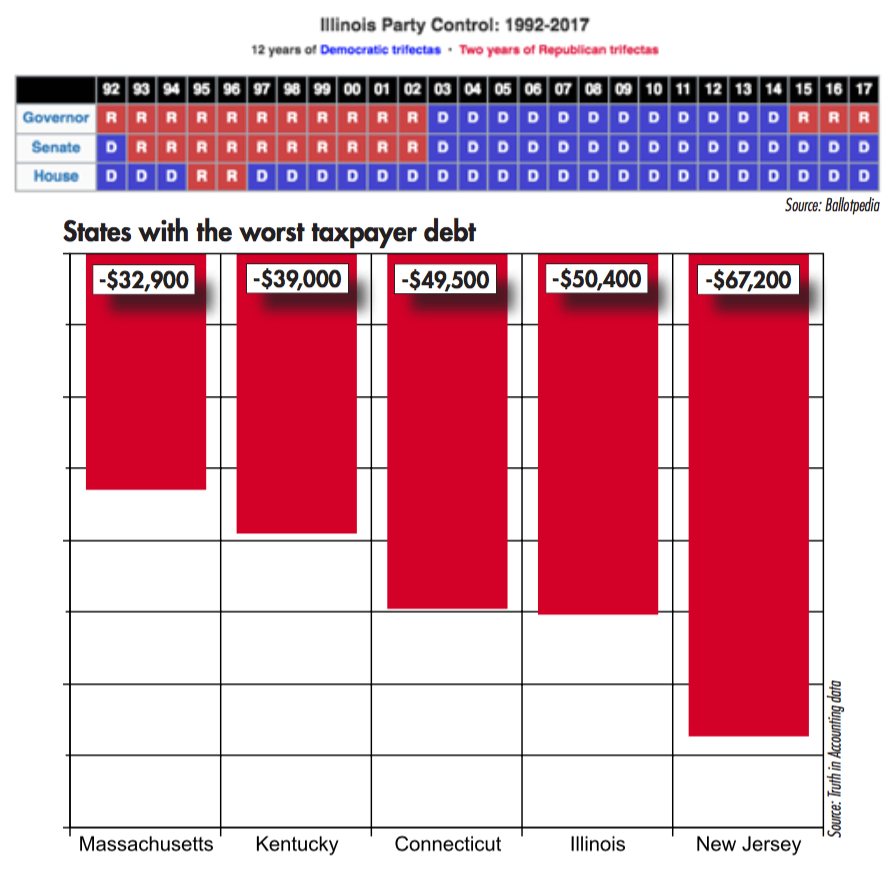 A Truth in Accounting survey has found that Illinois now ranks 49th in the country for its taxpayer burden.
The ranking comes after several years of single party control by the Illinois Democratic Party whose members have maintained majorities in both houses of the General Assembly since 2003 and held the governor's office from 2003 to 2014. Despite the election of Republican Gov. Bruce Rauner, who took office as the state's chief executive in 2015, the General Assembly this year rallied the two-thirds support needed to override a veto by Rauner to permanently increase the personal income tax by 32 percent.

Bill Bergman
Researchers from Truth in Accounting have now concluded that the average Illinois taxpayer owes $50,400, based on 2016 government financial records and the fact that the cash-strapped state, with just $25.5 billion in assets, has nowhere near the resources available to cover its total liabilities of $235.9 billion.
In slapping the state with an overall "F" grade, researchers also noted that nearly half of the state's $210.4 billion in debt is owed to pension liabilities, which grew by more than $8 billion in 2016 to $116.8 billion.
"Perhaps the most meaningful first step would be acknowledging the depth of the problem and not necessarily just blaming the system for why we got here," Bill Bergman, the group's director of research, told Prairie State Wire. "We all need to take a more active interest in our finances."
Bergman also said the findings might suggest it's time for a change.
"In Illinois, blame can be assigned to Republicans as well as Democrats," he said. "But as a general rule, looking across the 50 states, it is a fact that Republican-leaning states tend to be in better shape financially."
As much of a strain as the debt is putting on citizens, Bergman said some of the biggest victims could prove to be those who have no idea what is happening.
"Some of the least-well-organized citizens are the unborn, and we have saddled them with financial problems they weren't responsible for," he said. "Some states are more infected than others on this score, and Illinois has a particularly bad infection."
Given that, Bergman said it's no wonder many Illinoisan have come to see abandoning the state as their only way out.
"Illinois citizens are regularly told by politicians that their government(s), including Chicago as well as Illinois, abide by legal 'balanced budget' requirements," he said. "But the accounting for those budgets fails to fully account for the cost of the government distributing unfunded retirement benefit promises to government employees. After decades of 'balanced budgets,' Chicago and Illinois have accumulated hundreds of billions of dollars of unfunded obligations and one of the worst financial positions among the 50 states."