Powerful legal society files suit against publicly-funded abortion law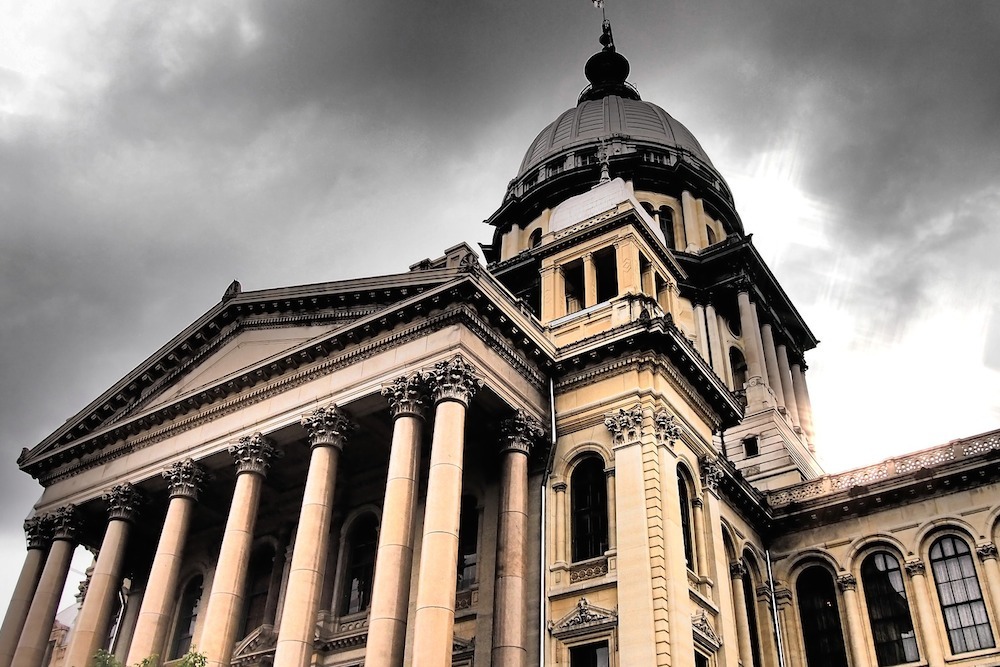 A powerful national group of anti-abortion attorneys has filed a lawsuit on behalf of hundreds of thousands of Illinois taxpayers against House Bill 40, legislation that provides public funds for elective abortions that Republican Gov. Bruce Rauner signed into law in late September.
Rep. Peter Breen (R-Lombard), who is special counsel for the Chicago-based Thomas More Society, which filed the suit, told Prairie State Wire that the court challenge unites fiscal and moral conservatives across Illinois.
Illinois Gov. Bruce Rauner
"There is no litmus test for abortion within the Republican Party," Breen said. "At the same time, there is broad consensus that we don't want taxpayer money that we don't have going to fund abortions."
The Thomas More Society filed the lawsuit in Sangamon County Circuit Court, an action that Breen said is challenging only the misuse of state funds. "I have a strong moral objection to the law," Breen said, "but the case is based on the use of public funds."
The complaint challenges the law on two levels: the General Assembly has not set aside funds to pay for the abortions and no money exists within the budget to fund the abortions and comply with the constitutional mandate of a balanced budget; and the legislation can't become law until June 1, 2018, not Jan. 1, 2018, as proposed, because it wasn't released by the Senate until Sept. 25. The Illinois Constitution imposes a May 31 cut-off date for General Assembly action for bills to go into effect on a faster track.
Those who signed onto the lawsuit include House and Senate members and anti-abortion and pro-family groups from around the state. Many of them reacted bitterly when Rauner signed the bill into law because he had earlier vowed to veto HB40 as a misuse of public money. His reversal has led to a challenge from conservative state Rep. Jeanne Ives (R-Wheaton) in the March primary.
The law provides no cap for the number of abortions that could be funded by state dollars through Medicaid. But the Thomas More Society estimates that the law will require Illinoisans to pay for 20,000 to 30,000 abortions per year. Based on figures from the Department of Healthcare and Family Services, the spending could range from $15 million to $30 million a year based on a cost of $1,000 per abortion.
Those signing onto the lawsuit include Reps. Barbara Wheeler (R-Crystal Lake), Mark Batinick (R-Plainfield), Steve Reick (R-Woodstock) and Keith Wheeler (R-Oswego) and Sens. Dale Fowler (R_Harrisburg), Kyle McCarter (R-Lebanon), Dan McConchie (R-Hawthorn Woods) and Paul Schimpf (R-Waterloo).
Anti-abortion groups listed on the complaint include Pro-Life Action League, Springfield Right to Life, Clinton County Citizens For Life, Henry County Right to Life, Knox County Right to Life, Lake County Right to Life Committee, Morgan County Right to Life, Pro-Life Action League, llinois Right to Life Action and Illinois Federation for Right to Life.
The Diocese of Springfield has also signed onto the complaint.
Want to get notified whenever we write about any of these organizations ?
Next time we write about any of these organizations, we'll email you a link to the story. You may edit your settings or unsubscribe at any time.
Sign-up for Alerts
Organizations in this Story
Illinois Representative Peter Breen (R-48th) • Thomas More Society
More News