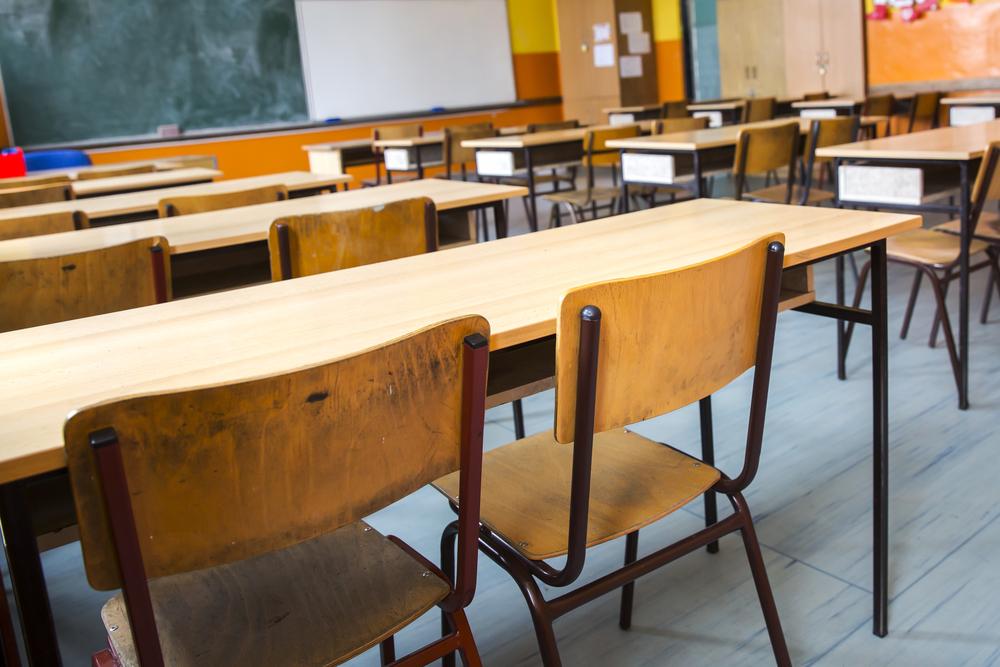 Grade-school districts in Cook and St. Clair counties had the lowest reading aptitude scores in Illinois, according to the Illinois State Board of Education.
As part of the annual Partnership For Assessment of Readiness for College and Careers ("PARCC") examination, Illinois public school students in grades three through eight are asked to read and analyze passages of fiction and nonfiction and write about them.
The students pass if their scores either meet or exceed expectations, indicating they're "ready for the next level" of school.
Where did your school district rank?
100 Illinois districts with lowest reading scores
| | | | | |
| --- | --- | --- | --- | --- |
| Rank | District | City | County | Passing Rate |
| 1 | Amandla Charter School | Chicago | Cook | 2.10% |
| 2 | Cahokia Unit School District 187 | Cahokia | St. Clair | 4.50% |
| 3 | Brooklyn Unit School District 188 | Belleville | St. Clair | 5.90% |
| 4 | Chicago Lighthouse Charter School | Chicago | Cook | 6.50% |
| 5 | Beardstown Community Unified School District 15 | Beardstown | Cass | 8.00% |
| 6 | Fairmont School District 89 | Lockport | Will | 8.10% |
| 7 | Cairo Unit School District 1 | Cairo | Alexander | 8.20% |
| 8 | Madison Community Unit School District 12 | Madison | Madison | 8.40% |
| 9 | Venice Community Unit School District 3 | Venice | Madison | 9.10% |
| 10 | General George Patton School District 133 | Riverdale | Cook | 9.20% |
| 11 | Community Consolidated School District 168 | Sauk Village | Cook | 9.30% |
| 12 | La Salle Elementary School District 122 | La Salle | Lasalle | 9.70% |
| 13 | Hoover Schrum Memorial School District 157 | Calumet City | Cook | 9.80% |
| 14 | Learn 9 In Waukegan | Waukegan | Lake | 9.80% |
| 15 | South Holland School District 151 | South Holland | Cook | 9.90% |
| 16 | Carbon Cliff-Barstow School District 36 | Silvis | Rock Island | 10.10% |
| 17 | Cypress Elementary School District 64 | Cypress | Johnson | 10.40% |
| 18 | New Simpson Hill School District 32 | Tunnel Hill | Johnson | 10.40% |
| 19 | Westville Community Unit School District 2 | Westville | Vermilion | 10.90% |
| 20 | Dongola Unit School District 66 | Dongola | Union | 11.40% |
| 21 | Chaney Monge School District 88 | Crest Hill | Will | 11.70% |
| 22 | Dolton School District 149 | Calumet City | Cook | 11.70% |
| 23 | Pleasant Hill Community Unit School District 3 | Pleasant Hill | Pike | 12% |
| 24 | Creve Coeur School District 76 | Creve Coeur | Tazewell | 12.20% |
| 25 | Meridian Community Unit School District 101 | Mounds | Pulaski | 12.30% |
| 26 | Leland Community Unit School District 1 | Leland | Lasalle | 12.60% |
| 27 | Rantoul City School District 137 | Rantoul | Champaign | 12.90% |
| 28 | Bellwood School District 88 | Bellwood | Cook | 13.40% |
| 29 | Harvard Community Unit School District 50 | Harvard | Mchenry | 13.50% |
| 30 | Shawnee Community Unit School District 84 | Wolf Lake | Union | 13.70% |
| 31 | Meredosia-Chambersburg Community Unit School District 11 | Meredosia | Morgan | 13.80% |
| 32 | Odin Public School District 722 | Odin | Marion | 14.20% |
| 33 | Silvis School District 34 | Silvis | Rock Island | 14.20% |
| 34 | Decatur School District 61 | Decatur | Macon | 14.30% |
| 35 | Mount Vernon School District 80 | Mt. Vernon | Jefferson | 14.70% |
| 36 | North Chicago School District 187 | North Chicago | Lake | 14.70% |
| 37 | Lewistown Community Unit School District 97 | Lewistown | Fulton | 15.00% |
| 38 | West Harvey-Dixmoor Public School District 147 | Harvey | Cook | 15% |
| 39 | Pleasant Hill School District 69 | Peoria | Peoria | 15% |
| 40 | Hazel Crest School District 152.5 | Hazel Crest | Cook | 15.50% |
| 41 | Buncombe Consolidated School District 43 | Buncombe | Johnson | 15.80% |
| 42 | Egyptian Community Unit School District 5 | Tamms | Alexander | 15.80% |
| 43 | Zion Elementary School District 6 | Zion | Lake | 15.90% |
| 44 | Riverview Community Consolidated School District 2 | East Peoria | Woodford | 16% |
| 45 | Danville Community Consolidated School District 118 | Danville | Vermilion | 16% |
| 46 | Kansas Community Unit School District 3 | Kansas | Edgar | 16.10% |
| 47 | Waukegan Community Unit School District 60 | Waukegan | Lake | 16.30% |
| 48 | East Moline School District 37 | East Moline | Rock Island | 16.40% |
| 49 | Rock Island Milan School District 41 | Rock Island | Rock Island | 16.70% |
| 50 | Carbondale Elementary School District 95 | Carbondale | Jackson | 17% |
| 51 | Carrier Mills Stonefort Community Unit School District 2 | Carrier Mills | Saline | 17% |
| 52 | North Wamac School District 186 | Centralia | Clinton | 17.10% |
| 53 | Granite City Community Unit School District 9 | Granite City | Madison | 17.30% |
| 54 | Greenview Community Unit School District 200 | Springfield | Menard | 17.30% |
| 55 | Shiloh Community Unit School District 1 | Hume | Edgar | 17.40% |
| 56 | North Clay Community Unit School District 25 | Louisville | Clay | 17.40% |
| 57 | Georgetown Ridge Farm Community Unit School District 4 | Georgetown | Vermilion | 17.50% |
| 58 | Harvey School District 152 | Harvey | Cook | 17.60% |
| 59 | Maywood Melrose Park Broadview School District 89 | Melrose Park | Cook | 17.70% |
| 60 | Cicero School District 99 | Cicero | Cook | 17.80% |
| 61 | Rossville Alvin Community Unit School District 7 | Rossville | Vermilion | 17.90% |
| 62 | Round Lake Community Unit School District 116 | Round Lake | Lake | 17.90% |
| 63 | Ludlow Community Consolidated School District 142 | Ludlow | Champaign | 17.90% |
| 64 | Posen Robbins Elementary School District 143.5 | Posen | Cook | 18% |
| 65 | Astoria Community Unit School District 1 | Astoria | Fulton | 18.10% |
| 66 | Calumet City School District 155 | Calumet City | Cook | 18.10% |
| 67 | Dolton School District 148 | Riverdale | Cook | 18.20% |
| 68 | Murphysboro Community Unit School District 186 | Murphysboro | Jackson | 18.30% |
| 69 | Paw Paw Community Unit School District 271 | Paw Paw | Lee | 18.40% |
| 70 | La Moille Community Unit School District 303 | La Moille | Bureau | 18.50% |
| 71 | Peoria School District 150 | Peoria | Peoria | 18.60% |
| 72 | West Chicago Elementary School District 33 | West Chicago | Dupage | 18.70% |
| 73 | Depue Unit School District 103 | DePue | Bureau | 18.90% |
| 74 | Tamaroa School District 5 | Tamaroa | Perry | 19% |
| 75 | Christopher Unit School District 99 | Christopher | Franklin | 19.10% |
| 76 | Johnston City Community Unit School District 1 | Johnston City | Williamson | 19.10% |
| 77 | Freeport School District 145 | Freeport | Stephenson | 19.20% |
| 78 | Edinburg Community Unit School District 4 | Edinburg | Christian | 19.20% |
| 79 | Sandridge School District 172 | Lynwood | Cook | 19.20% |
| 80 | Ford Heights School District 169 | Ford Heights | Cook | 19.30% |
| 81 | Rockford Public School District 205 | Rockford | Winnebago | 19.30% |
| 82 | Beach Park Community Consolidated School District 3 | Beach Park | Lake | 19.30% |
| 83 | Thompsonville Community Unit School District 174 | Thompsonville | Franklin | 19.60% |
| 84 | Betty Shabazz International Charter School | Chicago | Cook | 19.60% |
| 85 | Pleasant Valley School District 62 | Peoria | Peoria | 19.70% |
| 86 | Chicago Heights School District 170 | Chicago Heights | Cook | 19.70% |
| 87 | Hiawatha Community Unit School District 426 | Kirkland | Dekalb | 20.10% |
| 88 | Momence Community Unit School District 1 | Momence | Kankakee | 20.10% |
| 89 | Woodland Community Consolidated School District 50 | Gurnee | Livingston | 20.20% |
| 90 | Century Community Unit School District 100 | Ullin | Pulaski | 20.30% |
| 91 | Steger School District 194 | Steger | Cook | 20.50% |
| 92 | Burr Ridge Community Consolidated School District 180 | Burr Ridge | Dupage | 20.60% |
| 93 | Meridian Community Unit School District 15 | Macon | Macon | 20.70% |
| 94 | Kankakee School District 111 | Kankakee | Kankakee | 20.70% |
| 95 | Scott Morgan Community Unit School District 2 | Bluffs | Scott | 20.80% |
| 96 | Patoka Community Unit School District 100 | Patoka | Marion | 21.10% |
| 97 | Martinsville Community Unit School District 3c | Martinsville | Clark | 21.10% |
| 98 | Calumet Public School District 132 | Calumet Park | Cook | 21.40% |
| 99 | Spring Garden Community Consolidated School District 178 | Mount Vernon | Jefferson | 21.40% |
| 100 | Midlothian School District 143 | Midlothian | Cook | 21.60% |