McCann names ways he differs from Rauner amid third-party gubernatorial bid
State Sen. Sam McCann's third-party run for governor is all about starting a "paradigm shift" he argues is desperately needed to get Illinois back on course.
"The Republican Party has lost its way and is unrecognizable to most of us," McCann (R-Plainview) said during a recent early morning appearance on AM 560 "The Answer" radio show. "I think conservatives should have a voice, and it seems to me of the two options they have now neither one provides an adequate voice."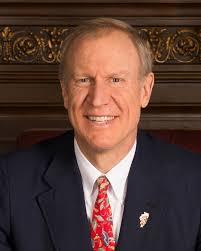 McCann particularly takes exception with Gov. Bruce Rauner and the job he's done over his first term.
"Where do you start, from the transgender bill to taxpayer-funded abortions to the war on working people? We're talking about a guy with an R after his name," he said of all the ways he thinks Rauner has turned his back on conservatives.
While acknowledging that his candidacy will be a third-party effort, he stressed that it will be about putting forth the same conservative principles he's always stood for.
"I'm still an elected leader of the 50th District until January 2019," he said.
McCann said what distinguishes him from Rauner is the fact that he can identify with voters in ways the governor will never be able to.
"I have walked in the footsteps of average Illinoisans he has not," he said. "I'm one of those first-generation business people. I came from a broken home. I started a little construction company because there were no jobs in the community which I lived. Over 25 years, I turned it into something. Gov. Rauner has no clue; he doesn't really care. He just wants your vote to attain more power."
McCann and Rauner's feud dates back to 2016 when Rauner backed a challenger to McCann's seat and contributed upwards of $4 million to the campaign of Bryce Benton. It came about after McCann publicly came down on the side of state workers during a standoff with the governor over how state union workers' contracts are structured.
"I think doing the right thing shows," McCann told "The Answer." "I did the right thing for my district. I am for working people, union or nonunion, period. If it takes a working person forward, brings them up the ladder, I'm for it."
The Prairie State Wire broke the news of McCann's planned run when several sources confirmed he was on the verge of formally announcing his candidacy. To make it official, he will need to collect at least 25,000 signatures. His running mate is Aaron Merreighn.
J.B. Pritzker is also on November's ballot for governor as the Democratic candidate.
Want to get notified whenever we write about
Illinois State Senate
?
Next time we write about Illinois State Senate, we'll email you a link to the story. You may edit your settings or unsubscribe at any time.
Sign-up for Alerts
Organizations in this Story
More News