While debating with Rep. Anthony DeLuca (D-Chicago Heights), Rep. Peter Breen (R-Lombard) said that lawmakers certainly don't want to hide pension liabilities under any circumstances.
"I am a little confused, seeing you are running a bill that the Illinois Municipal League opposes," Breen said at the April 17 House floor debate of HB4104.
The bill provides that municipal audit reports "shall be consistent with either the accrual or cash basis of accounting depending upon the system followed by each municipality and shall otherwise be in accordance with generally accepted accounting principles," according to the measure's synopsis.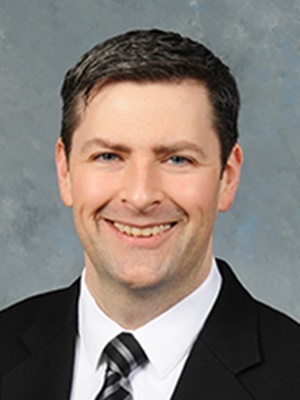 Rep. Peter Breen (R-Lombard)
DeLuca had the league's support but lost it, Breen said before asking how that happened. DeLuca, who sponsored the bill, said a 2017 unanswered letter to the attorney general's office asking its opinion on the comptroller's policy change is why he lost backing.
"There is some mention in our analysis that the Illinois Municipal League believes that the comptroller's mandate will impose a significant financial cost," Breen said.
As amended, the bill would allow municipalities that always filed on a cash basis to continue, said DeLuca, who added that any municipality in the future that moved from cash basis accounting to accrual basis would not be able to revert.
"Why did the comptroller issue this mandate when we have had both methods of accounting for so many years," Breen asked.
The current practice, in place for 31 years, according to DeLuca, called for a change in the interpretation of the law.
"How does the incurred pension liability of a municipality get treated under a cash basis instead of under an accrual basis?" Breen asked.
Unsure, DeLuca turned to his legislative assistant for an answer but was still unable to respond and asked to get back to Breen.
"We now have municipalities in Illinois who are having their tax revenues being withheld from them because of their pension liability, so if the accrual basis is the one that shows the liability and cash is being used by some units to hide it, that would make the comptroller's mandate a bit more reasonable," Breen said before asking how many municipalities continue to use a cash basis.
Again, DeLuca could not answer.
However, the sponsor assumed it would affect small municipalities that continue to use the cash basis but was sure the comptroller sent 400 borough notices out of approximately 1,000 Illinois municipalities.
Calling it "a grave concern" that 400 out of 1,000 municipalities may be using cash, Breen said he hoped for an answer soon.
Still confused on the league's opposition, Rep. Steve Andersson (R-Geneva) said DeLuca's bill would "return us to the status quo before the comptrollers change in policy."
"That is what I don't understand," Andersson said before asking DeLuca to pull the bill from the record until they could get a definitive answer to why the league opposes it.
DeLuca did not take the suggestion, and HB4104 passed unanimously.