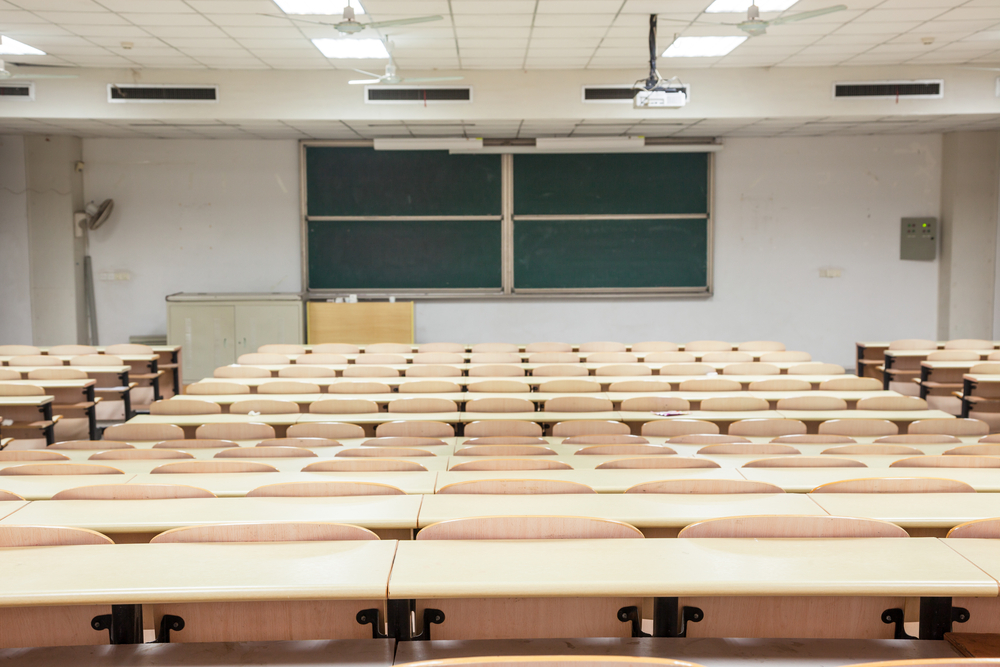 Devry University in Chicago, American Intercontinental University in Schaumburg, and College of DuPage in Glen Ellyn reported the largest share of borrowers of all higher education institutions who defaulted on school loans they started repaying in 2014, according to the latest disclosure from the U.S. Department of Education.
The analysis uses data that tracks borrowers at all schools receiving federal student aid. The 2014 cohort accounts for borrowers who entered repayment on selected federal loans in the given fiscal year and defaulted before the end of the second fiscal year.
Altogether, 208 institutions based in Illinois reported 19,560 borrowers in default.
--
Borrowers in default
| | | |
| --- | --- | --- |
| School | City | Number of Borrowers in Default for 2014 |
| Devry University | Chicago | 4,216 |
| American Intercontinental University | Schaumburg | 2,125 |
| College Of DuPage | Glen Ellyn | 540 |
| Parkland College | Champaign | 506 |
| Southwestern Illinois College | Belleville | 506 |
| Southern Illinois University At Carbondale | Carbondale | 491 |
| Illinois Institute Of Art (The) | Chicago | 479 |
| Northern Illinois University | Dekalb | 466 |
| Midwest Technical Institute | Springfield | 411 |
| Columbia College Chicago | Chicago | 318 |
| City Colleges Of Chicago - Kennedy King College | Chicago | 305 |
| Western Illinois University | Macomb | 263 |
| Depaul University | Chicago | 247 |
| Chicago State University | Chicago | 246 |
| Southern Illinois University Edwardsville | Edwardsville | 236 |
| Chamberlain College Of Nursing | Addison | 215 |
| Joliet Junior College | Joliet | 198 |
| Northwestern College | Bridgeview | 185 |
| Kishwaukee College | Malta | 184 |
| Olive-Harvey College | Chicago | 182 |
| Harold Washington College | Chicago | 180 |
| Illinois Central College | East Peoria | 180 |
| Le Cordon Bleu College Of Culinary Arts In Chicago | Chicago | 180 |
| Lincoln Land Community College | Springfield | 163 |
| Prairie State College | Chicago Heights | 155 |
| Eastern Illinois University | Charleston | 154 |
| University Of Illinois At Chicago | Chicago | 153 |
| City Colleges Of Chicago - Malcolm X College | Chicago | 145 |
| Illinois State University | Normal | 140 |
| Roosevelt University | Chicago | 140 |
| East-West University | Chicago | 138 |
| Northeastern Illinois University | Chicago | 137 |
| College Of Lake County | Grayslake | 136 |
| Coyne College | Chicago | 132 |
| Waubonsee Community College | Sugar Grove | 131 |
| Kankakee Community College | Kankakee | 129 |
| Harper College | Palatine | 127 |
| Lake Land College | Mattoon | 121 |
| Loyola University Chicago | Chicago | 120 |
| Elgin Community College | Elgin | 119 |
| City Colleges Of Chicago Harry S Truman College | Chicago | 113 |
| University Of Illinois At Urbana-Champaign | Champaign | 112 |
| Benedictine University | Lisle | 108 |
| Black Hawk College | Moline | 105 |
| Moraine Valley Community College | Palos Hills | 103 |
| John Wood Community College | Quincy | 102 |
| Rock Valley College | Rockford | 101 |
| Vatterott College | Quincy | 99 |
| Lewis And Clark Community College | Godfrey | 95 |
| Richland Community College | Decatur | 94 |
| Governors State University | University Park | 91 |
| Robert Morris University Illinois | Chicago | 90 |
| Kendall College | Chicago | 84 |
| Cortiva Institute - Chicago | Chicago | 82 |
| Lewis University | Romeoville | 82 |
| Heartland Community College | Normal | 79 |
| Concordia University | River Forest | 76 |
| National Louis University | Chicago | 76 |
| Saint Xavier University | Chicago | 74 |
| Aurora University | Aurora | 68 |
| Highland Community College | Freeport | 64 |
| Rend Lake College | Ina | 64 |
| Mchenry County College | Crystal Lake | 63 |
| Olivet Nazarene University | Bourbonnais | 61 |
| Triton College | River Grove | 57 |
| University Of Illinois At Springfield | Springfield | 57 |
| Trinity International University | Deerfield | 55 |
| Lincoln College | Lincoln | 54 |
| North Park University | Chicago | 54 |
| Wilbur Wright College | Chicago | 51 |
| School Of The Art Institute Of Chicago | Chicago | 48 |
| Illinois Media School | Lombard | 45 |
| Danville Area Community College | Danville | 44 |
| Dominican University | River Forest | 43 |
| Mckendree University | Lebanon | 43 |
| Illinois Valley Community College | Oglesby | 42 |
| Kaskaskia College | Centralia | 42 |
| Richard J Daley College-City Colleges Of Chicago | Chicago | 42 |
| Millikin University | Decatur | 41 |
| Sauk Valley Community College | Dixon | 41 |
| Taylor Business Institute | Chicago | 41 |
| North Central College | Naperville | 40 |
| Spoon River College | Canton | 40 |
| Eti School Of Skilled Trades | Willowbrook | 39 |
| Morton College | Cicero | 38 |
| Rockford University | Rockford | 38 |
| Harrington College Of Design | Chicago | 37 |
| Bradley University | Peoria | 36 |
| Carl Sandburg College | Galesburg | 36 |
| Northwestern University | Evanston | 36 |
| Quincy University | Quincy | 35 |
| Midwestern Career College | Chicago | 30 |
| Elmhurst College | Elmhurst | 29 |
| University Of Chicago (The) | Chicago | 29 |
| Illinois Institute Of Technology | Chicago | 28 |
| Macmurray College | Jacksonville | 28 |
| Soma Institute - The National School Of Clinical Massage Therapy | Chicago | 27 |
| Trinity Christian College | Palos Heights | 26 |
| University Of St. Francis | Joliet | 25 |
| Monmouth College | Monmouth | 23 |
| Paul Mitchell The School Bradley | Bourbonnais | 23 |
| Eureka College | Eureka | 22 |
| Greenville University | Greenville | 22 |
| Lake Forest College | Lake Forest | 22 |
| Maccormac College | Chicago | 22 |
| Paul Mitchell The School Chicago | Chicago | 22 |
| Larry'S Barber College | Chicago | 21 |
| Fox College | Bedford Park | 20 |
| Tricoci University Of Beauty Culture | Peoria | 19 |
| Judson University | Elgin | 18 |
| Blackburn University | Carlinville | 17 |
| Lincoln Christian University | Lincoln | 17 |
| Tricoci University Of Beauty Culture | Bridgeview | 17 |
| Augustana College | Rock Island | 16 |
| First Institute | Crystal Lake | 16 |
| Tricoci University Of Beauty Culture | Rockford | 15 |
| Douglas J Aveda Institute Chicago | Chicago | 14 |
| G Skin & Beauty Institute | Oak Brook | 14 |
| Hairmasters Institute Of Cosmetology | Bloomington | 14 |
| Oakton Community College | Des Plaines | 14 |
| Tricoci University Of Beauty Culture | Chicago | 14 |
| Gem City College | Quincy | 13 |
| Illinois Eastern Community Colleges - Lincoln Trail College | Robinson | 13 |
| Midstate College | Peoria | 13 |
| Steven Papageorge Hair Academy | Chicago | 13 |
| Illinois College | Jacksonville | 12 |
| Illinois Eastern Community Colleges - Wabash Valley College | Mount Carmel | 12 |
| National University Of Health Sciences (The) | Lombard | 12 |
| Pivot Point Academy | Bloomingdale | 12 |
| Ambria College Of Nursing | Hoffman Estates | 11 |
| Capital Area Career Center | Springfield | 11 |
| John A. Logan College | Carterville | 11 |
| Illinois Eastern Community Colleges - Olney Central College | Olney | 10 |
| Rosalind Franklin University Of Medicine And Science | North Chicago | 10 |
| Tricoci University Of Beauty Culture | Libertyville | 10 |
| Cannella School Of Hair Design | Elgin | 9 |
| Hair Professionals Academy Of Cosmetology | West Dundee | 9 |
| Tri County Beauty Academy | Litchfield | 9 |
| Illinois Eastern Community Colleges -Frontier Community College | Fairfield | 8 |
| Illinois Wesleyan University | Bloomington | 8 |
| John Amico School Of Hair Design | Oak Forest | 8 |
| Methodist College | Peoria | 8 |
| Pccti Healthcare | Oak Brook | 8 |
| Tricoci University Of Beauty Culture | Glendale Heights | 8 |
| American Academy Of Art | Chicago | 7 |
| Estelle Medical Academy | Skokie | 7 |
| La' James International College | East Moline | 7 |
| National Latino Education Institute | Chicago | 7 |
| Professionals Choice Hair Design Academy | Joliet | 7 |
| Wheaton College | Wheaton | 7 |
| Blessing Hospital | Quincy | 6 |
| Cosmetology And Spa Academy | Crystal Lake | 6 |
| Graham Hospital School Of Nursing | Canton | 6 |
| Knox College | Galesburg | 6 |
| State Career School | Waukegan | 6 |
| Tricoci University Of Beauty Culture | Danville | 6 |
| Universal Spa Training Academy | Downers Grove | 6 |
| University Of Spa & Cosmetology Arts | Springfield | 6 |
| Adler University | Chicago | 5 |
| Calc, Institute Of Technology | Alton | 5 |
| Capri Oak Forest Beauty College | Oak Forest | 5 |
| Educators Of Beauty College Of Cosmetology | Sterling | 5 |
| Garrett - Evangelical Theological Seminary | Evanston | 5 |
| Midwestern University | Downers Grove | 5 |
| Morrison Institute Of Technology | Morrison | 5 |
| Mr. John'S School Of Cosmetology, Esthetics & Nails | Decatur | 5 |
| Paul Mitchell The School Normal | Normal | 5 |
| Rush University | Chicago | 5 |
| Spertus College Of Judaica | Chicago | 5 |
| Unity Cosmetology College | Pontiac | 5 |
| Cameo Beauty Academy | Oak Lawn | 4 |
| Cannella School Of Hair Design | Chicago | 4 |
| Chicago Ort Technical Institute | Skokie | 4 |
| Educators Of Beauty College Of Cosmetology | Peru | 4 |
| Innovations Design Academy | Canton | 4 |
| John Marshall Law School (The) | Chicago | 4 |
| Jrenee College | Elgin | 4 |
| Lakeview College Of Nursing | Danville | 4 |
| Saint Francis Medical Center College Of Nursing | Peoria | 4 |
| Trinity College Of Nursing & Health Sciences | Rock Island | 4 |
| Worsham College Of Mortuary Science | Wheeling | 4 |
| Mr. John'S School Of Cosmetology And Nails | Jacksonville | 3 |
| Niles School Of Cosmetology | Niles | 3 |
| Oehrlein School Of Cosmetology | East Peoria | 3 |
| Resurrection University | Chicago | 3 |
| Salon Professional Academy (The) | Shorewood | 3 |
| Tribeca Flashpoint College | Chicago | 3 |
| University Of Aesthetics & Cosmetology | Chicago | 3 |
| Vandercook College Of Music | Chicago | 3 |
| Beck School Of Practical Nursing | Red Bud | 2 |
| Estelle International | Skokie | 2 |
| Hair Professionals Career College | Palos Hills | 2 |
| Institute For Clinical Social Work | Chicago | 2 |
| Lake Forest Graduate School Of Management | Lake Forest | 2 |
| St. John'S College Of Nursing | Springfield | 2 |
| Catholic Theological Union At Chicago | Chicago | 1 |
| Hair Professionals Career College | Sycamore | 1 |
| Hair Professionals School Of Cosmetology | Oswego | 1 |
| Illinois College Of Optometry | Chicago | 1 |
| Lutheran School Of Theology At Chicago | Chicago | 1 |
| Mccormick Theological Seminary | Chicago | 1 |
| Meadville Theological School Of Lombard College | Chicago | 1 |
| University Of Aesthetics & Cosmetology (The) | Downers Grove | 1 |
| Cannella School Of Hair Design | Blue Island | 0 |
| Chicago Theological Seminary | Chicago | 0 |
| Erikson Institute | Chicago | 0 |
| Hebrew Theological College | Skokie | 0 |
| Saint Anthony College Of Nursing | Rockford | 0 |
Source: U.S. Department of Education Federal Student Aid Office