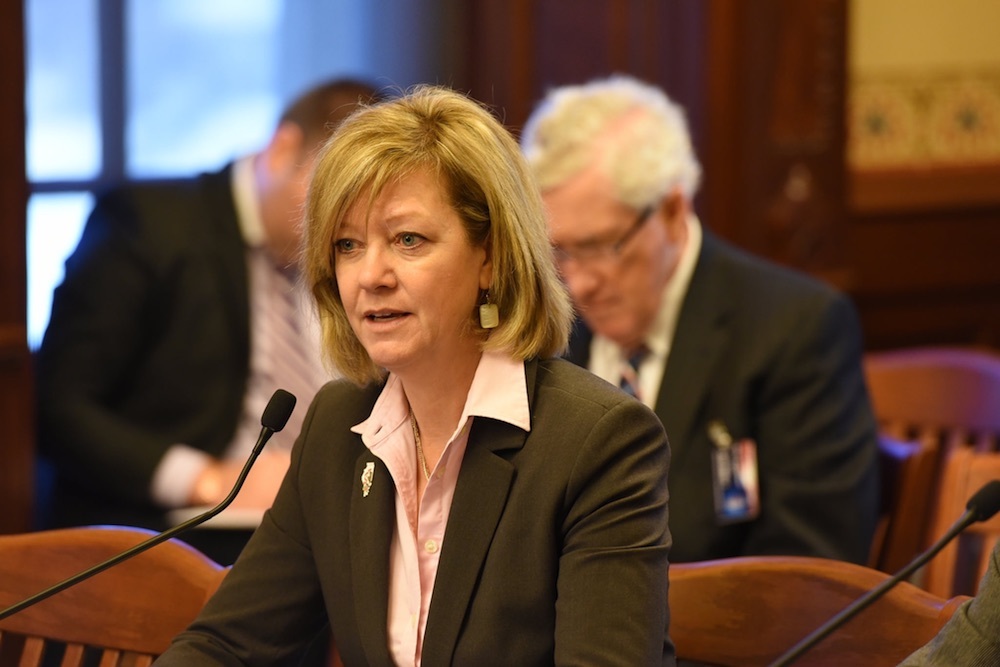 Illinois Representative Jeanne Ives (R-42nd) | jeanneives.org
What is most important, your job, your home or your pension asked Rep. Jeanne Ives (R-Wheaton).
That question is what it is coming down to for multiple Illinois municipalities on the brink of insolvency, according to Ives, who held a Tuesday press conference to announce legislation that would create the Local Government Bankruptcy Neutral Evaluation Act.
HB5644, which was recently referred to the House Rules Committee, "authorizes a local public entity to initiate a neutral evaluation process if that entity is unable to meet its financial obligations," according to a synopsis of the bill provided by the Illinois General Assembly.

Wirepoints President Ted Dabrowski
Joined by Reps. Thomas Morrison (R-Palatine), Rep. Allen Skillicorn (R-East Dundee), and Wirepoints Executive Editor and Founder Mark Glennon and President Ted Dabrowski, Ives said there are 20 Illinois cities that are in need of immediate financial restructuring to avoid going under.
Using the City of Harvey, which recently had its tax revenues garnished due to underfunded pensions, as an example of dire debt, Dabrowski said Wirepoints completed an analysis to see exactly how many Illinois areas were seriously strapped for cash.
"We found that nearly 400 pension funds were short of their full payments," Dabrowski said.
Financial and legal chaos is inevitable if something is not done, according to Dabrowski, who said the potential financial collapse of 20 cities spells real trouble.
"Illinois legislature and politicians have done nothing to fix that problem in the last 15 years, and it is only going to get worse," Dabrowski said.
Morrison agreed.
"He said lawmakers have done nothing to fix it, but I would argue they have done worse than nothing, they have actually continually added to these unfunded pension liabilities," Morrison said.
Ives pointed out how the top 20 insolvent cities are not all in one region.
"They include Oaklawn, Niles, Decal as well as Harvey," Ives said. "They all have different reasons for why they find themselves in financial stress."
Everybody is losing in Harvey, according to Dabrowski.
"Try to find a winner in Harvey or Kankakee or East St. Louis," Dabrowski said.
The fact that there is a 100 percent intercept by the comptroller withholding streams of revenue headed to any municipality accelerates the need for a bankruptcy solution, Ives said, adding this is not a new headline.
"What news is now you are going to have a way to force pension funds to be funded and when that happens, then pensions become the top priority of every first tax dollar," Ives said.
Is that where Illinois is going, Ives asked.
"We have a lot of decisions to make," she said.