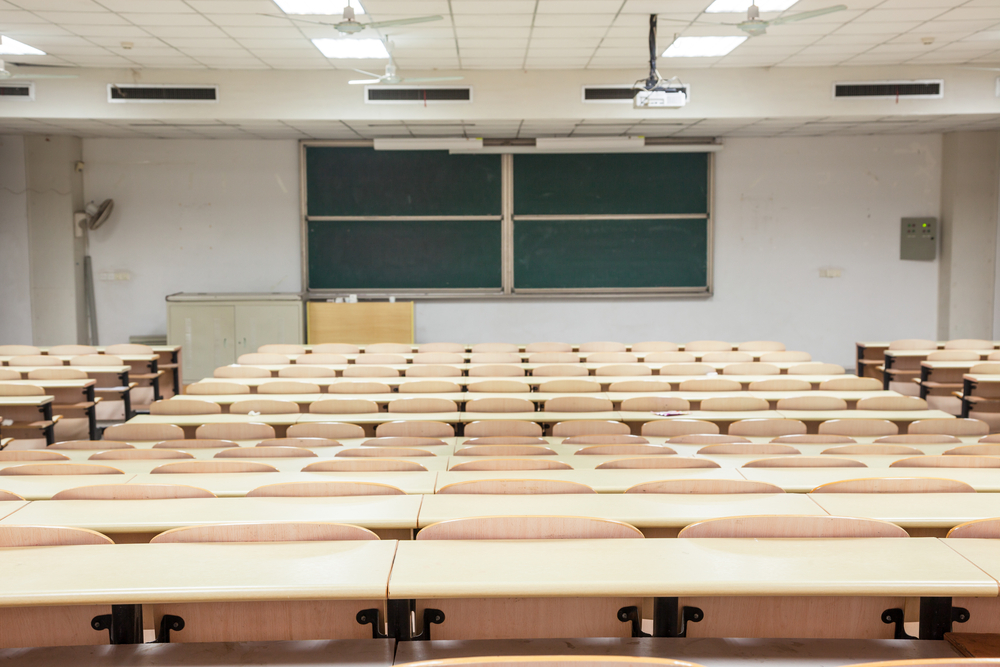 Head coaches of DePaul University women's teams earn an average of $224,721 annually – the 40th highest average salary in the nation – according to a Chicago City Wire analysis of federal education data.
The analysis found that the university had the equivalent of 5.5 full-time head coaches on staff for its women's teams.
The U.S. Department of Education's office of postsecondary education collects athletics data annually from all institutions with intercollegiate athletics programs that receive funding through federal financial aid programs. Data for 2016 – the latest year available – includes more than 2,000 schools nationwide.
Top 200: Colleges that pay women's head coaches the most
| | | | | | |
| --- | --- | --- | --- | --- | --- |
| School | State | Division | Total Undergraduates | Women's Team Average Annual Institutional Salary per FTE | Women's Team Number of FTEs Included in Average |
| Baylor University | TX | NCAA Division I-FBS | 14,087 | $410,129 | 8.59 |
| University of Oklahoma-Norman Campus | OK | NCAA Division I-FBS | 18,218 | $360,949 | 8.5 |
| Texas A & M University-College Station | TX | NCAA Division I-FBS | 44,975 | $358,850 | 8.5 |
| University of Connecticut | CT | NCAA Division I-FBS | 18,538 | $352,998 | 10.5 |
| University of Notre Dame | IN | NCAA Division I-FBS | 8,480 | $348,294 | 10 |
| The University of Texas at Austin | TX | NCAA Division I-FBS | 37,026 | $338,740 | 8.5 |
| Mississippi State University | MS | NCAA Division I-FBS | 16,134 | $338,297 | 6.5 |
| University of Kentucky | KY | NCAA Division I-FBS | 20,772 | $332,190 | 8 |
| Florida State University | FL | NCAA Division I-FBS | 29,051 | $332,123 | 9 |
| Louisiana State University and Agricultural & Mechanical College | LA | NCAA Division I-FBS | 23,036 | $319,406 | 10 |
| Vanderbilt University | TN | NCAA Division I-FBS | 6,808 | $318,036 | 7.75 |
| University of Florida | FL | NCAA Division I-FBS | 30,583 | $310,887 | 9 |
| Auburn University | AL | NCAA Division I-FBS | 20,260 | $301,432 | 8.88 |
| University of Washington-Seattle Campus | WA | NCAA Division I-FBS | 28,165 | $292,054 | 9 |
| Georgia Institute of Technology-Main Campus | GA | NCAA Division I-FBS | 13,698 | $281,506 | 5.5 |
| University of Pittsburgh-Pittsburgh Campus | PA | NCAA Division I-FBS | 18,129 | $277,741 | 7 |
| Purdue University-Main Campus | IN | NCAA Division I-FBS | 29,301 | $274,208 | 7.1 |
| University of Wisconsin-Madison | WI | NCAA Division I-FBS | 28,201 | $268,311 | 9 |
| University of South Carolina-Columbia | SC | NCAA Division I-FBS | 23,947 | $265,826 | 9.1 |
| Iowa State University | IA | NCAA Division I-FBS | 28,791 | $262,599 | 8.5 |
| Pennsylvania State University-Main Campus | PA | NCAA Division I-FBS | 39,883 | $261,264 | 11.5 |
| Duke University | NC | NCAA Division I-FBS | 6,449 | $256,393 | 9.5 |
| University of Louisville | KY | NCAA Division I-FBS | 12,325 | $252,034 | 10.5 |
| University of Mississippi | MS | NCAA Division I-FBS | 17,649 | $251,916 | 7.5 |
| University of Maryland-College Park | MD | NCAA Division I-FBS | 26,174 | $248,946 | 9.5 |
| The University of Tennessee-Knoxville | TN | NCAA Division I-FBS | 20,719 | $243,389 | 8 |
| University of Virginia-Main Campus | VA | NCAA Division I-FBS | 15,420 | $241,486 | 10 |
| University of Miami | FL | NCAA Division I-FBS | 10,102 | $239,705 | 8.3 |
| University of Georgia | GA | NCAA Division I-FBS | 26,252 | $239,428 | 9 |
| University of Nebraska-Lincoln | NE | NCAA Division I-FBS | 19,381 | $239,160 | 10.58 |
| Ohio State University-Main Campus | OH | NCAA Division I-FBS | 41,666 | $238,510 | 14.5 |
| University of Missouri-Columbia | MO | NCAA Division I-FBS | 24,060 | $238,087 | 8 |
| University of Michigan-Ann Arbor | MI | NCAA Division I-FBS | 27,833 | $235,666 | 13.5 |
| Stanford University | CA | NCAA Division I-FBS | 7,032 | $234,776 | 18 |
| Kansas State University | KS | NCAA Division I-FBS | 17,562 | $232,432 | 6.5 |
| Rutgers University-New Brunswick | NJ | NCAA Division I-FBS | 33,939 | $227,984 | 12 |
| Texas Tech University | TX | NCAA Division I-FBS | 26,588 | $227,156 | 6.5 |
| Clemson University | SC | NCAA Division I-FBS | 17,849 | $225,154 | 7.5 |
| DePaul University | IL | NCAA Division I without football | 13,126 | $224,721 | 5.5 |
| Syracuse University | NY | NCAA Division I-FBS | 14,324 | $223,024 | 9.5 |
| The University of Alabama | AL | NCAA Division I-FBS | 29,071 | $222,639 | 9 |
| Oklahoma State University-Main Campus | OK | NCAA Division I-FBS | 18,330 | $219,946 | 6.5 |
| University of Southern California | CA | NCAA Division I-FBS | 18,070 | $219,482 | 9.5 |
| University of Arkansas | AR | NCAA Division I-FBS | 19,774 | $219,326 | 9 |
| University of Oregon | OR | NCAA Division I-FBS | 18,309 | $218,040 | 8.75 |
| University of Iowa | IA | NCAA Division I-FBS | 20,690 | $214,942 | 10 |
| Virginia Polytechnic Institute and State University | VA | NCAA Division I-FBS | 25,175 | $212,154 | 8 |
| University of Utah | UT | NCAA Division I-FBS | 17,081 | $205,594 | 8.83 |
| Northwestern University | IL | NCAA Division I-FBS | 8,249 | $202,206 | 11.5 |
| University of Kansas | KS | NCAA Division I-FBS | 16,987 | $197,190 | 8.5 |
| University of California-Los Angeles | CA | NCAA Division I-FBS | 30,329 | $195,058 | 11.5 |
| North Carolina State University at Raleigh | NC | NCAA Division I-FBS | 20,818 | $188,806 | 8.5 |
| West Virginia University | WV | NCAA Division I-FBS | 20,524 | $187,900 | 8 |
| University of Minnesota-Twin Cities | MN | NCAA Division I-FBS | 28,782 | $184,761 | 11.5 |
| Michigan State University | MI | NCAA Division I-FBS | 35,280 | $183,979 | 10 |
| University of Illinois at Urbana-Champaign | IL | NCAA Division I-FBS | 32,126 | $181,452 | 9 |
| University of Colorado Boulder | CO | NCAA Division I-FBS | 25,692 | $181,354 | 7 |
| Brigham Young University-Provo | UT | NCAA Division I-FBS | 28,012 | $178,496 | 8.93 |
| University of California-Berkeley | CA | NCAA Division I-FBS | 28,107 | $177,895 | 13.5 |
| San Diego State University | CA | NCAA Division I-FBS | 26,530 | $176,952 | 11 |
| Oregon State University | OR | NCAA Division I-FBS | 18,395 | $175,814 | 9 |
| University of Arizona | AZ | NCAA Division I-FBS | 29,049 | $175,636 | 10 |
| Arizona State University-Tempe | AZ | NCAA Division I-FBS | 38,761 | $175,331 | 12 |
| MiraCosta College | CA | CCCAA | 5,138 | $172,600 | 0.44 |
| University of North Carolina at Chapel Hill | NC | NCAA Division I-FBS | 17,828 | $169,595 | 11.5 |
| Wichita State University | KS | NCAA Division I without football | 8,566 | $166,982 | 6 |
| Texas Christian University | TX | NCAA Division I-FBS | 8,591 | $165,327 | 9 |
| Wake Forest University | NC | NCAA Division I-FBS | 4,899 | $157,758 | 6.5 |
| Motlow State Community College | TN | NJCAA Division I | 3,308 | $157,070 | 0.4 |
| Indiana University-Bloomington | IN | NCAA Division I-FBS | 31,884 | $155,057 | 10.5 |
| Washington State University | WA | NCAA Division I-FBS | 21,534 | $152,975 | 7.5 |
| Marquette University | WI | NCAA Division I without football | 7,919 | $152,534 | 6 |
| University of South Florida-Main Campus | FL | NCAA Division I-FBS | 23,603 | $150,194 | 7.5 |
| Liberty University | VA | NCAA Division I-FCS | 27,100 | $146,743 | 8.5 |
| University of Central Florida | FL | NCAA Division I-FBS | 38,228 | $145,443 | 8 |
| The University of Texas at El Paso | TX | NCAA Division I-FBS | 13,321 | $144,278 | 8 |
| Gonzaga University | WA | NCAA Division I without football | 5,029 | $141,934 | 7 |
| University of Wyoming | WY | NCAA Division I-FBS | 8,099 | $138,213 | 7 |
| University of Delaware | DE | NCAA Division I-FCS | 17,736 | $138,075 | 10.35 |
| New Jersey Institute of Technology | NJ | NCAA Division I without football | 6,152 | $137,180 | 3.63 |
| Ithaca College | NY | NCAA Division III with football | 6,099 | $135,462 | 6 |
| St John's University-New York | NY | NCAA Division I without football | 11,468 | $135,423 | 7.5 |
| Mission College | CA | CCCAA | 1,716 | $134,900 | 0.39 |
| Southern Methodist University | TX | NCAA Division I-FBS | 6,294 | $132,274 | 9.5 |
| North Dakota State University-Main Campus | ND | NCAA Division I-FCS | 10,631 | $130,364 | 6 |
| Boston College | MA | NCAA Division I-FBS | 9,486 | $129,775 | 11.4 |
| Cerritos College | CA | CCCAA | 6,706 | $129,110 | 3.6 |
| Middle Tennessee State University | TN | NCAA Division I-FBS | 15,985 | $128,777 | 5.96 |
| Princeton University | NJ | NCAA Division I-FCS | 5,236 | $128,754 | 15.5 |
| California State University-Fresno | CA | NCAA Division I-FBS | 18,828 | $127,613 | 9.5 |
| University of Massachusetts-Amherst | MA | NCAA Division I-FBS | 21,340 | $126,686 | 9 |
| De Anza College | CA | CCCAA | 10,392 | $124,583 | 3.14 |
| University of Houston | TX | NCAA Division I-FBS | 25,399 | $124,015 | 7.5 |
| Grand Canyon University | AZ | NCAA Division I without football | 14,542 | $123,640 | 7.5 |
| Virginia Commonwealth University | VA | NCAA Division I without football | 20,050 | $123,540 | 6 |
| Mt San Antonio College | CA | CCCAA | 9,984 | $123,527 | 3 |
| Western Michigan University | MI | NCAA Division I-FBS | 14,999 | $123,377 | 8 |
| Stony Brook University | NY | NCAA Division I-FCS | 15,729 | $122,750 | 6 |
| Bakersfield College | CA | CCCAA | 6,363 | $121,552 | 2.5 |
| University of Denver | CO | NCAA Division I without football | 5,478 | $120,841 | 8.5 |
| Colorado State University-Fort Collins | CO | NCAA Division I-FBS | 21,211 | $120,693 | 8 |
| Florida International University | FL | NCAA Division I-FBS | 25,920 | $119,541 | 7 |
| Temple University | PA | NCAA Division I-FBS | 26,128 | $119,469 | 9 |
| University of Cincinnati-Main Campus | OH | NCAA Division I-FBS | 21,445 | $119,167 | 7 |
| Central Michigan University | MI | NCAA Division I-FBS | 17,077 | $118,479 | 8.5 |
| Rice University | TX | NCAA Division I-FBS | 3,824 | $117,571 | 6 |
| East Carolina University | NC | NCAA Division I-FBS | 19,698 | $117,456 | 7 |
| Tulane University of Louisiana | LA | NCAA Division I-FBS | 6,487 | $117,289 | 7.5 |
| Santa Clara University | CA | NCAA Division I without football | 5,333 | $117,201 | 8 |
| University of San Francisco | CA | NCAA Division I without football | 6,413 | $117,120 | 5.5 |
| Fordham University | NY | NCAA Division I-FCS | 8,725 | $116,821 | 7 |
| West Hills College-Coalinga | CA | CCCAA | 959 | $116,730 | 0.3 |
| Seton Hall University | NJ | NCAA Division I without football | 5,484 | $116,102 | 7 |
| California Baptist University | CA | NCAA Division II without football | 5,878 | $113,953 | 7 |
| University of Pennsylvania | PA | NCAA Division I-FCS | 10,231 | $113,372 | 11.83 |
| Santa Ana College | CA | CCCAA | 5,069 | $113,029 | 2.23 |
| Pepperdine University | CA | NCAA Division I without football | 3,220 | $112,838 | 7.5 |
| University of Tulsa | OK | NCAA Division I-FBS | 3,248 | $112,625 | 7.5 |
| Sacramento City College | CA | CCCAA | 5,328 | $112,530 | 3 |
| El Camino Community College District | CA | CCCAA | 8,036 | $112,355 | 3.1 |
| California State University-Long Beach | CA | NCAA Division I without football | 27,804 | $112,352 | 7.5 |
| University of Arkansas at Little Rock | AR | NCAA Division I without football | 4,424 | $112,090 | 5.5 |
| University of Hawaii at Manoa | HI | NCAA Division I-FBS | 10,676 | $111,891 | 9.08 |
| Providence College | RI | NCAA Division I without football | 3,768 | $111,689 | 8.5 |
| The University of Texas at Arlington | TX | NCAA Division I without football | 16,663 | $111,580 | 4.5 |
| Quinnipiac University | CT | NCAA Division I without football | 6,784 | $111,342 | 11.25 |
| University of Memphis | TN | NCAA Division I-FBS | 12,372 | $111,235 | 6.5 |
| Catholic University of America | DC | NCAA Division III with football | 3,088 | $110,408 | 4.65 |
| Kent State University at Kent | OH | NCAA Division I-FBS | 19,034 | $110,075 | 7.5 |
| Loyola University Maryland | MD | NCAA Division I without football | 4,030 | $109,964 | 6.35 |
| University of Akron Main Campus | OH | NCAA Division I-FBS | 13,367 | $109,459 | 7.5 |
| Western Kentucky University | KY | NCAA Division I-FBS | 12,967 | $109,072 | 6.5 |
| California State University-San Bernardino | CA | NCAA Division II without football | 16,425 | $108,539 | 4.65 |
| Troy University | AL | NCAA Division I-FBS | 9,329 | $108,287 | 6.6 |
| Harvard University | MA | NCAA Division I-FCS | 6,931 | $108,180 | 14.21 |
| Northeastern University | MA | NCAA Division I without football | 13,345 | $107,958 | 7.5 |
| University of Alaska Anchorage | AK | NCAA Division II without football | 6,560 | $107,762 | 4 |
| Boise State University | ID | NCAA Division I-FBS | 12,350 | $107,448 | 8.5 |
| American University | DC | NCAA Division I without football | 6,981 | $106,866 | 6 |
| University of San Diego | CA | NCAA Division I-FCS | 5,433 | $105,945 | 7.66 |
| Belmont University | TN | NCAA Division I without football | 5,925 | $105,853 | 6 |
| California State University-Los Angeles | CA | NCAA Division II without football | 20,003 | $105,698 | 4.75 |
| University of North Florida | FL | NCAA Division I without football | 9,629 | $105,587 | 7.5 |
| University of Minnesota-Duluth | MN | NCAA Division II with football | 8,620 | $105,082 | 6.29 |
| Ohio University-Main Campus | OH | NCAA Division I-FBS | 17,794 | $105,037 | 7.75 |
| Boston University | MA | NCAA Division I without football | 16,199 | $104,879 | 11 |
| SUNY at Albany | NY | NCAA Division I-FCS | 12,387 | $104,827 | 7.65 |
| University of the Pacific | CA | NCAA Division I without football | 3,375 | $104,531 | 7.55 |
| Central Connecticut State University | CT | NCAA Division I-FCS | 7,529 | $104,249 | 7.5 |
| Florida Gulf Coast University | FL | NCAA Division I without football | 10,809 | $103,552 | 7.5 |
| Crowder College | MO | NJCAA Division I | 2,128 | $103,320 | 1 |
| Yale University | CT | NCAA Division I-FCS | 5,468 | $103,293 | 15.69 |
| American River College | CA | CCCAA | 6,254 | $102,638 | 3.15 |
| Xavier University | OH | NCAA Division I without football | 4,292 | $102,284 | 5.9 |
| Grossmont College | CA | CCCAA | 6,026 | $101,933 | 4.2 |
| Saint Louis University | MO | NCAA Division I without football | 6,672 | $101,696 | 6.5 |
| Haskell Indian Nations University | KS | NAIA Division I | 787 | $101,653 | 1.13 |
| Lamar University | TX | NCAA Division I-FCS | 6,161 | $101,607 | 6.5 |
| California State University-San Marcos | CA | NCAA Division II without football | 10,444 | $101,419 | 5 |
| University of California-San Diego | CA | NCAA Division II without football | 27,386 | $101,262 | 9.75 |
| University of California-Santa Barbara | CA | NCAA Division I without football | 21,199 | $100,672 | 7.07 |
| Western Washington University | WA | NCAA Division II without football | 13,354 | $100,380 | 6.25 |
| University of California-Davis | CA | NCAA Division I-FCS | 28,544 | $100,260 | 9.8 |
| Ventura College | CA | CCCAA | 4,262 | $100,163 | 2.52 |
| Creighton University | NE | NCAA Division I without football | 3,970 | $100,060 | 6.25 |
| University of Richmond | VA | NCAA Division I-FCS | 2,998 | $100,030 | 8 |
| Riverside City College | CA | NJCAA Division I | 5,256 | $99,934 | 4.5 |
| Columbia University in the City of New York | NY | NCAA Division I-FCS | 7,552 | $99,767 | 13 |
| Texas Southern University | TX | NCAA Division I-FCS | 5,776 | $99,572 | 6.25 |
| Bloomsburg University of Pennsylvania | PA | NCAA Division II with football | 8,178 | $99,477 | 6.5 |
| Old Dominion University | VA | NCAA Division I-FBS | 15,173 | $98,792 | 8 |
| California State University-Fullerton | CA | NCAA Division I without football | 27,925 | $98,778 | 6.6 |
| University of South Alabama | AL | NCAA Division I-FBS | 9,596 | $98,772 | 6.51 |
| University of New Mexico-Main Campus | NM | NCAA Division I-FBS | 15,732 | $98,641 | 8.92 |
| Skyline College | CA | CCCAA | 2,469 | $98,167 | 1.08 |
| Cornell University | NY | NCAA Division I-FCS | 14,461 | $97,859 | 15.92 |
| University at Buffalo | NY | NCAA Division I-FBS | 18,732 | $97,761 | 7 |
| Cypress College | CA | CCCAA | 5,211 | $97,623 | 1.74 |
| Irvine Valley College | CA | CCCAA | 4,956 | $97,571 | 3.43 |
| Sonoma State University | CA | NCAA Division II without football | 7,793 | $96,923 | 7.14 |
| George Washington University | DC | NCAA Division I without football | 10,343 | $96,884 | 10.25 |
| Bentley University | MA | NCAA Division II with football | 4,076 | $96,809 | 4.83 |
| West Hills College-Lemoore | CA | CCCAA | 1,361 | $96,800 | 0.4 |
| Drexel University | PA | NCAA Division I without football | 13,258 | $96,789 | 7 |
| Rollins College | FL | NCAA Division II without football | 2,450 | $96,740 | 7.14 |
| Tyler Junior College | TX | NJCAA Division I | 5,909 | $96,621 | 2 |
| California State Polytechnic University-Pomona | CA | NCAA Division II without football | 21,112 | $96,528 | 3.5 |
| University of Nevada-Las Vegas | NV | NCAA Division I-FBS | 18,237 | $96,496 | 7.5 |
| University of California-Riverside | CA | NCAA Division I without football | 19,533 | $96,352 | 6.5 |
| Wesleyan University | CT | NCAA Division III with football | 2,912 | $96,284 | 8.2 |
| University of Toledo | OH | NCAA Division I-FBS | 12,810 | $96,270 | 7.5 |
| California State University-Stanislaus | CA | NCAA Division II without football | 7,215 | $96,193 | 5.5 |
| Illinois State University | IL | NCAA Division I-FCS | 17,420 | $96,034 | 8.5 |
| Coastal Carolina University | SC | Other | 8,828 | $95,987 | 7.38 |
| Santa Barbara City College | CA | CCCAA | 6,265 | $95,859 | 3.06 |
| Tennessee State University | TN | NCAA Division I-FCS | 5,696 | $95,619 | 4.5 |
| Grinnell College | IA | NCAA Division III with football | 1,653 | $95,500 | 3.6 |
| California State University-Northridge | CA | NCAA Division I without football | 29,056 | $95,326 | 7.5 |
| University of New Hampshire-Main Campus | NH | NCAA Division I-FCS | 12,415 | $95,165 | 11 |
| James Madison University | VA | NCAA Division I-FCS | 18,467 | $95,044 | 12 |
Source: U.S. Department of Education Office of Postsecondary Education