Rauner calls special session on public school funding
Gov. Bruce Rauner wants legislators back in the Capitol to make sure schoolchildren can get back in school this fall.
Rauner has called another special session to work out an agreement on public education funding. Lawmakers are expected back on Wednesday and will stay in session through the end of July.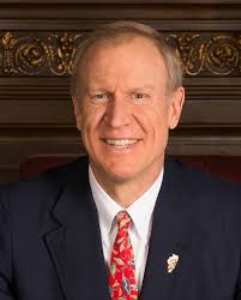 Bruce Rauner
Making the announcement on Monday at a press conference, Rauner called the education funding standoff a political game played by the Democratic majority putting politics before education.
"This is critical time for the children of Illinois," Rauner said. "The Democrats in the General Assembly have been holding the school funding bill, SB1, since May 31. This is fundamentally unfair to our children, to our families across the state of Illinois. Our schools must open on time with the full appropriate amount of money for every child, every teacher in the state of Illinois."
This will be the second special session Rauner has called this year. Despite the first one producing a budget -- which Rauner tried to veto because of a lack of reforms -- no provision is in place to distribute funding to schools across the state. Senate Bill 1, a measure that changes education funding to an evidence-based formula, has been approved by both houses but not sent to Rauner because he has vowed to veto a portion of it that would provide additional money to Chicago Public Schools (CPS) and its pension system. Many Republican lawmakers has called it a Chicago bailout.
"There is a good historic new school funding bill that is ready to be implemented," Rauner said. "It was hijacked at the last minute by the majority in Springfield, and a poison pill was inserted to force payments to a pension system that is broken, unsustainable and needs reform. Together, we should reform that pension system and help Chicago fix its pension problem. We should do that, and I am personally committed to do that , [but] that is a separate issue from treating our children as the priority they deserve to be and treating our teachers as wonderful professionals who deserve our support."
Rauner reiterated that he will veto SB1 if it is sent to him unchanged. He promised to continue to work on pension reforms but argued that they should not be placed ahead of children and education.
"Separately, either now or sometime soon, we should deal with pensions, pension issues and pension reforms for the city of Chicago and across the state of Illinois," Rauner said. "We should do that, but in no way at no time should the money from the classroom for current teachers and our students be diverted and given to a broken pension system. That should never happen, and that is what SB1 does in its current form."
The children should always be the top priority, Rauner concluded.
Want to get notified whenever we write about
Illinois Governor Bruce Rauner
?
Next time we write about Illinois Governor Bruce Rauner, we'll email you a link to the story. You may edit your settings or unsubscribe at any time.
Sign-up for Alerts
Organizations in this Story
Illinois Governor Bruce Rauner
More News