Illinois abortion foes not 'appeased' by Rauner wavering on expanded coverage
Illinois State Capitol
Abortion foes in Illinois say they are confused and troubled by a statement in a recent Politico article that said Gov. Bruce Rauner had "appeased" anti-abortion Republicans regarding legislation that would expand public funding for abortion.
Dawn Behnke, president of the Illinois Federation for Right to Life, told Prairie State News that she "can't imagine where that is coming from, unless they are referring to the governor's statement about vetoing the bill."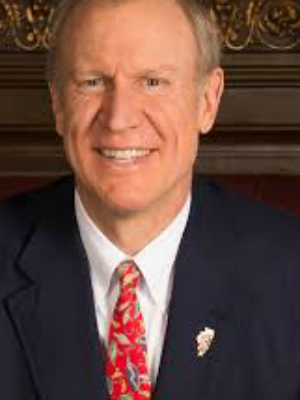 Gov. Bruce Rauner
After the House sent House Bill 40 to the Senate in April, Rauner did say he would veto it, but the same Politico article published in its "Illinois Playbook" on Sept. 15 said Rauner is now leaning toward signing it.
"As evidence: the governor in recent weeks has met with groups of women in different parts of the state, the sources said, including those who rely on Medicaid, to hear their personal stories about abortion and access to abortion," the article said. 'He is listening,' one of the sources said."
The Senate approved HB40 on May 10 with a 33 to 22 vote, but a motion was quickly filed to reconsider the vote, blocking the bill from going to the governor. The House approved the legislation on a 62-55 vote.
"They are working to make sure they have enough to override the governor's veto, or they'll move it if he indicates he'll sign it," Behnke said. "A lot is going on behind the scenes."
The Senate needs 36 to overturn; the House requires 71.
Timing could also play a role in when the Democratically controlled Senate sends the bill to the governor. The filing deadline for the March 20, 2018, gubernatorial primary is Dec. 1, 2017. Signing the legislation before then could invite a serious primary challenge: Some powerful conservative Republicans reportedly already threatened the governor with such a challenge. As of now, the only announced primary opponent is TV personality William Kelly, a perennial candidate who has lost the three races he has entered.
HB40 would ensure that abortion remains legal in Illinois even if the U.S. Supreme Court rolls back Roe v. Wade, the 1973 ruling that legalized abortion nationwide. The measure also ensures that all women on Medicaid and the state health insurance plan have coverage for abortions. The state now pays for abortions for cases of rape, incest, to protect the health and to save the life of the mother.
Rauner campaigned on a fiscal agenda, not a social one, but his wife, Diana, has been outspoken in her support for legalized abortion. Behnke said that the Right to Life Federation was well aware of Diana's position and did not support Rauner for governor.
Want to get notified whenever we write about
Illinois Federation for Right to Life
?
Next time we write about Illinois Federation for Right to Life, we'll email you a link to the story. You may edit your settings or unsubscribe at any time.
Sign-up for Alerts
Organizations in this Story
Illinois Federation for Right to Life
More News