Rauner never wavered on pro-choice stance, study determines
Gov. Bruce Rauner angered much of his base by turning Illinois into the first state to force taxpayers to fund abortions, but he never lied about his pro-choice stance, according to a fact-check by the Better Government Association (BGA) and PolitiFact Illinois.
In the joint study, published on the BGA's website, researcher Matt Dietrich outlines specific instances in which Rauner was quoted as denying during his 2014 campaign that he had a "social agenda" while reinforcing his belief in a woman's right to choose the procedure.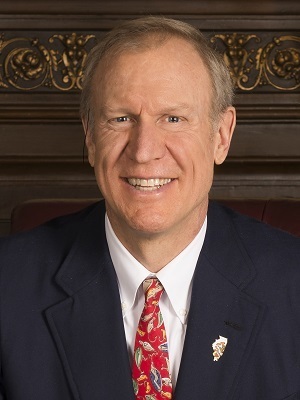 Illinois Gov. Bruce Rauner
The issue became murky when Rauner "found himself in the strange position of being a Republican candidate forced to deny charges that he opposed abortion," according to the BGA article. As a Chicago Tribune story attested, Rauner and his wife, Diana, were donors to Planned Parenthood and the Roger Baldwin Foundation, an American Civil Liberties arm "that litigates issues including reproductive rights."
What made the issue murky, according to the BGA, is the fact that while Rauner and his wife were pro-choice donors, they also donated to pro-life Republican candidates and organizations. The confusion was covered in an article in Chicago magazine under the title "Is Bruce Rauner pro-choice, anti-choice, or just an opportunist?"
Rauner, a first-time candidate for public office when he ran in 2014, came from the wealthy world of private equity and apparently had deep pockets for many donations, including $5 million to the Illinois GOP, as documented in the Chicago magazine article.
However, the study showed that despite his divided loyalty when it came to making financial donations, Rauner on numerous occasions publicly stated his support for abortion rights.
"I personally am pro-choice," Rauner said at a Sept. 28 press conference. "I always have been. And I made no qualms about that when I was elected governor."
At that press conference, Rauner said he had pushed for House Bill 40, which mandated abortion coverage by both Medicare and state employees' insurance plans, to be split into two bills. The bill, which Rauner signed into law, also removed language that would have made abortion illegal in Illinois if the U.S. Supreme Court overturned its landmark Roe v. Wade ruling.
"By packaging the trigger language and the expanded insurance coverage into a single bill, supporters of what became HB 40 effectively boxed Rauner by forcing the no-social-agenda governor to pick a side in the culture wars," Dietrich wrote in the BGA article.
For his part, Rauner defended his signing of HB 40 by saying that "no woman should be forced to make a different decision than another woman make(s) purely based on her income," according to the BGA.
Although the BGA study ultimately rules that Rauner was truthful in saying he was pro-choice, whether he was duplicitous by clouding the issue with statements about having no social agenda or by personal promises he gave to GOP legislators was less clear.
Once he was elected and his term was well underway, Rauner seemed more comfortable supporting a pro-life position. For example, he said in an April 14 Chicago Sun-Times article in a statement released through spokeswoman Eleni Demertzis that he pledged to veto HB40.
"Politically, it proved to be a smart strategy that helped gain him election in 2014," the BGA article closes by saying. "By 2017, however, it became impossible to continue finessing the issue."
Want to get notified whenever we write about
Illinois Governor Bruce Rauner
?
Next time we write about Illinois Governor Bruce Rauner, we'll email you a link to the story. You may edit your settings or unsubscribe at any time.
Sign-up for Alerts
Organizations in this Story
Illinois Governor Bruce Rauner
More News