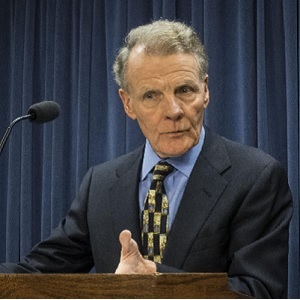 House Speaker Mike Madigan (D-Chicago)
Illinois appears to be something of a turkey this year that surrounding state leaders are carving up, according to a recent ad from Gov. Bruce Rauner's re-election team.
The ad, titled "Thank you Mike Madigan," shows Wisconsin Gov. Scott Walker, Indiana Gov. Eric Holcomb and Missouri Eric Greitens talking about how great things are in ther states, ostensibly at least in part because of what Madigan has done to Illinois.
"After constant obstruction of governor Rauner's policies, Illinois's neighboring economies are thriving, and their job markets are growing…," the ad says.
Madigan led the effort this summer to pass the largest state income tax in IIlinois history, and Rauner and others in the GOP have accused him of refusing to enact reforms to get Illinois out of a massive backlog of debt.