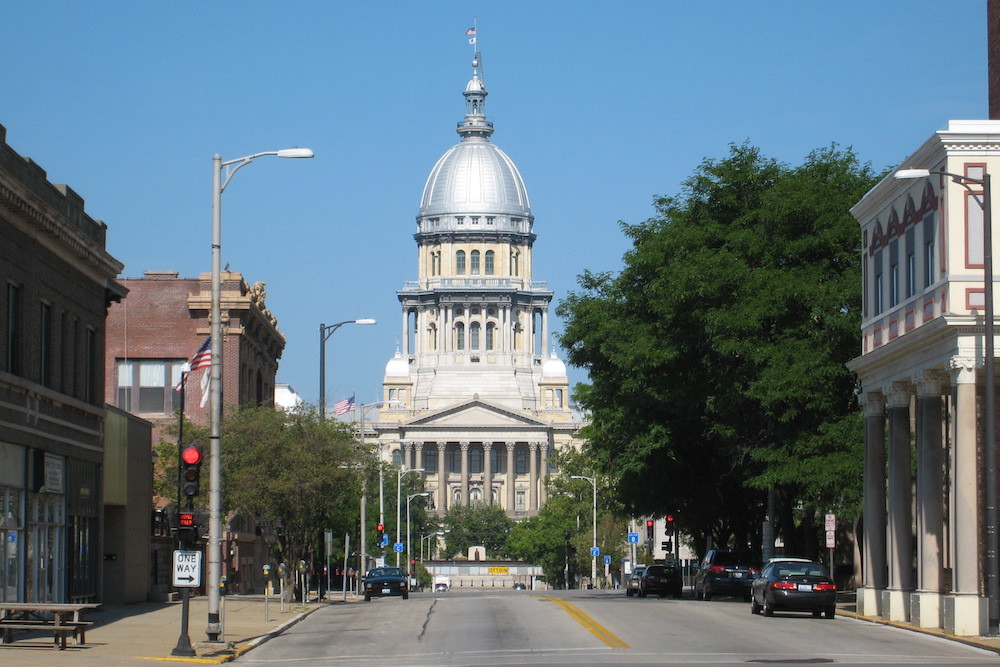 Springfield, Illinois | By Éovart Caçeir at English Wikipedia, CC BY-SA 3.0, https://commons.wikimedia.org/w/index.php?curid=10535377
Here are some of the the biggest events to take place during the first week of December in Illinois' long history.
Dec. 4, 1969 - Chicago. Black Panther Party members Fred Hampton and Mark Clark were killed in a police raid while sleeping their apartment, according to a report by the Chicago Tribune. The two members of the organization were gunned down during a 14-man police raid of Black Panther headquarters at 2337 W. Monroe St., where 19 guns and more than 1,000 rounds of ammunition were stored. The raid was organized by the Cook County State's Attorney Edward Hanrahan's office. Fred Hampton was 21, and Mark Clark was 22 at the time of the shooting.
Dec. 6, 1908 - Chicago. Infamous bank robber Lester "Baby Face Nelson" Gillis was born. According to the FBI's profile on him, Gillis was a well-known bank robber, gang leader and career criminal who was associated with other notorious figures such as John Dillinger. Gillis was labeled "public enemy No. 1" by the FBI before being killed by FBI agents during a shootout during The Battle of Barrington. Gillis was portrayed by Stephen Graham in the 2009 crime drama "Public Enemies."
Dec. 6, 1921 - Waukegan, American football legend Otto Graham was born. Graham played for the Cleveland Browns from 1946 to 1955 and later coached for the Coast Guard Academy and Washington Redskins. Graham was inducted into the NFL Hall of Fame in 1965.
Dec. 7, 1941 - Chicago. The people of Chicago showed their spirit and patriotism after hearing news of the Pearl Harbor attack. Soldiers returned to their units, and Mayor Edward Kelly announced that police and fire departments would receive training in how to stop attempts at sabotage. A retrospective piece by WBEZ Chicago detailed how America was officially at war, and Chicago was ready to do its part.
Dec. 9, 2008 - Springfield. Illinois saw their governor, Rod Blagojevich, arrested by federal officials. Blagojevich was accused of trying to sell an open U.S. Senate seat for financial favors, such as a high-paying job for himself at a nonprofit group or a labor union, and a corporate board seat for his wife, Patti, according to a Newsweek report. He was also accused of acts of corruption and abuses of power that included alleged attempts to sell gubernatorial appointments and legislative authorizations and/or vetoes. The day before the arrest, President Barack Obama, along with other Illinois politicians, called for the resignation of Blagojevich. On Jan. 9, 2009, the Illinois House voted 114–1 (with three abstentions) to impeach Blagojevich.
Dec. 9, 1887 - Rock Island. Longtime comedic performer and Illinois native Tim Moore was born. Moore was the first major African-American television star and saw a tremendous amount of success as a comedian and actor before his passing on Dec. 13, 1958.
Dec. 9, 2003 - Springfield. Former U.S. Sen. Paul Simon passed away. According to the NY Times, Simon served in the United States House of Representatives from 1975 to 1985, and in the United States Senate from 1985 to 1997 as a Democrat.
Dec. 14, 1929 - Joliet. Popular classical music composer Ron Nelson was born. Nelson received his bachelor of music degree in 1952, a master's degree in 1953, and the doctor of musical arts degree in 1957, all from the Eastman School of Music at the University of Rochester. According to RonNelson.com, Nelson received commissions from renowned foundations, including the National Symphony Orchestra, Rochester Philharmonic, the USAF Band and Chorus, Rhode Island Philharmonic, Aspen Music Festival, Brevard Music Center and Musashino Wind Ensemble.
Dec. 15, 1970 - Springfield. The current Illinois State Constitution was adopted at a special election in Springfield. The original Illinois Constitution was adopted in 1818. The Illinois Constitution adopted in 1970 was the state's fourth, according to the Illinois Periodicals Online Project at Northern Illinois University Libraries.