The chances of embattled Republican U.S. Senate candidate Roy Moore leaving the Alabama race are slim to none, according to David Drucker, senior political correspondent for the Washington Examiner.
"For right now, I believe Roy Moore is not going to go anywhere," Drucker said. "He has a history of sort of persecution and martyrdom as a political figure, twice challenging the Supreme Court when he disagreed with federal court rulings. I don't see why, in this case, he would simply walkaway."
Drucker made his remarks during a Nov. 14 guest appearance on "Chicago's Morning Answer," a daily talk show aired on WIND 560 AM. "Chicago Morning Answer" is co-hosted by Dan Proft, a principal of Local Government Information Services, which owns this publication.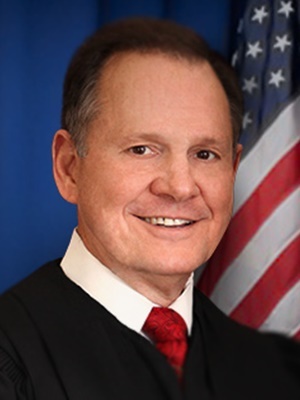 Roy Moore | https://www.facebook.com/JudgeRoyMoore/
Moore is facing charges by multiple women that he groped, fondled or otherwise sexually assaulted them between 1977 and 1982 when he was a deputy district attorney in Etowah County, Alabama. Moore later served as a circuit judge in Alabama before joining the state's supreme court in 2000, according to his campaign website.
The allegations have prompted calls for Moore to drop out of the Dec. 12 race to fill the Senate seat that was held of U.S. Attorney General Jeff Sessions. Senate Majority Leader Mitch McConnell (R-KY) has stated Moore should quit the race if the allegations are true, according to a Nov. 9 article published on TheHill.com.
Moore rose to fame in 2003 when he was removed from the bench after refusing a judicial panel's orders to take down a display of the Ten Commandments from the Alabama Judicial Building, his website explained. After nearly a decade of speaking across the country as president of the Foundation for Moral Law in Montgomery, he was re-elected to the Alabama Supreme Court in 2012.
The latest allegations of sexual abuse have shaken the Republican Party, where the outcome of the Alabama election could decrease the party's margin in the senate.
During an opening segment of his radio talk show, Proft and co-host Amy Jacobson analyzed three pieces of audio related to the case: a description of an assault by Beverly Young Nelson and separate rebuttals by Moore and his wife, Kayla.
Nelson described being a teenage waitress at a restaurant where Moore was a patron nearly 40 years ago. When her shift ended and she needed a way to get home, Moore offered to drive her, but instead allegedly assaulted her in his car behind the restaurant. Though the attack left bruises, Young said she kept it a secret, hiding the wounds with makeup.
"He said, 'you're just a child, and I am the district attorney of Eltowah County,'" Young tearfully recalled in the audio clip. "'And if you tell anyone about this, no one will ever believe you'."
Moore's wife, Kayla, defended her husband in the audio portion of a press conference that Proft aired, calling the accusations "the ugliest politics I've ever been in."
"I've been married to this man for 32 years, " Kayla Moore said. "He has never one time lifted a finger to me. He is the most gentle, kind man that I have ever known in my life."
Moore himself denied knowing Young or about the restaurant where the attack allegedly occurred.
"The people of Alabama know me, they know my character, they know what I've stood for in the political world for over 40 years," Moore said in an audio clip of the press conference. "I can tell you without hesitation this is absolutely false. I never did what she said I did. I don't even know the woman or anything about her."
But Moore's and his wife's statements have done little to assure nervous Republicans who could lose a majority in the Senate if Moore is defeated.
Proft mulled the possibilities that Alabama Gov. Kay Ivey could push back the date of the special election or a write-in candidate could be chosen.
Drucker said the more likely outcome would be Moore's expulsion from the Senate if were he elected. He pointed to Cory Gardner, the Senate Republican campaign chief, who has stated (with McConnell's backing) that the full Senate should vote to expel Moore.
"He possibly can count on grassroots support that will stick with him simply because the so-called political establishment and political media are arrayed against him," Drucker said. But "I think we're seeing enough Republicans line up against Roy Moore that this can happen."