Ives slams Rauner during appearance on southern Illinois radio show
Rep. Jeanne Ives (R-Wheaton), who is vying for the Republican nomination for governor, recently criticized Gov. Bruce Rauner's performance and vowed to focus on Illinois' fiscal situation if elected during an appearance on southern Illinois' Newsradio WJPF with Tom Miller.
"For me it's all really about the fiscal issues in the state of Illinois, something we sent him (Rauner) to change and reform and he didn't do anything," Ives told Miller during the Dec. 5 program. "He just basically doubled down on the bad policy of the Democrats."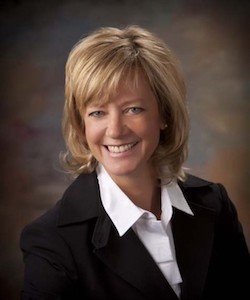 Rep. Jeanne Ives (R-Wheaton)
Miller asked Ives if she was running in response to Rauner signing the Illinois Trust Act and House Bill 40, two extremely unpopular pieces of legislation with the state's conservative base. The Trust Act made Illinois a sanctuary state, according to Ives, while HB40 increased taxpayer funding for abortion.
Ives said Rauner's signature on those laws probably played a role in her deciding to run in that it created an environment where many Republican voters and politicians are reticent to support Rauner's re-election bid. She did not attribute her decision to run to those bills alone, however.
"Make no doubt about it, neither one of those bills was the overall catalyst for my run," Ives told Miller. "I've watched this man absolutely not lead on policy, not explain anything to anybody and make terrible decisions on crony bailouts for corrupt governments and mismanaged public utilities on the backs of state taxpayers. And I've had enough."
Miller said Republicans have started to have more luck in Illinois elections as of late, with more Republicans taking traditionally Democratic seats in the General Assembly. He questioned whether Ives' decision to challenge a sitting Republican governor would have a positive or negative effect on the party's overall prospects in the state, and Ives vehemently made the case that it would invigorate the party's voters.
"It helps the Republican Party in the state of Illinois," Ives said. "You know why? Because people will stay away if Rauner's at the top of the ticket. People have no interest in voting for that man again, and it's universal – it's throughout the suburbs and the city. …The one thing I think both bipartisanly we agree on is that Rauner is a failed governor."
Ives specifically criticized Rauner for the budget and education bills that were enacted this year, arguing that Rauner owned those laws thanks to his failure to forcefully stand up against them. She also questioned Rauner's grasp on policy throughout the interview, arguing that Rauner does not adequately understand issues and is therefore unable to engage Illinoisans and other politicians in meaningful debate.
"I'm tired that when I look up my property tax bill, half the lines are for somebody else's pension," Ives said. "That's got to stop. That has got to stop; the pension system is killing us. We can't fund it. And Rauner never won the argument, he never made the argument to the people about why we need reform."
Ives told a story about her sister, who still lives in Ives' home state of South Dakota. A real estate agent in Vermillion, Ives' sister recently sold a house to a couple who were moving from DuPage County. They did not have family or business connections to Vermillion, but were moving away from Illinois' taxes and to somewhere with affordable state universities, according to Ives.
She vowed to dedicate her administration to making Illinois competitive again and ensuring that middle class families can afford state universities.
Want to get notified whenever we write about any of these organizations ?
Next time we write about any of these organizations, we'll email you a link to the story. You may edit your settings or unsubscribe at any time.
Sign-up for Alerts
Organizations in this Story
Illinois Governor Bruce Rauner • Illinois Representative Jeanne Ives (R-42nd) • WJPF-AM
More News