Rauner's "betrayal" could be costing him endorsements from Illinois congressmen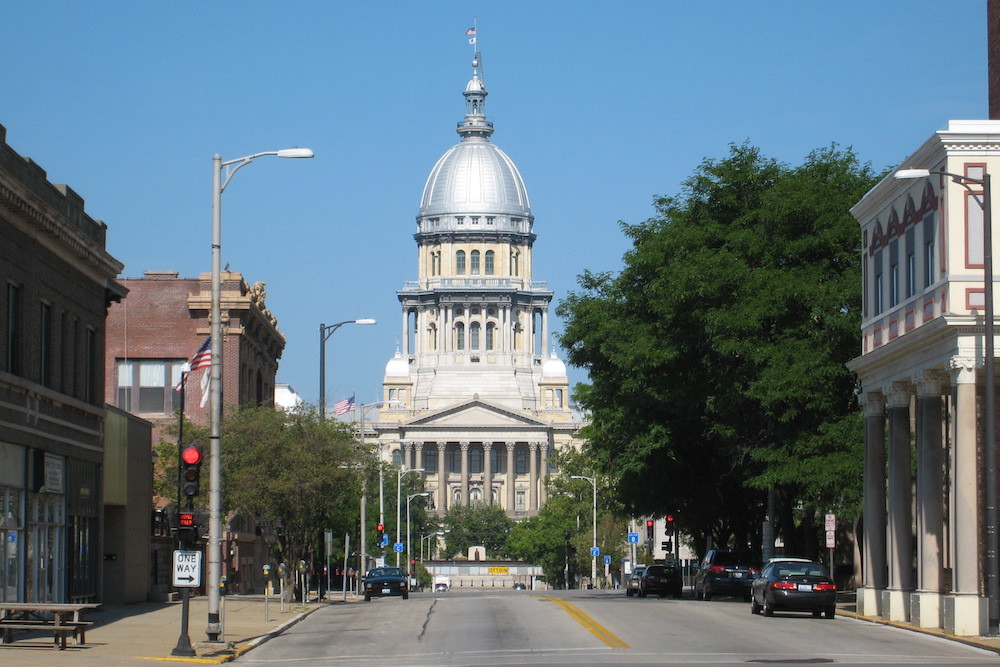 Springfield, Illinois | By Éovart Caçeir at English Wikipedia, CC BY-SA 3.0, https://commons.wikimedia.org/w/index.php?curid=10535377
The backlash to what state Rep. Jeanne Ives (R-Wheaton) calls Gov. Bruce Rauner's "betrayal" of conservative and traditional Republicans is showing itself through a series of high-profile non-endorsements for his re-election and weak attendance at some of his fundraisers.
One attendee to a Nov. 30 Rauner fundraiser at the Fremont Chicago in River North told Chicago City Wire that no more than 40 people showed up for the cocktail reception. Tickets were on the less expensive side as fundraisers for gubernatorial candidates go: $150 per couple, $100 per individual and $75 for professionals under 30.
Illinois Republican Gov. Bruce Rauner
Ives, who is challenging Rauner in the Republican primary, said that Rauner's signing of legislation that publicly funds elective abortions and separate legislation that makes Illinois a "sanctuary state" shows that all along he was a "social justice warrior." This, when he ran on a fiscal agenda and not a social one.
His signing of the abortion legislation, HB 40, in late September lost him the support of 20 anti-abortion and pro-family groups throughout the state. In early October, the groups, led by Illinois Family Action, signed a "Bill of Particulars" stating Rauner would not have their support in the primary or general elections.
Some Illinois Republican lawmakers have backed away from Rauner as well. On Nov. 21, U.S. Rep. John Shimkus (R-Collinsville) told St. Louis Public Radio that he is staying out of the Republican primary, with no plans to endorse anyone. Referring to Rauner's signing of the abortion funding bill, Shimkus said, "We thought he would stay out of some of the socially-divisive issues. He did not."
Earlier in November, U.S. Rep. Darin LaHood (R-Peoria) said that he's not sure who he will support for governor in 2018.
"I was and continue to be very disappointed that Governor Rauner signed HB40 allowing taxpayer funded abortions throughout the state of Illinois," he wrote in response to a written question from the State Journal-Register. "I am currently focused on my own re-election to the 18th Congressional District. I plan to wait and see who ends up filing to run for governor before making any decision on an endorsement."
LaHood added in a later interview with the paper that Rauner has not asked for an endorsement.
"I would be happy to meet with him and give him every consideration," he said. "I believe it was a mistake to sign HB40, and I want assurances moving forward that he's not going to make this kind of mistake again … because I think that's going to hurt him."
Finally, appearing before the Chicago Tribune Editorial Board on Dec. 4, U.S. Rep. Peter Roskam (R-Wheaton) said that he hasn't taken sides in the Republican primary.
When asked if he would eventually endorse a candidate, he replied, "We'll see."
The Tribune noted that Roskam lives in Ives's state House district and had signed a letter from Illinois' Republican congressmen slamming Rauner for signing the abortion legislation, which expands taxpayer-subsidized abortions for women covered by Medicaid or state employee health insurance.
Want to get notified whenever we write about
Illinois House of Representatives
?
Next time we write about Illinois House of Representatives, we'll email you a link to the story. You may edit your settings or unsubscribe at any time.
Sign-up for Alerts
Organizations in this Story
Illinois House of Representatives
More News