State Rep. David McSweeney (R-Barrington Hills) says State GOP Chairman Tim Schneider should be removed. | Youtube
Illinois GOP Chairman Tim Schneider is in for the fight of his life when the members of the Republican State Central Committee choose a state chairman in May, conservative members of the party say.
First elected state GOP chairman in 2014, Schneider's shaky future as chair stems in part from the aftershocks of conservative State Rep. Jeanne Ives' (R-Wheaton) near defeat of Gov. Bruce Rauner in the March 20 primary. State Rep. David McSweeney (R-Barrington Hills) says Schneider is Rauner's "complete puppet."
"He doesn't stand for Republican principles," McSweeney, who describes himself as a Reagan conservative, told Prairie State Wire. "He's head of the Illinois Rauner Party not the Illinois Republican Party."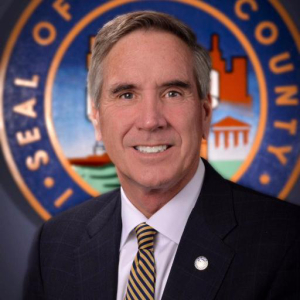 Illinois Republican Party Chairman Tim Schneider faces re-election on April 18. | Cook County
Schneider, who also serves as a Cook County commissioner, has also been blamed for the state party's national embarrassment for allowing a Holocaust denier to run in the Republican primary for the 3rd congressional district. With no opposition from within the party, Neo-Nazi Arthur Jones won the March 20 primary and will face Democrat incumbent Dan Lipinski in November.
"The party could have put up a challenger in the primary, could have challenged his (Jones') petitions, and could have put a write-in candidate in the race," McSweeney said. "They did none of these things."
Schneider is also being haunted by delinquent taxes owed on his business, and a 2010 land deal that McSweeney says should have been investigated for possible conflict of interest
Schneider is president of an Elgin car wash that owes $21,448 in overdue property taxes from 2016, according to the Cook County treasurer.
The taxes, and the property of WaterWerks Car Wash, located at 928 E. Chicago Ave. in Elgin, are scheduled to be auctioned off on May 4.
This is the second time in two years Schneider has been in peril of losing the property, valued at $487,652 by the Cook County assessor.
Two other companies Schneider has operated have been named in foreclosure suits, court records show.
The land deal involved a golf course in Elgin owned by the Schneider family. In January 2010 the Cook County Forest Preserve board voted to buy Rolling Knolls Country Club from the family for $5.745 million.
Five commissioners voted against the measure. Schneider recused himself, but many believe that the deal deserved more public scrutiny
The 18 Central Committeemen, one representing each of the 18 congressional districts, will elect a state chair in May to a four-year term. If the conservative and traditional Republicans can hold off from what McSweeney says is Rauner's attempt to force them out of the party, then Schneider could lose his job.