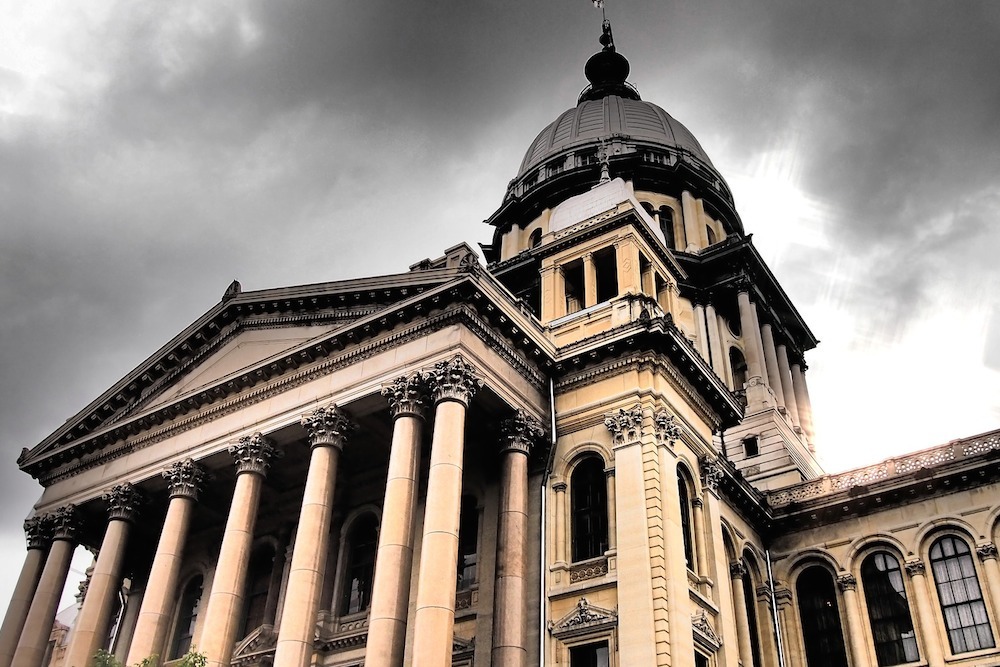 Senate Republican Leader William Brady of Bloomington and House GOP Leader Jim Durkin of Western Springs said Democratic leadership has promised to work with the GOP and Gov. Bruce Rauner on the budget following a recent meeting.
"I think there was progress made," Brady said of the meeting with Rauner, Durkin, Senate President John Cullerton (D-Chicago) and House Majority Leader Barbara Flynn Currie (D-Chicago). "The Democratic leaders agreed to make their appointments to the budgeting process and they also agreed we would certify a number for revenues, two critical steps; and I think the governor was wise to call this meeting and get the ball rolling."
Durkin said he hopes the Democrats are true to their word on certifying revenue estimates, something they have refused to do over the years.

Sen. William Brady (R-Bloomington) and Rep. Jim Durkin (R- Western Springs) address the media after Thursday's leadership meeting.
"We believe that is something we can do very shortly and then that will be the foundation for us to be able to work off a budget that will be balanced, one (where) revenues will meet expenditures," Durkin said.
Durkin said it is all part of the negotiations.
Cullerton commented on Rauner's desire to reduce taxes that are not "squaring" with the budget revenue estimate but Durkin said it is all part of budget negotiations.
"The Democrats ran that on their own, but we believe that there are savings we can make to the Illinois taxpayers, namely starting with pension reform," Durkin said.
He said the extremely important issue will bring significant savings if there is scaling, and "Democrats wish to agree with us on the tax increase they imposed upon Illinois citizens and small businesses last year."
One reporter confronting Durkin said the bottom-line was "if the money is there, you are going to spend it."
"The goal is we need to scale back and we don't need to spend everything," Durkin said, adding he hopes the Democrats will agree.
The fact of the matter is the Democrats have the majority, Brady said.
When Cullerton and Currie were asked if they could pass a budget with cuts Republicans would like to see, both said no.
"I think we are being reasonable and compromising to come up with a bipartisan solution to move the state forward," Brady said.
Cullerton said Rauner indicated the revenue estimate would include the money from the tax increase he vetoed last year.
"So I am going to assume he is supportive of the revenue estimates that he has in his own budget that have the tax increase in place," Cullerton said.
Gun legislation and mental health were other concerns Rauner addressed, according to Cullerton, who said he has requested $26 million for mental health funding.
Cullerton said the meeting was positive and hopes the budget process will be easier since the governor is assuming a lot more money than we had in the past.
"He is assuming the tax increase that he vetoed, which is included in this budget, and that is why he wants us to start with that number now," Cullerton said.