Pritzker Budget and Government Innovation Working Committee a who's who of Madigan cronies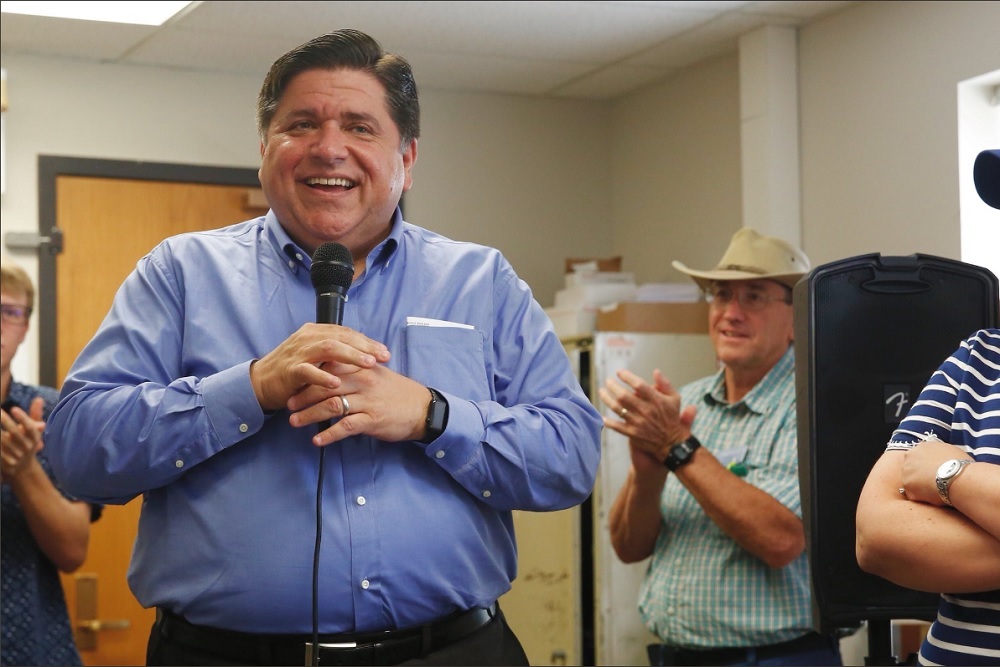 Illinois Democrat gubernatorial candidate J.B. Pritzker during the canvas kickoff in St. Charles last week.
Governor-elect J.B. Pritzker announced the creation of The Budget and Government Innovation Working Committee at a press conference last week. Most of its 17 members have ties to House Speaker Michael Madigan (D-Chicago).
"This is the first of many transition working committees," Lt. Gov.-elect Juliana Stratton said. "A balanced budget is our top priority, and it's vital for growing our economy and getting our state back on track for working families."
The members of the committee are listed below:
• Dan Hynes, a former state comptroller, will chair the committee, which will examine Illinois's state budget and the challenges that must be confronted.
• State Sen. Andy Manar (D-Bunker Hill) received money from a PAC controlled by Pritzker and Madigan during the election cycle, according to his opponent, Seth McMillan.
He received campaign donations during the last election cycle from the Chicago Teachers Union and other union lobbies and supports raising taxes to send more money to schools, which would add to the already debt-loaded teachers' pension system. He assumed office in 2013.
• Rep. Greg Harris (D-Chicago), along with Madigan, was offered time to discuss the budget with Republicans during the veto session in 2016, but was unprepared.
• Ralph Martire, executive director of the Center of Tax and Budget Accountability, which is backed by a public union, advocates for the "re-amortization" approach to pensions, which basically means taxpayers contribute more to pensions sooner.
• Laurence Msall, president of The Civic Federation, has been quoted as saying the teacher pension's 3 percent annual increase should be paid out regardless of the state's ability to pay.
• Carole Brown, budget director for Chicago, was not opposed to an idea to borrow $10 billion from the bond market to make increased pension payments.
• Kurt Summers, treasurer for Chicago, announced last month he would not seek re-election for his position. He previously worked as chief of staff for Cook County Board President Toni Preckwinkle.
• Dan Montgomery, president of Illinois Federation of Teachers, is a union activist and was elected president in 2010. He was re-elected in 2013.
• Former State Senate Minority Leader Christine Radogno abruptly resigned from the Senate in June 2017 during a special legislative session. Radogno's resignation took place immediately after the failure of a "grand bargain" budget plan she supported, despite criticism from fiscal conservatives, which included tax hikes.
• Pat Devaney, president Associated Fire Fighters of Illinois, who has called the Illinois Policy Institute "radical" in the past and believes Illinois has a brighter financial future than what numerous studies have pointed out.
• Michael Sacks, vice chairman of World Business Chicago, who became one of Mayor Rahm Emanuel's most trusted advisers.
• Leslie Sgro, president of Springfield Park Board, just announced she would be running for an eighth four-year term as par board president, which is a non-partisan office.
• Decatur Mayor Julie Moore Wolfe, who, along with the Decatur City Council, have tried not to raise taxes in the city.
• Rockford Mayor Tom McNamara, who instituted a new tax in April due to the rising pension costs.
• Jessica Basham, who is Madigan's chief of staff and has been since June.
• Kristin Richards, chief of staff for Senate President John Cullerton, who has been the chief of staff since 2016.
"This is the beginning of what is going to be a collaborative and innovative process and we are going to be leaving here, rolling up our sleeves and finding ways to fix these serious fiscal challenges of our state," Hynes said.
Pritzker said he was going to be very much on top of what the committees are doing.
"It is going to be a guidepost for what we intend to do with our administration in each of the committees we are putting together," Pritzker said. "This is simply the first announcement. We're going to be making regular announcements throughout this transition about each of the committees and the work that they're doing, trying to be as transparent as we can, while also letting them do their work."
Want to get notified whenever we write about any of these organizations ?
Next time we write about any of these organizations, we'll email you a link to the story. You may edit your settings or unsubscribe at any time.
Sign-up for Alerts
Organizations in this Story
Associated Fire Fighters of Illinois • Chicago Teacher Union • Illinois State Senate • The Civic Federation
More News