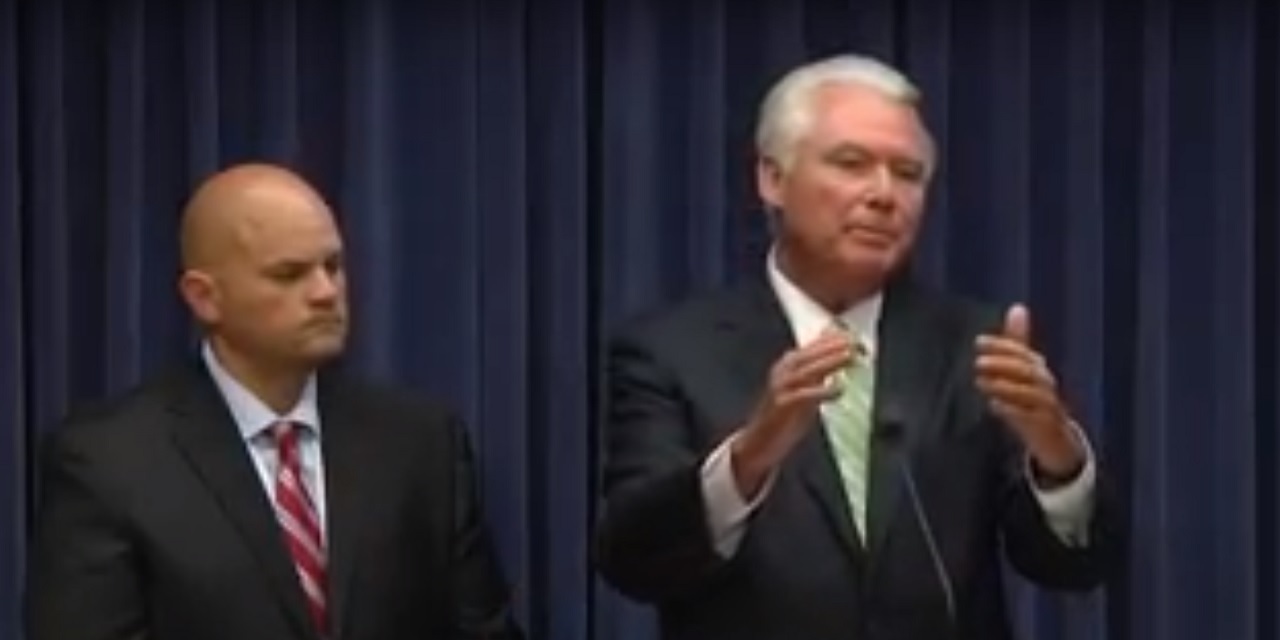 Greg Baise gestures and Mark Denzler Presser looks on at a press conference at the state capitol in Springfield.
Even as talk of a temporary income tax hike dominates much of Springfield, Gov. J.B. Pritzker's intentions on the issue remain a mystery.
Ideas for Illinois, a local "coalition for jobs, growth and prosperity," recently pointed out that even though Pritzker vowed that such legislation is not part of his upcoming budget proposal, he has refrained from going on record about what he would do in the event such an increase were part of any budget shipped to his desk for final signature by the Democratic-controlled General Assembly.
"Unfortunately, Illinois families are far too familiar with politicians saying one thing and going to Springfield and doing another," Greg Baise, chairman of Ideas Illinois, said in a Feb. 19 press release. "Governor Pritzker should make it clear that he is committed to vetoing any temporary income tax increase on Illinois families."

Gov. J.B. Pritzker
As murmurs about what would be the third income tax hike on local families in just eight years grew louder, Ideas Illinois recently called on lawmakers to release their own personal tax returns before moving forward on a such a proposition.
"A last-minute temporary income tax increase is right out of the Springfield playbook," Baise said. "We are committed to holding our elected officials accountable for the promises they made to Illinois families."
Meanwhile, Pritzker is scheduled to give his first budget address on Feb. 20, and while many of the details of it have been cloaked in secrecy Ideas Illinois hints that it is expected to highlight several large spending increases, including the $15 minimum wage bill the new governor officially signed into law the day before his address.
Ideas Illinois was formed in 2004 and in addition to its "jobs, growth and prosperity" commitment the organization advocates for growing the economy by "promoting free-market principles anchored in a reasonable and predictable tax system."