House GOP stands together to oppose progressive tax plan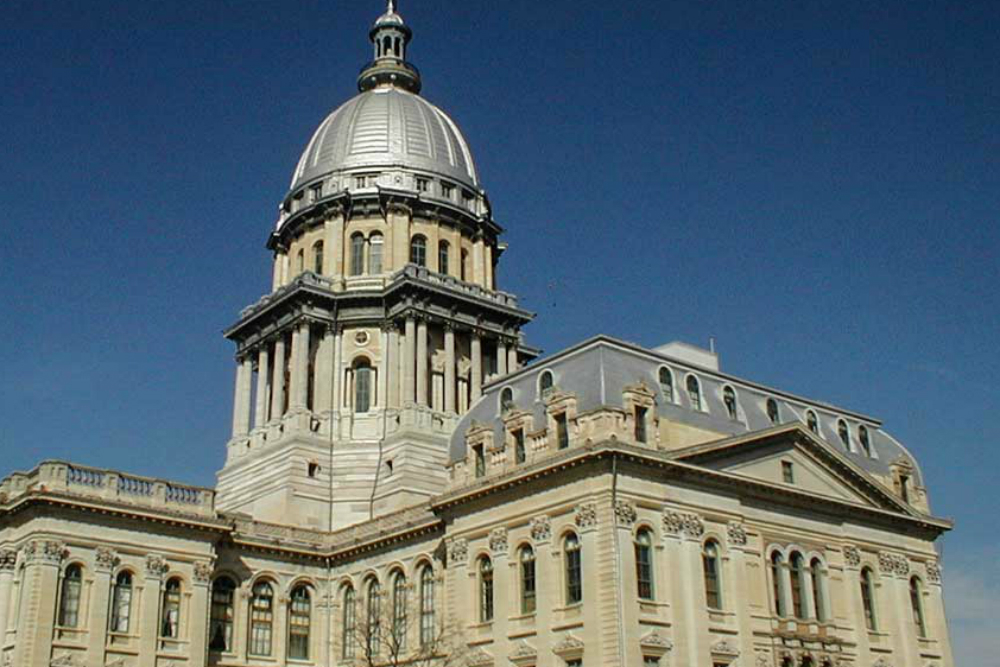 Illinois House Republicans united at a Wednesday press conference to speak out against Gov. J.B. Pritzker's plan to implement a graduated state income tax that he calls a "fair tax."
All House Republicans signed on to co-sponsor House Resolution 153 to combat the progressive income tax Pritzker proposes. Several were in attendance for the press conference.
Rep. Avery Bourne (R-Raymond)
Rep. Avery Bourne (R-Raymond) said Republicans filed House Resolution 153 to oppose Pritzker's unfair tax.
"Our current tax structure, our caucus believes, is one of Illinois' last competitive advantages that we have," Bourne said at the press conference. "It provides inherent protections. Our current structure provides long-term stability."
Bourne said that in his budget address, Pritzker stated that three-fourths of states have graduated rates, but what he failed to mention is that those states all top out at $60,000.
"Six of those states have a flat tax for under the poverty level," Bourne said. "Illinois has the highest tax burden in the midwest. Adding another tax increase or changing our tax structure will not make us competitive. Period. Especially when we've already been named one of the worst states for business."
Bourne said they have yet to see any rates, but there are not enough rich people in Illinois to pay for all of what Pritzker wants.
"This will impact the majority of Illinoisans," Bourne said. "That's why we're opposed. It will impact families and small businesses."
Rep. Grant Wehrli (R-Naperville) said a graduated income tax is not the answer for Illinois.
"It's the wrong thing at the wrong time," Wehrli said. "It is human nature for us to look forward with optimism — that there are better days ahead. A graduated income tax dampens that. We all want to prosper. This puts another cloud over Illinois. Who wants to start a business here when it means more taxes? Who wants to start a family here when it's taxes after taxes?"
Wehrli said Illinoisans are already taxed high enough.
"It's an intellectually lazy solution because it does nothing on the reform side," Wehrli said. "This won't solve much of anything."
During the press conference, a reporter asked about a non-partisan Southern Illinois University poll that said a majority of voters supported a graduated income tax hike.
"That 56-percent number doesn't reach the threshold of 60 percent to get this across the finish line," Rep. Keith Wheeler (R-North Aurora) said. "There's a problem there."
Wheeler said he does not believe that the polling actually reflects any actual real rates, so nobody could actually understand how it would affect them.
"If it was just a millionaires tax, which was presented a couple of years ago, that might be one thing," Wheeler said. "If it's going all the way down to the $17,000 level, hold the poll."
Pritzker has been outspoken about his want for a fair tax on Illinoisans, saying at the budget address in February that he was for it even though it would tax him more. The governor has proposed changing the state's constitution to include a graduated income tax that would mean higher taxes for those who make more money. The existing law is for a flat tax.
The resolution states that a graduated income tax would create added burdens as well as dissuade economic prosperity.
Want to get notified whenever we write about
Illinois House Republicans
?
Next time we write about Illinois House Republicans, we'll email you a link to the story. You may edit your settings or unsubscribe at any time.
Sign-up for Alerts
Organizations in this Story
More News