Rep. Bailey's bill that doubles fines for school bus-passing violations advances through House
A bill that doubles the fine for passing school buses when children are loading and unloading passed the House of Representatives on Thursday.
Rep. Darren Bailey (R-Louisville) sponsored House Bill 1873, which raised the fine for passing a school bus from $150 to $300 for a first offense, and from $500 to $1,000 for subsequent offenses.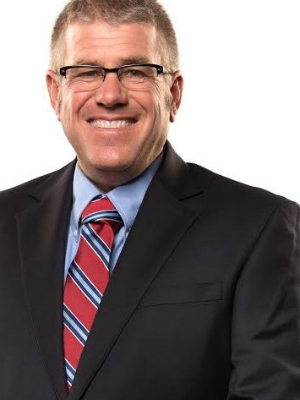 Rep. Darren Bailey (R-Louisville)
"This bill is a public safety bill to protect school children as they load and unload off of school buses," Bailey said.
Rep. Melissa Conyears-Ervin (D-Chicago) was against the bill, citing that there was no education for Illinoisans to be aware of the hike in the fines.
"Your side of the aisle has introduced a number of legislation to increase fines and penalties," Conyears-Ervin said. "This is a regressive tax. I know this won't be the last. All I see are bills from your side of the aisle without any education for residents. It's not that I'm opposed to making kids safe, but what I am opposed to is increasing fines and not notifying or educating the residents."
Conyears-Ervin said those who can, will pay the higher penalties and walk away, but those who are not able to pay may, in turn, lose their licenses and perhaps their ability to provide for their families.
"I take these pieces very seriously," Conyears-Ervin said. "Before you issue these, I need you to understand haves and have nots in Illinois. People will have no clue about this and all you're going to do is put them in a deeper hole. We need to educate the people of Illinois. I fight for our children every day but this is not the way to do it."
Rep. William Davis (D-East Hazel Crest) asked if the legislation would remove anything from the current law.
"I am removing nothing," Bailey said. "The only thing that changes is the penalty enhancement."
Rep. Will Guzzardi (D-Chicago) said the bill had noble intent but would be detrimental in its impact if passed.
"I appreciate the sponsor's intent," Guzzardi said. "We are all here to protect school children. But, I believe the bill is based on a flawed premise. Raising the penalty will not deter the behaviors — it just punishes more. It isn't going to keep our kids safer."
Rep. Mark Batinick (R-Plainfield) was baffled that people were putting a price tag on the death of a child.
"I'm looking at provisions for other states and some of those include jail time," Batinick said. "We're talking about education? If you do this one time and you have a fine and you aren't educated, you're never going to be."
Batinick said Illinois is at the lower end compared to other states when it comes to such penalties.
"We're at the low end of the fines which is why this keeps happening," Batinick said. "Nobody cares and just pays it. If you're more concerned about $150 over a school child, then go vote that way."
Rep. C.D. Davidsmeyer (R-Jacksonville) said it is taught in driver's education courses not to pass school buses.
"There isn't additional education that needs to be taught," Davidsmeyer said. "But this will be put in newspapers to let others know. I want to thank you for bringing this forward. I think this will deter people. Hopefully, we won't have to deal with the $1,000 fine, ever."
The bill passed with 74 Yes votes, 16 No votes and 12 members voting Present.
Want to get notified whenever we write about
Illinois House of Representatives
?
Next time we write about Illinois House of Representatives, we'll email you a link to the story. You may edit your settings or unsubscribe at any time.
Sign-up for Alerts
Organizations in this Story
Illinois House of Representatives
More News