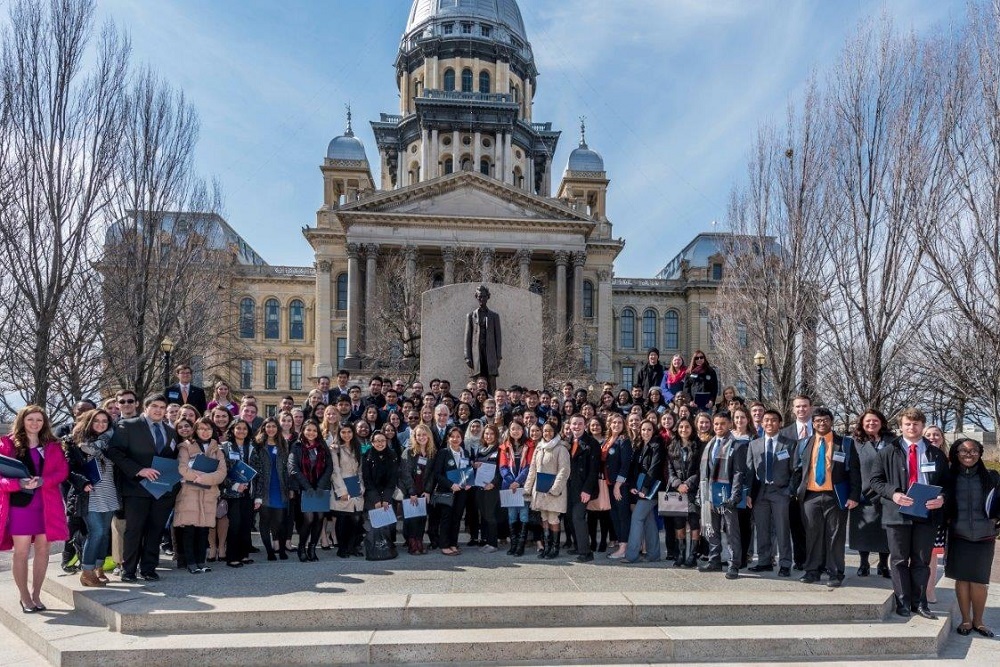 University of Illinois students in front of the state's Capitol Building | uillinois.edu
The University of Illinois at Urbana-Champaign will be getting more in subsidies in the state's 2020 fiscal budget. However, a report from the nonpartisan Chicago-based think tank the Illinois Policy Institute from about two years ago shows that universities in Illinois should lower their tuition rates rather than continue to fund already inflated costs with tax dollars.
Those subsidies even in 2017 were - as they are now - adding to an ongoing exodus of Illinois students that is "symptomatic of structural mismanagement at the public higher-education and state levels," Illinois Policy Institute said in a June 2017 report.
"Rather than keep tuition low, Illinois colleges and universities have taken the flood of federal and state monies available to higher education over the past two decades and spent it on a massive increase in administrative positions and exorbitant executive compensation," the IPI report stated. "As of 2015, Illinois spent more money on higher-education retirement costs than on university operations, whereas retirement costs consumed only 20 percent of the state's total higher-education spending in 2006. This re-prioritization of spending makes it easy to understand why higher-education institutions are demanding more tuition dollars to fill gaps in classroom funding."

University of Illinois President Tim Killeen | uillinois.edu
The IPI report reads as relevant now, following a U of I announcement that the university will be receiving even more subsidies as part of the recently passed $40 billion state budget for fiscal 2020. The state legislature approved the budget that included an almost 5-percent increase for the school system, according to the announcement issued by University President Tim Killeen and other university officials.
"The budget for the fiscal year that begins July 1 would provide the U of I System's largest appropriation increase since fiscal 2001, almost two decades ago," the announcement said. "Funding would grow by nearly 5 percent, or $27.4 million, in line with the increase that Gov. J.B. Pritzker recommended for day-to-day operations at our three universities in his budget proposal earlier this year."
The budget also would re-appropriate $500 million in capital funding to develop U of I's Discovery Partners Institute (DPI) and Illinois Innovation Network (IIN), according to the announcement.
"Our success in this spring's legislative session is the byproduct of a true team effort and we are grateful to everyone across the system who stepped up to advocate on our behalf," the announcement said. "That included more than 3,000 emails during the spring session that shared stories about the impact the U of I System has had in their lives and how it drives the fortunes of our state."
Earlier this year, UI Board of Trustees voted to extend an in-state tuition freeze for the fifth straight year for fall-enrolling, in-state freshmen at the university's campuses in Urbana-Champaign, Chicago and Springfield. Despite the tuition freeze, UI in-state tuition and book costs remain among the highest for schools in the Big 10 Conference.
"We also are grateful to Gov. Pritzker and the legislature, including our U of I Caucus, for the bipartisan cooperation that fostered this renewed investment in our state's flagship university system," the announcement concluded. "We are determined to reward their confidence, and help steer Illinois to a new generation of progress and prosperity."