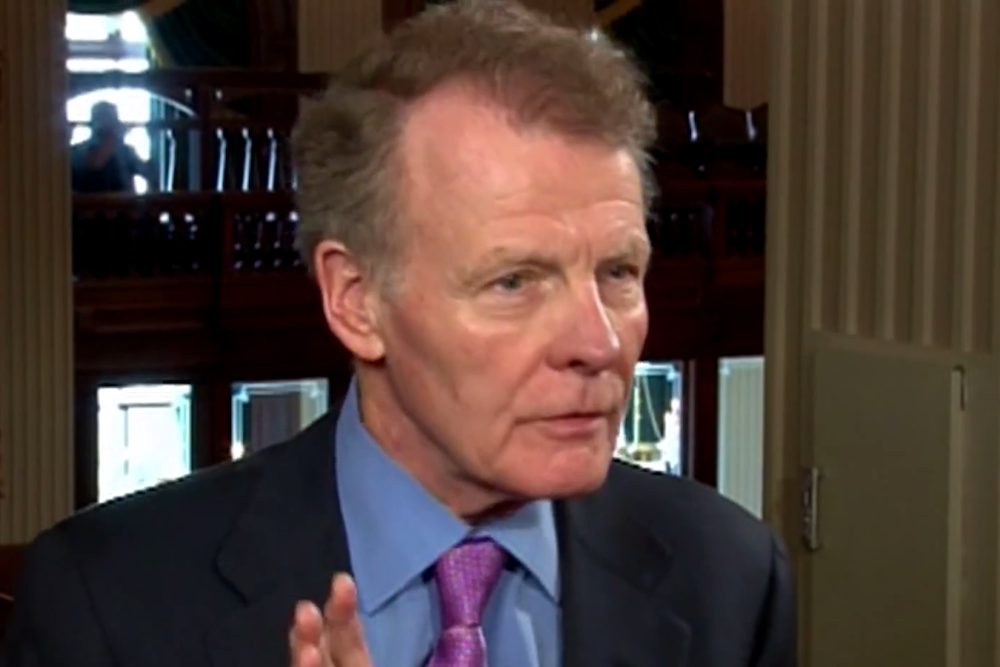 House Speaker Michael Madigan (D-Chicago) | Wikimedia
Jason Gonzales insists that his legal stand against Mike Madigan (D-Chicago) is about much more than losing a 2016 Democratic primary at the hands of the Illinois House Speaker's powerful political machine.
"I want people to know that this is really about principle and it's really about protecting the integrity of our election and allowing individuals to run without having this illegal activity take place," Gonzales, who has filed a federal lawsuit alleging that Madigan positioned sham candidates on the ballot in 2016 to help him win another reelection, told the Prairie State Wire. "I am fighting for all the candidates that will go forward. I hope we are going to set a precedent that could be nationwide that says this type of behavior, putting phony candidates on the ballot to defraud voters and to deny the rights, particularly of minority candidates, is illegal and there are consequences."
According to the Chicago Tribune, red flags went up when Madigan political operative Joseph Nasella alleged that other associates close to the Speaker solicited his help in getting an unknown candidate on the ballot in the 2016 Democratic Illinois House primary. In the end, two mysterious candidates with Hispanic-sounding names appeared in the race, allegedly the result of a plot orchestrated by Madigan's side to confuse voters and lessen the threat of Gonzales' challenge to the longtime incumbent.

Jason Gonzales during the 2016 primary campaign
Gonzales' suit seeks at least $2 million in damages, with Madigan's team more recently filing a motion to have the proceedings dismissed.
"Right now, we're at a critical juncture because the defendant, Speaker Madigan, and his operatives have filed a motion for summary judgment," Gonzales said. "Basically, they're saying, 'Well, we're not admitting to what we've done but even if we did do it, we have a First Amendment right.' Our argument is that they don't have a right to do something illegal by committing fraud and placing two phony candidates on the ballot and depriving the rights of other voters participating in the election."
Gonzales said his case is supported by more than 60 depositions he believes point to Madigan's transgressions.
"I think we have a pretty strong case to get this to trial," he said. "Their motivation was to win the election at all cost. Whether they committed fraud or whether they manipulated voters or tried to confuse voters, it's winning at all cost. Even if it was illegal, they were prepared to do it. It's the oldest trick in the book and the machine has been doing this for years. The difference between me and other candidates is I'm willing to take them on."