Sen. Bill Brady
State Rep. David McSweeney (R-Barrington Hills) pumped more life into a dust-up between two legislative colleagues over the limited disclosure required of lawmakers with financial interests in the gaming industry.
In a tweet late last week, McSweeney cited reports about a dispute between Senate GOP Leader Bill Brady (R-Bloomington) and state Sen. Jason Plummer (R-Edwardsville) over Brady's affiliation with Midwest Electronics Gaming, a company that places video gaming terminals. Brady has disclosed the association with Midwest, but not the amount his company, Brady Ventures, has earned from it.
Earlier this month, Plummer filed legislation (SB 2318) that forbids lawmakers from receiving any financial gain from the gaming industry. Reports quoted Plummer as saying that Brady offered him a position on the newly created Joint Commission on Ethics and Lobbying Reform in exchange for withholding the bill. Brady denied ever having made that offer.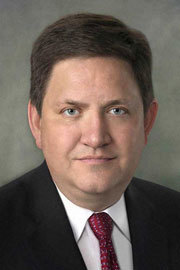 Rep. David McSweeney (R-Barrington Hills)
The news reports prompted McSweeney to tweet: "It's time to reform Illinois. I'm fighting corruption in both parties."
The dispute emphasizes yet again the need for ethics reform in general and full disclosure of the extent of a lawmaker's financial interests, Jay Young, executive director of Common Cause Illinois, said.
"I can't speak to the dispute over what he (Brady) and Senator Plummer actually said to one another," Young told Prairie State Wire. "However, Senator Brady's failure to adequately disclose his financial interests in a video gaming concern presents a clear challenge to our democracy."
He added that Brady appears to be in compliance with the Illinois Governmental Ethics Act, but the act doesn't require him to disclose third-party money paid into Brady Ventures.
"There's nothing inherently illegal about receiving money from a gaming company, but the public and his colleagues should have known that his judgment could be clouded by those payments," Young said. "Here in Illinois, the Statements of Economic Interests that our legislators are asked to file fall well short of what is needed to hold them accountable."
The General Assembly created the Joint Commission on Ethics and Lobbying Reform in response to a series of corruption scandals involving lawmakers. Most recently, state Rep. Luis Arroyo (D-Chicago) was arrested for bribery before stepping down in early November, and later that month state Sen. Martin Sandoval (D-Chicago) resigned following FBI raids on his district and Springfield offices.