Anti-abortion side's hopes for amendatory veto of House Bill 40 appear doomed
Gov. Bruce Rauner is reportedly planning to sign controversial abortion funding expansion into law despite efforts by anti-abortionists to find a middle ground on the legislation, House Bill 40.
Those opposed to the expansion have urged Rauner to issue an amendatory veto that would keep language deleting a trigger that would again make abortions a felony in the state if the U.S. Supreme Court overturns Roe v. Wade, but strike the provision requiring taxpayers to fund abortions, under Medicaid and state government health insurance, at any point in a pregnancy.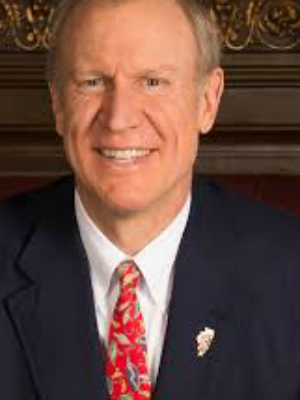 Gov. Bruce Rauner
Funding is currently limited to cases of rape, incest, and health and life of the mother.
Ralph Rivera, lobbyist for Illinois Right to Life Action, told Prairie State Wire that "by deleting the trigger, and yet preserving the funding restrictions, the governor can both appeal to the other side and the over 60 percent of those in Illinois who oppose public funding of abortion."
Rivera added that the language in the trigger is powerless anyway.
"We kept telling them (lawmakers) that the way the trigger was written would not hold up in court, but the other side put the deletion of it in anyway and got some votes because of it," he said
But sources close to the governor say he plans to sign the legislation as is, a move that Illinois Right to Life estimates would lead to 12,000 additional abortions each year at a cost of more than $21 million. The group based its findings on Medicaid figures from the late 1970s, the last time Illinois had unrestricted Medicaid funded abortions.
In addition, Right to Life said HB40 would lead to more fraud in the abortion industry. On its website, the group cited a congressional investigation that revealed massive overbilling by Planned Parenthood, the largest provider of abortions in the country.
If Rauner signs the bill, he would break his earlier promise to veto it when the Democratically controlled Legislature began considering it. The House approved it in April and the Senate followed in May.
In a maneuver that political observers say was timed to impact the March gubernatorial primary, the Senate held onto the bill until Monday. The maneuver will almost certainly pay off for Democrats if Rauner signs HB40 into law. Every Republican lawmaker voted against it, and Illinois' Republican Congressional Delegation recently sent the Rauner a letter urging a veto.
The filing deadline for the March 20, 2018, gubernatorial primary is Dec 1. As of publication, Rauner's only primary opponent is TV personality William Kelly, a perennial candidate who has lost the three previous races. If Rauner signs the legislation, it could invite a serious primary challenge, and some powerful conservative Republicans reportedly have already threatened such.
Rauner has 60 days to act on the bill.
Get notified the next time we write about Illinois Governor Bruce Rauner!
Organizations in this Story
301 S 2nd Street
Springfield, IL - 62707
More News