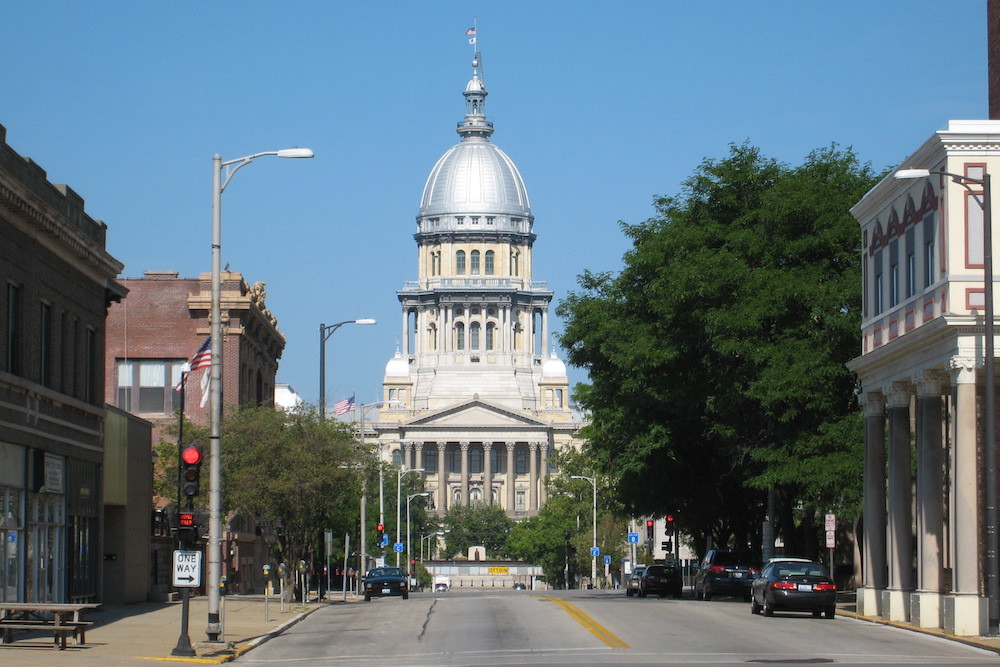 Springfield | Éovart Caçeir at English Wikipedia, CC BY-SA 3.0, https://commons.wikimedia.org/w/index.php?curid=10535377
A victim-rights advocate's claim that she was harassed by a Chicago senator has highlighted what a policy analyst says is a culture of harassment in Springfield.
Austin Berg, director of strategy content at the Illinois Policy Institute, wrote Nov. 2 that Springfield has allegedly been a haven for harassing behavior, referring to the environment as "Spring Vegas," and cited a list of rumored stories over the years emanating from the Capitol.
"Maybe it's a lawmaker calling from outside a woman's hotel room door at 1 a.m., begging for entry," he wrote. "Or a lawmaker dropping his pants in front of a woman in a meeting. Or a lawmaker holding court at a bar where it's an open secret that he trades sex for access. These types of stories are endless."
A sliver of the alleged environment may have been brought into the spotlight Oct. 31, when Denise Rotheimer claimed that state Sen. Ira Silverstein, D-Chicago, harassed her. She claimed that she had authored a bill Silverstein sponsored but that he pulled away from backing the bill once he believed she was in a relationship.
Silverstein, who was a caucus leader but has since resigned from that title, has denied the claims.
Also at the end of October, about 300 men and women signed a letter seeking a change in that environment, with the letter stating that coming forth can be detrimental to one's job.
Berg wrote that capital insiders have said politicians' alleged harassment has been directed toward young, politically minded workers to give life to their careers.
"For years, participants in the state's legislative-intern program received the following piece of advice at the start of their summers: Don't ever get into an elevator with a lawmaker alone," Berg wrote. "Imagine heeding such a warning as a young person seeking a career in public service."
An impediment to fixing harassment issues in the capital, Berg said, was the lack of sufficient oversight and investigative abilities. The Office of the Legislative Inspector General, the only office that has the power to investigate legislators or staffers when harassment accusations arise, had been vacant until recently. Berg also challenged the office's independence when it was staffed.
House Speaker Mike Madigan, D-Chicago, responded to the rising concerns stated in the letter by introducing a bill that makes sexual-harassment training mandatory for officials in the government. Those who do not go along with the training would have their names made public, the Chicago Tribune reported. The Tribune also reported that the training was set to take place Nov. 8-9.
However, Berg is skeptical of new legislation making a positive change.
"Unfortunately, efforts to change the culture of sexual harassment in Springfield through legislative action have been tried before, not to mention backroom bargaining to 'punish' bad actors," he wrote. "Yet abusers in both parties remain in the Statehouse."
Positive moves have been made with the letter and making names public, which could be the first steps toward changing the environment in which victims and witnesses are held back by lack of power and avenues to come forth, Berg wrote.
"Bystanders, including and especially men, should take note," he wrote.