Victim advocate group founder supporting Ives' effort to repeal sanctuary law
Brian McCann says the shooting death of 32-year-old Kate Steinle by an illegal immigrant in 2015 in San Francisco, a sanctuary city, is not an "outlier case."
There are thousands of victims of illegal immigrants each year, he told Prairie State Wire. In 2011 in Chicago, McCann's brother, Dennis, became one of them. He was struck and killed crossing Kedzie Avenue by an illegal immigrant with a 0.29 blood alcohol content.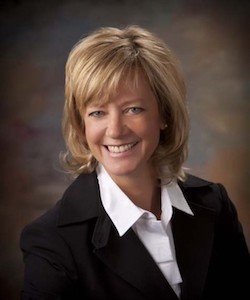 Rep. Jeanne Ives
Just this past June, McCann started the Advocates for Victims of Illegal Alien Crime (AVIAC) group.
He recently appeared with state Rep. Jeanne Ives (R-Wheaton), who is challenging Gov. Bruce Rauner in the Republican primary, outside Cook County Jail in support of her legislation that would overturn the statewide sanctuary legislation signed by Rauner in August.
The legislation, the Trust Act, bans local law enforcement from stopping, arresting, searching or detaining anyone based solely on immigration status. The law also bars local officials from detaining anyone solely on the basis of a federal immigration detainer unless officials have a criminal warrant.
"All we're asking is some justice for the families of the victims," McCann said. "And that starts by ending sanctuary policies."
The Steinle case again made headlines last week with the acquittal of the shooter, Jose Ines Garcia Zarate. He had previously been deported five times. The driver in the McCann case, Saul Chavez, made bail, fled to Mexico and was never prosecuted.
In another San Francisco case, Drew Rosenberg was run down by Roberto Gallo, an illegal Honduran immigrant, in 2010 as he was walking home from law school. Gallo was charged with a misdemeanor and served 43 days of a six-month sentence. It took Drew's father, Don, eight months of fighting with authorities to get Gallo deported to Honduras.
Rosenberg said that after his son's death he initially focused his advocacy efforts on unlicensed drivers but said in his research cases of illegal immigrants involved in car accidents kept coming up.
"At first I didn't pay much attention to it because I believed all the talk too about all the good things that illegal aliens do for the economy and the country," he said.
Rosenberg's research puts the number of Americans killed by illegal immigrants at approximately 5,000 a year. Approximately 3,500 of the deaths are the result of car accidents; the others are victims of murder and other crimes.
Rosenberg blames the media for covering up the stories.
"Nearly everyday the Los Angeles Times has some what I call 'cry me a river story' about someone getting deported," he said. "But not once since 2010 have they interviewed a family member of one of the victims."
Rosenberg is working with McCann and others to raise money to start crime victim advocacy groups across the country.
"It's just like they say, nothing will bring them back but maybe we can prevent another family from going through this."
Want to get notified whenever we write about any of these organizations ?
Next time we write about any of these organizations, we'll email you a link to the story. You may edit your settings or unsubscribe at any time.
Sign-up for Alerts
Organizations in this Story
Illinois Governor Bruce Rauner • Illinois Representative Jeanne Ives (R-42nd)
More News