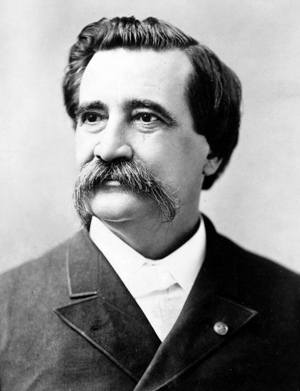 John A. Logan died on Dec. 26, 1886. | Wikipedia
Here are some of the biggest events that happened during the holidays in Illinois' history:
Dec. 25, 1865 – Chicago. Christmas Day marked the opening of Chicago's Union Stock Yard & Transit Co., also known as The Yards. According to Encyclopedia of Chicago, the 475-acre stockyard processed more than 1 billion animals before closing in 1971.
Dec. 26, 1886 – Murphysboro. War hero and political leader John Alexander Logan died. Logan, who was born in 1826, began his military career during the Mexican-American War in 1847, according to the Logan Museum. In 1861, he raised the 31st Illinois Infantry to fight on the Union's side of the Civil War. Prior to the Civil War, Logan had served as an Illinois congressman, and he was re-elected after the war. He ran an unsuccessful campaign as vice president in 1884.
Dec. 27, 1863 – Albion. Illinois' 27th governor Louis Lincoln Emmerson was born. According to Illinois Genealogy Trails, Emmerson rose to the presidency of Mount Vernon Third National Bank. He was named secretary of state in 1916 and elected governor in 1928.
Dec. 28, 2008 – Illinois. In a controversial move, Gov. Rod Blagojevich announced Roland Burris would fill President-elect Barack Obama's vacant U.S. Senate seat. Members of the Senate Democratic caucus claimed Lt. Gov. Pat Quinn should make the appointment, and Sen. Harry Reid (D-NV) said he would block Burris' appointment, according to Politico. Burris became Illinois' first black elected official when he was elected as comptroller in 1983. He went on to serve as attorney general from 1991 to 1995.
Dec. 28, 1993 – Chicago. Author William L. Shirer dies. Shirer was a political journalist and war correspondent for the Chicago Tribune who covered the world leading up to World War II and told Americans about Nazi Germany, according to The New York Times. Edward R. Murrow asked Shirer to join him at CBS Radio and Shirer started his career in broadcast news. In 1960, he wrote the well-known nonfiction book, "The Rise and Fall of the Third Reich."
Dec. 29, 1963 – Pittsburgh. The Chicago Bears win the 1963 NFL Championship against the New York Giants. The Bears came from behind to take the Giants 14-10, according to a Pittsburgh Post article. Chet Choppock, a Chicago sports broadcaster, recapped the game on the Chicago Bears website, stating Giants quarterback Yelberton Abraham Tittle Jr. was injured during the game but came back during the second half only to have a pass intercepted by the Bears' Richie Petitbon. The win gave Bear's coach George Halas his first championship in 17 seasons.
Dec. 30, 1903 – Chicago. The Iroquois Theater fire kills more than 600 people, making it the deadliest theater fire in U.S. history, according to history.com. Calcium lights started the fire backstage during a sold out performance of "Mr. Bluebeard" and 27 of the 30 exits were locked. George Williams, Chicago's buildings commissioner, was charged with misfeasance since he had declared the building fireproof during inspection.
Dec. 30, 1975 – Libertyville. Author of "The Artist's Way," and Libertyville native Julia Cameron marries director Martin Scorsese. The two met while Cameron was interviewing Scorsese for a Rolling Stone article, according to Zimibo.com. The two had a daughter together before divorcing in 1977.
Dec. 31, 1855 – Chicago. A plan by engineers to raise the streets of Chicago was adopted. According to Chicago Magazine, Chicago's streets were covered in mud and filth, likely leading to the city's cholera and fever outbreaks. Engineer Ellis D. Chesbrough brought forward the plan to raise the city streets and buildings 10 feet to accommodate sewer lines to run under the streets. Most of the raising work was completed by the late 1850s.
Dec. 31, 2008 – Naperville. Former "American Idol" finalist Gina Glocksen (24) marries school teacher and boyfriend Joe Ruzicka (32). Ruzicka proposed to Glocksen onstage while she was competing in the sixth season of the TV show, according to People Magazine. They married at Century Memorial Chapel at Naperville Settlement in Naperville.
Dec. 31, 2010 – U.S. Tornadoes hit the Midwest and Southern United States. According to webcitation.org, 32 tornadoes hit states that included Arkansas, Illinois and Oklahoma. The tornadoes caused nine deaths, four of which were in Missouri.