Rotheimer, Ives fight on for victims rights in Springfield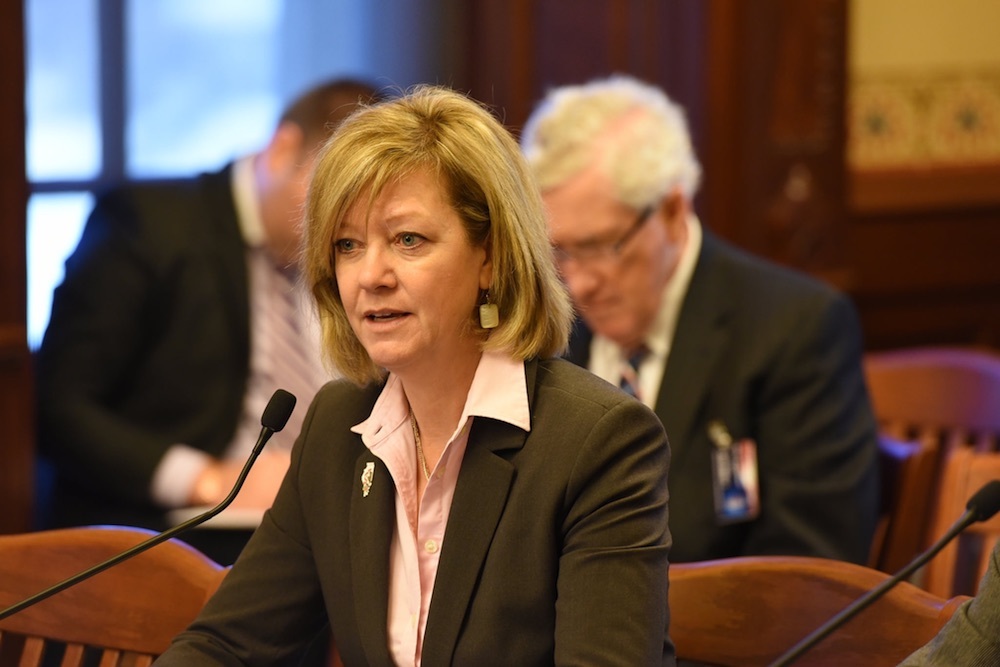 Illinois Representative Jeanne Ives (R-42nd) | jeanneives.org
The latest skirmish in the campaign victims rights activist Denise Rotheimer is waging, nearly single-handedly, to give rights to accusers in sexual harassment charges within the General Assembly erupted before the House Task Force on Sexual Harassment and Discrimination recently.
Task force member Rep. Mary Flowers (D-Chicago) chastised Rotheimer for not doing enough to bring her case to lawmakers before going public.
Denise Rotheimer, founder of Mothers on a Mission to Stop Violence
"If you wanted to come and complain about the text messages and the exchanges that you were having with the senator, you could have done so," Flowers said.
Rotheimer said Flower's statement amounted to more victim blaming, something she has faced ever since she made the accusations against state Sen. Ira Silverstein (D-Chicago) public at a hearing last October.
"I'm not going to be told by that representative that I could have done something," Rotheimer shot back. "She doesn't know my situation. I never got a hearing."
Appearing at the hearing with Rotheimer was state Rep. Jeanne Ives (R-Wheaton) who has introduced legislation, HB 4840, to give complainants rights in the grievance process within the General Assembly.
"You have no right to even be heard," Ives said. "You have no right to even know that your complaint was filed correctly. It's outrageous and this is Illinois corruption at its core."
The week before, the House Executive Committee tabled HB 4840. Members cited the task force's yet uncompleted work on the issue.
In a statement, Ives said that the committee members' rationale for not advancing the bill was an "often-used excuse to delay real action in Springfield."
"This is shameful," Ives said. "Denise is the whistleblower who pushed for her complaint to be heard and only because she kept asking about it was it revealed that the Legislative Inspector General position was vacant for three years. But for her diligence, we still would not know 27 complaints sat for up to three years unheard.
"She was also the first person to go through the complaint process once an LIG (Legislative Inspector General) was appointed. She had no rights in the process, which is why she helped write HB4840."
In January, Julie Porter, the newly appointed LIG, concluded that Silverstein did not commit sexual harassment, but that he did violate the section of the Illinois Governmental Ethics Act known as the legislative code of conduct. Porter recommended that Silverstein receive counseling from the Senate's ethics officer.
On March 20, Silverstein lost his primary bid for re-election.
Rotheimer blames the circle-the-wagons culture in Springfield, which she said accounts for the Legislative Ethics Commission's failure to fill the post even though by law they are required to appoint an interim LIG when the position becomes vacant.
"These sitting members allowed my complaint against Silverstein to go uninvestigated in violation of the law," Rotheimer wrote in an earlier complaint against the commission. "This is a prejudice that does not give me the confidence that any of them should sit on the commission and determine the outcome of the complaint I originally filed, which they swept under the rug. They protected Silverstein once even though they did so by violating the law and misleading the public by saying there were no 'cases.' I am filing a complaint against them and request that they follow the law and recuse themselves because they also must be investigated for nonfeasance in this matter as their wrongdoing and role in this injustice has directly caused me much to suffer."
Want to get notified whenever we write about
Illinois General Assembly
?
Next time we write about Illinois General Assembly, we'll email you a link to the story. You may edit your settings or unsubscribe at any time.
Sign-up for Alerts
Organizations in this Story
More News