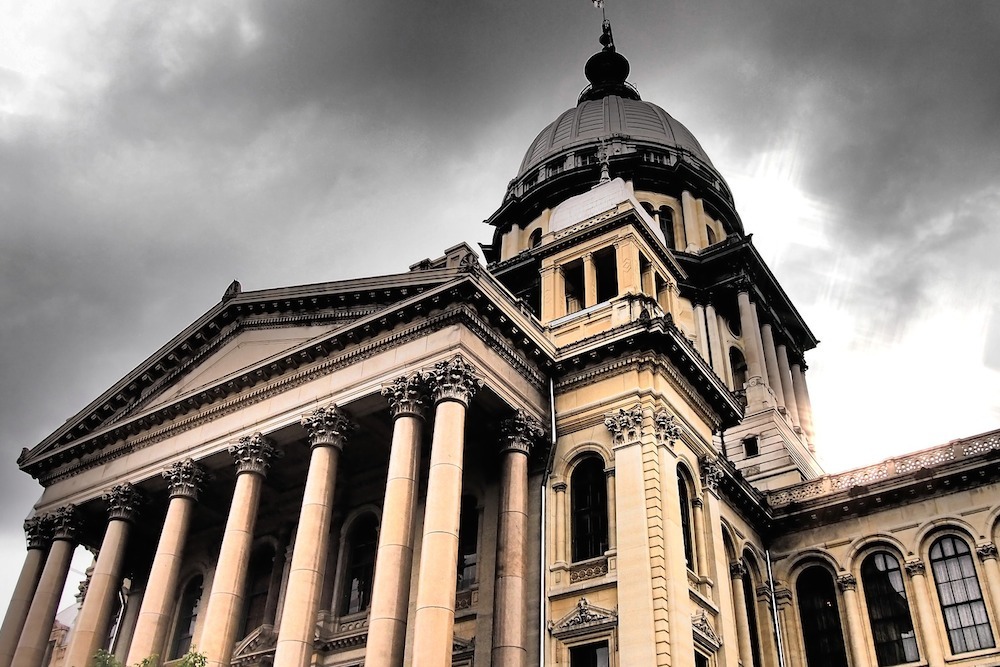 GOP lawmakers and thousands of Illinois State Rifle Association (ISRA) members rallied last week for gun rights in front of the Capitol in Springfield.
"We want to yell loud and make sure they hear us in the Capitol building because they are kind of deaf up there," Richard Pearson, ISRA executive director, said after marching to the statehouse April 25 before introducing Rep. Margo McDermed (R-Mokena).
Calling Democrats "hysterical no nothings on the other side," McDermed welcomed the thousands, saying she was not going to talk about specific bills but rather what Republican Party is doing.

Sen. Neil Anderson
"We are being vigilant, and our Republican caucus is standing firm," McDermed said.
She said none of her concealed carry weapon bills were allowed to run in Judiciary Criminal Committee due to Democrats, but the GOP caucus is protesting and ISRA members must continue to fight.
"What you are doing here today and what you are doing at your computers everyday is essential," McDermed said. "You need to stay strong so we can stay strong to represent you."
Stepping up to the podium, Sen. Neil Anderson (R-Andalusia) said he never felt safer in his life.
"It is really important that you guys are here because our Second Amendment has been under attack for some time," Anderson said.
Anderson said he has been carrying a concealed weapon for as long as he has been able to do so and urged everyone to take gun safety classes to learn to protect themselves.
"We have a right to defend ourselves and to defend our property against enemies, both foreign and domestic," Anderson said.
Calling himself a "Glock guy," Anderson said there are things going on in the Capitol that are criminal. As long as he can remember, Anderson said, his friends on the other side of the aisle argue "we are not coming to take your guns, we are just trying to make it harder for the bad people to get guns."
While he agrees with the latter, Anderson said Democrats lied about the first part three weeks ago.
"We just voted on a bill that is literal confiscation if you are under the age of 21 and that is blatantly unconstitutional," Anderson said.
Rep. Reggie Phillips (R-Charleston) credited the crowd for his statehouse position.
"You guys swung the vote in my favor, and I am all about the Second Amendment and guns," Phillips said.
After calling himself a "Smith and Wesson guy," Phillips stressed the importance of the rally due to the Democrats' constant attempts at bullying.
"They walk the halls and look into our office for the intimidation affect," Phillips said, adding not all Democrats are against guns and some on the House floor hold their feet to the fire.
The work that Illinois Gun Owner Lobby Day (IGOLD) members do annually is significant, Sen. Jason Barickman (R-Bloomington) told the crowd.
"It's crazy since you have people like former Justice Paul Stevens saying he wants to repeal the Second Amendment," Barickman said. "These are ludicrous suggestions, what comes next the First Amendment?"
He said Democrats are only attempting to drive their political agenda, and the GOP needs the ISRA to keep fighting.
"Thank you for your support on a day like today when we know what is being bantered about in there," Barickman said as he pointed towards the Capitol.
Sen. Dale Fowler (R-Harrisburg) said as he looked out at the amazing signs that read 'we're not going away," lawmakers aren't either.
"We are here for you and are here for our Second Amendment rights," Fowlers said. "To have this huge crowd out here is the kind of signal we need to send to all legislators."
It gets lonely fighting for gun rights in Springfield, according to Sen. Dave Syverson (R-Rockford), who said it was awesome to see such support. "These are the views that common sense, normal American people believe in – for law abiding citizen to protect themselves," Syverson said.
Rep. Jerry Lee Long (R-Streator) said if lawmakers take away the Second Amendment, then the rest of the freedoms will die.
"I have three concealed carries and I love to carry every chance I get, because I know our individual freedom right depends upon that carry," Long said.