July 30, 1898 - Highwood. Amusement park honoring Civil War General Philip Sheridan opens. Headquartered at the intersection of Clay Street and Sheridan Road in Highwood, Fort Sheridan Park was advertised as "the only first-class family resort and picnic grounds west of New York," as a print advertisement proclaims on the Illinois History Journal's digital archives. A vintage sign from the park boasts concerts and vaudeville performances. Alas, the park only lasted a decade, after a fire left the trolley-accessible venue in ruins.
July 31, 1939 - Grandview. Citizens meet to lay the groundwork for water and sewer lines to the burgeoning city of Grandview. As the Village of Grandview's historical website tells the story, the city didn't even have a name yet when town fathers Floyd Strode and a Mr. Bodenhamer (whose first name is lost to history) gathered the citizenry to form a board, which met on this day nearly 80 years ago. The name was bestowed a year later when the board members authorized a $38,000 bond sale to finance the water system.
Aug. 1, 1955 - Urbana-Champaign. PBS affiliate WILL-TV makes its first broadcast. During the 30-odd years before it took to the TV airwaves, WILL operated AM and FM stations from various locations at the University of Illinois, according to an article on Illinois.edu. But by the mid-1950s, there was a need for a television outlet, and WILL was born. The inaugural broadcasts featured an educational film, "The Finder," and "Your University," hosted by Lloyd Morey, the university president, along with other school officials.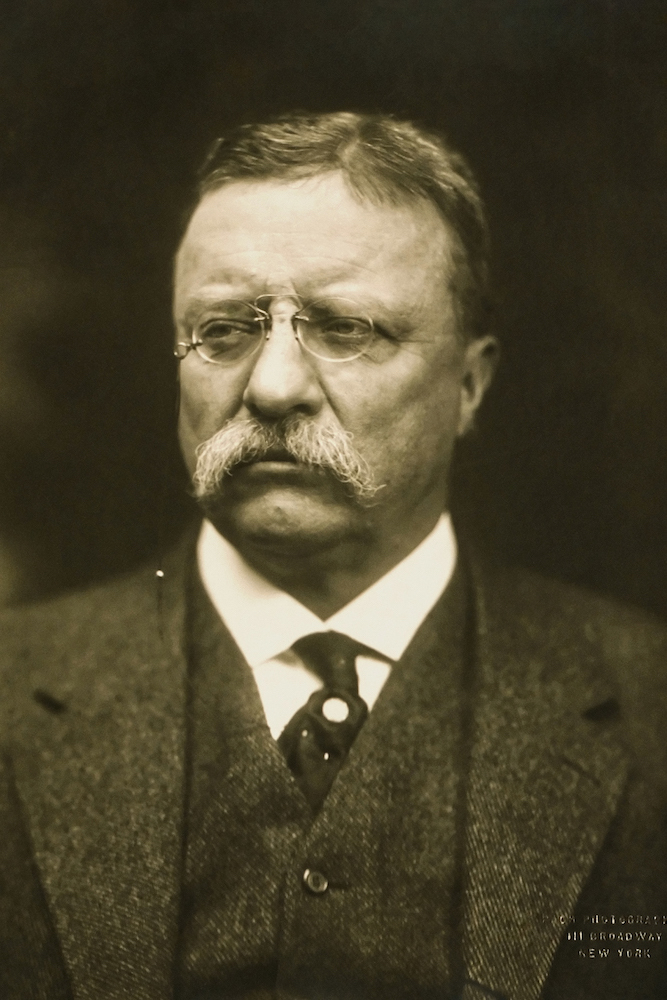 Teddy Roosevelt
Aug. 2, 1992 - East St. Louis. Jackie Joyner-Kersee gains historic second Olympic gold medal. A UCLA track and basketball star hailing from East St. Louis, Joyner-Kersee broke Olympic records in 1988 with her long jump of 24 feet, 3 inches, propelling her to the gold medal that year. Her event was the heptathlon – a seven-event track-and-field contest. As History.com recounts, she won in the same event in 1992, with a record-breaking 7,044-point score. By the end of her Olympic career in 1996, she had taken home six gold medals.
Aug. 3, 1877 - Chicago. The city's first mayor passes away. Before William B. Odgen's 1860 retirement from politics, he was a man without a party, defecting from the GOP over a disagreement with the timing of Lincoln's Emancipation Proclamation. In office as mayor for the then-normal one-year term, Ogden had earned his fortune in the railroad business, and became a tireless supporter of the city's transportation infrastructure, both in and out of office. In 1862, he was named the first president of the Union-Pacific Railroad.
Aug. 4, 2004 - Springfield. Popcorn is adopted as Illinois' official snack food. Although it became the state's snack in 2004 thanks to the suggestion of a group of elementary-school students, it wasn't until 2015 when a progenitor of popcorn, namely, sweet corn, was ruled the state's official vegetable. It took the action of a small group of legislators (all Democrats) to accomplish this feat: Sens. Lawrence M. Walsh, Louis S. Viverito and Mattie Hunter, and Rep. Jack McGuire.
Aug. 5-7, 1912 - Chicago. Progressive Party meets to choose former president Teddy Roosevelt as its candidate. Roosevelt allegedly told the media "it takes more than that to kill a bull moose" after surviving an assassin's bullet on the campaign trail, and the name stuck. The center-left Progressive Party became known as the Bull Moose Party. (Roosevelt was later hospitalized because of the shooting.) He had just completed a two-term tenure in the nation's highest office and had been set to turn the reins over to William Howard Taft, but unrest among Republicans brought the former chief executive out of political retirement. The Bull Moose Party counted a number of reforms as part of its platform: national health care, women's right to vote, recall elections and limits on courts' ability to end labor strikes. However, Progressive Roosevelt and Republican Taft were defeated by Democrat Woodrow Wilson in 1912.