Dodge says Mautino should resign, corruption keeping embattled Illinois Auditor General in office
Jim Dodge
Jim Dodge reasons Illinois Auditor General Frank Mautino now facing a federal investigation for campaign finance violations speaks to the way House Speaker Mike Madigan (D-Chicago) has long held control over the state.
"Madigan and Mautino have been protecting one another for what seems like forever and this whole situation is proof of why that is," Dodge told the Prairie State Wire. "Think about it, of the people that might go after Madigan for all his past corruption, one of them would be the auditor general. You add to that Madigan's daughter is the longtime state's attorney and you start to understand why he's been able to get away with so much and is so deeply in Mautino's corner."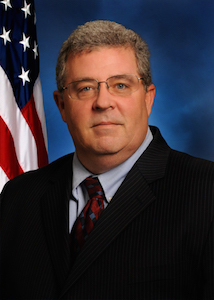 Illinois Auditor General Frank Mautino
Mautino recently went before the Illinois State Board of Elections to face allegations of campaign committee violations. Dodge said he isn't surprised that the board was unable to get the votes necessary to censor him in any way, deadlocking in a 4-4 vote that played along partisan lines.
Throughout the board proceedings, Mautino refused to speak with the board, invoking his Fifth Amendment right.
"It's clear he has no business in office in a position that should be beyond reproach," said Dodge, who is running for state treasurer as a Republican in November's general election. "He should resign office, and the fact that he hasn't been forced to is another perfect example of the political system in Springfield working to protect itself. It's why so many people in Illinois are cynical of government and things like this tell them they should be."
Mautino's campaign spent upwards of $225,000 at the same local gas station for gas and repairs to vehicles owned by him or those close to him, seemingly in violation of an election code rule that clearly stipulates campaign committees are only allowed to reimburse vehicle owners on a per-mile basis for the use of their vehicle, according to the Illinois Policy Institute.
More recently, his campaign accused of writing checks for approximately $150,000 in the name of a bank and cashed them using the campaign committee checking account, all while failing to keep receipts for most of the transactions.
State Rep. Grant Wehrli (R-Naperville) in 2017 had seen enough, filing a resolution calling for Mautino's ouster, but Dodge argues the damage has already been done.
"We never should have put someone with an ongoing, open and legitimate questions about their own financial disclosures in such a critical position," he said. "You don't put career politicians in a position like that. We need people in Springfield that are committed to serving the people and the state, not just interested in being another self-serving politician."
Want to get notified whenever we write about any of these organizations ?
Next time we write about any of these organizations, we'll email you a link to the story. You may edit your settings or unsubscribe at any time.
Sign-up for Alerts
Organizations in this Story
Citizens for Jim Dodge • Friends of Jim Dodge
More News