Dodge says 'no budget, no pay' ploy pulled directly from Madigan's playbook
Jim Dodge
Jim Dodge views House Speaker Mike Madigan as a master puppeteer pulling all the strings in the world of Democratic politics.
"It's absolutely part of Madigan's playbook to have candidates he controls say whatever they need to in order to win," Dodge told the Prairie State Wire. "We've all seen this behavior before, too many times in fact."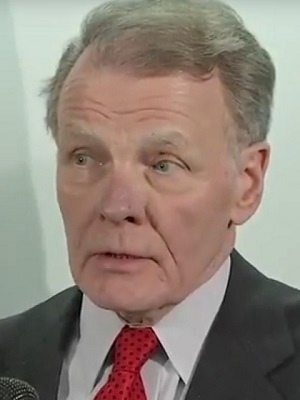 Illinois State House Speaker Mike Madigan
The longtime House speaker is suspected of being the mastermind behind "no budget, no pay" campaign mailers that were sent to residents in several districts, falsely implying that he stands in support of such legislation.
In truth, Madigan has long opposed it, going as far as to file a lawsuit against former Illinois Comptroller Leslie Munger to stop policies that would tie lawmakers paychecks to a balanced budget. Munger and several other GOP legislators recently held a press conference call attention to Madigan's campaign tactics.
"Shame on the political class in Springfield that we even have to have this conversation," said Dodge, running as a Republican for state treasurer against Democratic incumbent Mike Frerichs. "But power corrupts, and Madigan and his group will do anything to retain it."
While in favor of "no budget, no pay," Dodge said simply having a budget in place shouldn't necessarily be viewed as having completed the job.
"It's one thing to pass a budget, but to just do so without it really being balanced is just another gimmick," he said. "Someone has to level with taxpayers, and that's why I'm running. Right now, no one is talking about why the state has $200 billion more in debt than assets."
Taxpayers shouldn't expect those answers to come from Madigan, Dodge said.
"All he cares about is making sure the back channels are in place to keep him in power as House speaker," Dodge said. "The state is a mess and the deck is stacked against reforms with Madigan and (Democratic gubernatorial candidate) J.B. Pritzker lurking in the background."
Want to get notified whenever we write about any of these organizations ?
Next time we write about any of these organizations, we'll email you a link to the story. You may edit your settings or unsubscribe at any time.
Sign-up for Alerts
Organizations in this Story
Citizens for Jim Dodge • Friends of Jim Dodge
More News