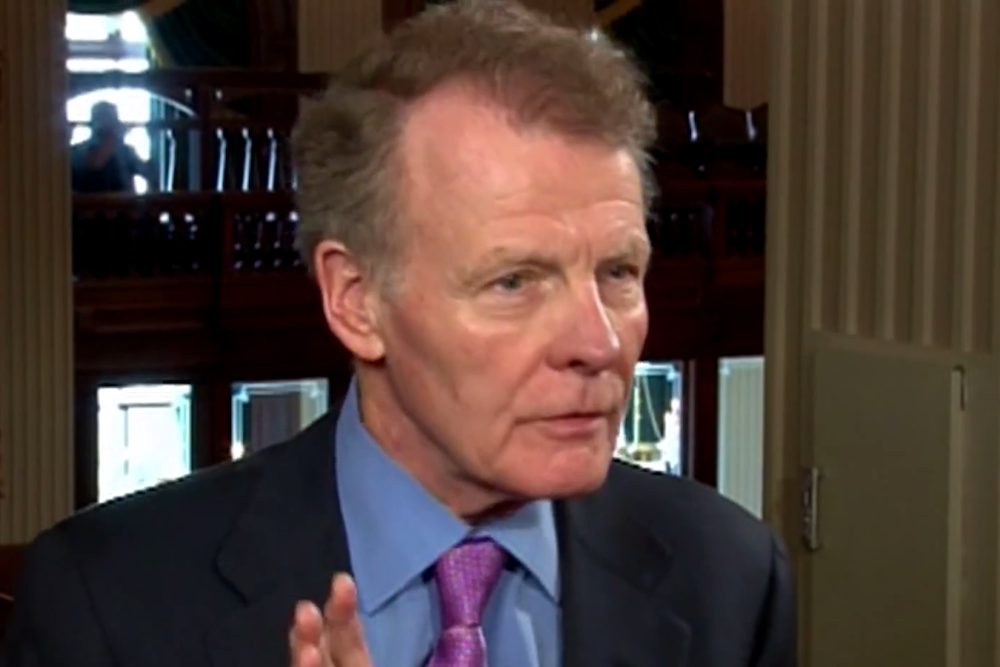 House Speaker Michael Madigan | Wikimedia
With only a week before voters go to the polls, Illinois House Speaker and Democratic Party Chief Michael Madigan has given $15.84 million to 25 state House candidates this election cycle, state filings show.
The latest Madigan funding was disclosed in reports filed with the Illinois State Board of Elections (ISBE) by candidate campaign committees.
Between Oct. 17 and Oct. 26, Madigan gave the 25 candidates $6.46 million, including $931,837 reported by Citizens for Maggie Trevor, a Rolling Meadows resident.

State Rep. Sam Yingling (R-Grayslake) has received $3,105,167 from House Speaker Michael Madigan over the years.
Other top recipients during that period included Terra Costa Howard in Glenn Ellyn ($892,417), Karina Villa in West Chicago ($900,044), and state Reps. Sam Yingling in Grayslake ($903,224) and Monica Bristow in Godfrey ($653,658).
Madigan's contributions came from campaign funds he controls, including his own committee, Friends of Michael J. Madigan, the Illinois Democratic Party and the Democratic County Chairman's Association of Illinois.
All-time, Madigan has given $25.25 million to the 25 candidates, according to an analysis of ISBE reports.
---
Madigan contributions Oct. 17 through Oct. 26
District
Dem. Candidate
Hometown
Oct. 17-26 Contributions
All-Time Madigan Contributions
62
Sam Yingling
Grayslake
$903,224
$3,105,167
112
Katie Stuart
Edwardsville
$63,764
$1,957,136
46
Deborah Conroy
Villa Park
$18,685
$1,732,786
56
Michelle Mussman
Schaumburg
$20,690
$1,712,291
48
Terra Costa Howard
Glen Ellyn
$892,417
$1,546,160
54
Maggie Trevor
Rolling Meadows
$931,837
$1,489,831
49
Karina Villa
West Chicago
$900,044
$1,441,820
111
Monica Bristow
Godfrey
$653,658
$1,422,984
53
Mark Walker
Arlington Heights
$132,687
$1,361,664
116
Jerry Costello, II
Smithton
$499,491
$1,159,008
96
Sue Scherer
Decatur
$15,441
$1,003,562
118
Natalie Finnie
Elizabethtown
$193,797
$737,516
61
Joyce Mason
Gurnee
$183,956
$737,113
42
Kathleen V. Carrier
Carol Stream
$155,200
$725,638
65
Richard Johnson
Elgin
$135,177
$724,333
45
Diane Pappas
Itasca
$239,033
$718,230
97
Mica Freeman
Plainfield
$77,322
$646,544
79
Lisa Dugan
Bradley
$135,858
$582,078
76
Lance Yednock
Ottawa
$75,631
$560,674
115
Marsha Griffin
Jonesboro
$36,139
$555,651
17
Jennifer Gong-Gershowicz
Glenview
$48,901
$531,731
59
Daniel Didech
Buffalo Grove
$62,273
$443,053
117
Jason Woolard
Carterville
$80,267
$237,469
57
Jonathan Carroll
Northbrook
$9,019
$96,605
85
John Connor
Lockport
$0
$18,251
Totals:
$6,464,511
$25,247,295
Source: Illinois State Board of Elections