People want alternative to Rauner, Ives says
Rep. Jeanne Ives (R-Wheaton) is counting on voters remembering all the reasons that made them clamor for her to challenge Gov. Bruce Rauner in the 2018 Republican primary in March.
"It's very sustainable, the anger over what Rauner has done," Ives said in a recent appearance on the "Illinois Rising" radio show hosted by Dan Proft on WIND. "I think you have a couple of different groups. One, they feel betrayed by him; they're outraged. Then there is another section that just feel like 'I give up.' You got two factions and Rauner created all of it."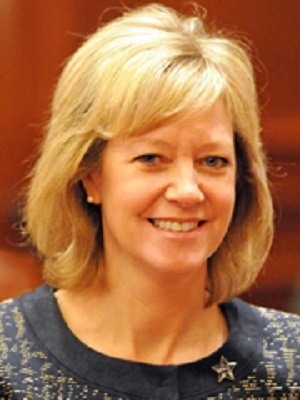 Illinois State House Rep. Jeanne Ives (R-Wheaton), running for Governor
Proft is a principal of Local Government Information Services, which owns this publication.
Ives, who recently said she plans to file nearly three times the 5,000 signatures needed to get on the ballot, added the trick for her will be staying connected with voters and letting them know there is a better way.
"Leadership matters," she said. "People are motivated for an alternative to Rauner on that ballot. We have to raise just enough money to get our message out and let people know what we stand for. We're working every single day on it and connecting people to this campaign. I truly believe that the resources will be there when we need them."
Ives said she is stoked by all the little things that dramatically demonstrate to her just how many people are behind her.
"What really hardens me is when you get a letter in the mail from someone in a town you have never heard of in the state of Illinois and it is a $10 check," she said. "That's what motivates me, those people believe the right leadership can turn this state around."
Ives said she is also empowered by all the support other lawmakers have shown her in aligning themselves with her campaign. At a recent fundraiser, she was joined by fellow state Reps. Allen Skillicorn (R-East Dundee), Margo McDermed (R-Mokena) and Tom Morrison (R-Palatine).
"My colleagues were some of the first people to call me saying you've got to get in this race," Ives said. "We tried working with this man for two years," she said of Rauner. "We counseled him and his staff when they didn't understand how things work down in Springfield."
Ives said it only took her just over three weeks to amass the signatures she collected and that signees come from at least 43 counties with 150 circulators working the job.
"The response has been overwhelming," she said. "I'm actually humbled by it."
The 52-year-old U.S. Military Academy graduate and mother of five has already chosen former Rock Island Rep. Rich Morthland as her running mate, with Chicago GOP Chairman Chris Cleveland serving as chairman of her campaign.
Ives previously vowed that her campaign will be about restoring common sense to the cash-strapped state and regaining the trust of frustrated voters.
"There is little trust between most Illinoisans and their government at many levels and for good reasons," she recently told the Prairie State Wire. "Top political leaders have lied to the people about who they are and what they are going to do, and they continue to make promises we cannot keep."
Want to get notified whenever we write about
Illinois Representative Jeanne Ives (R-42nd)
?
Next time we write about Illinois Representative Jeanne Ives (R-42nd), we'll email you a link to the story. You may edit your settings or unsubscribe at any time.
Sign-up for Alerts
Organizations in this Story
Illinois Representative Jeanne Ives (R-42nd)
More News