Sen. Sam McCann (R-Plainview)
Sen. Sam McCann (R-Plainview) had made his third-party run for governor official in a new YouTube video, where he blasts Gov. Bruce Rauner, along with Democrats, as failing Illinois and leading the state "down the wrong path."
In the video, McCann, who is running as a Conservative Party candidate, said the Rauner era has been highlighted by a period of "higher taxes, backward morals and disregard for the rule of law."
"It's time for a real transformation," he said. "(A)s conservatives we know and believe you can't spend money you don't have and that opportunities should exist for everyone, not just a chosen few."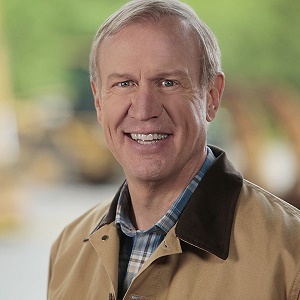 Gov. Bruce Rauner
McCann said his campaign for November's general election will be about restoring the values shared by most of the state's frustrated residents.
"As your governor, I will work with the General Assembly to repeal Rauner's tax increase, reduce property taxes for hardworking families and fight special interests," he said.
He pinpointed the issues of taxpayer-funded abortions and the city's "sanctuary" status as some of the first problems he would tackle from the governor's mansion.
Earlier this week, Prairie State Wire broke the news of McCann's planned run when several sources confirmed he was on the verge of formally announcing his candidacy.
Despite both being from the Republican Party, McCann and Rauner have long been at odds, with the governor moving to support Bryce Benton in his 2016 run against McCann, when he also contributed upwards of $4 million to his campaign.
All that came about after McCann publicly came down on the side of state workers during a stare-down with the governor over how state union workers contracts are structured.
Since announcing that he would not be seeking re-election in the 50th District this year, McCann has blasted Rauner for everything from signing abortion-expansion bill HB40 into law to turning the GOP into a party that is now "unrecognizable."
"I'm the only person in this race to consistently stand up to Rauner and (House Speaker Mike) Madigan and their machine for the rights of working people in Illinois," McCann said in the video.
"We need a governor who will support our federal government, deport illegal immigrants, stand up for the police who protect our families and defend our Second Amendment rights," he added.
McCann will need to collect at least 25,000 signatures to officially be placed on the ballot. His running mate is Aaron Merreighn.
In a statement, the Rauner campaign dismissed McCann as "the worst kind of political opportunist who is only running for governor to line his own pockets."
J.B. Pritzker is also on November's ballot for governor as the Democratic candidate.