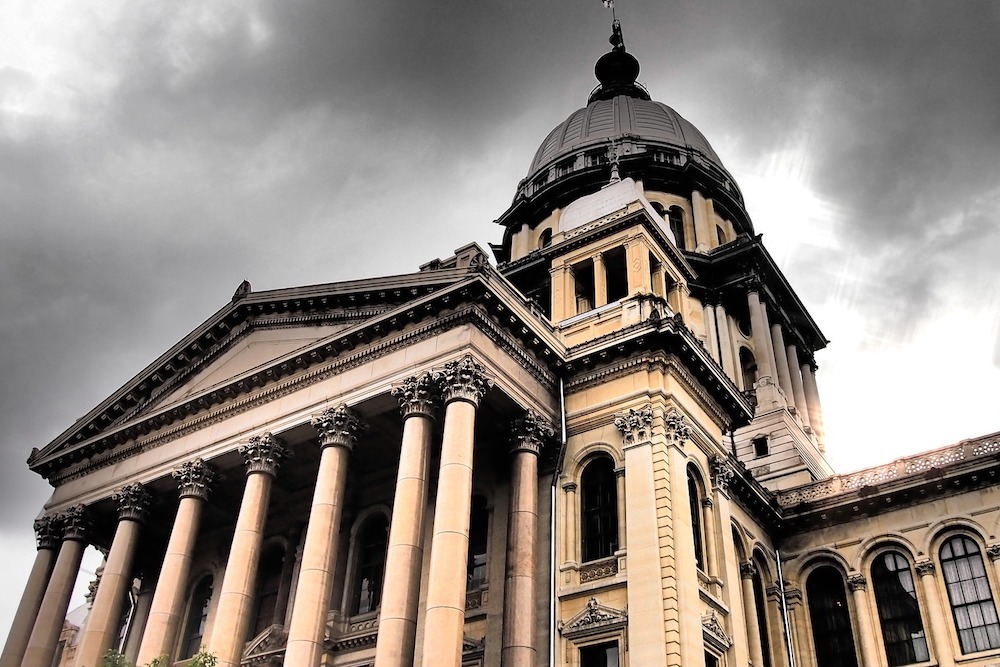 A proposed Homeless Bill of Rights was shot down in the House because of the many mandates it would impose on local government.
Introduced and withdrawn by Rep. La Shawn Ford (D-Chicago) during the April 25 House floor debate, HB5508, would mandate that if the local government asks a homeless person to move from a public space, they must provide shelter, transportation and medical treatment if the person has no place to go.
Rep. Peter Breen (R-Lombard) read back the bill text and the continuous use of the words "shall provide" on a list of services to the homeless that he said would be impossible to fund.
"It literally mandates on our local government to provide housing to everyone in the geographic area," Breen said.
After Breen said it would be a mandate of unspeakable breath, Rep. Patricia Bellock (R-Hinsdale) said she was bewildered at the command to provide permanent shelter for all homeless citizens.
"They must have a dialogue with the homeless person," Ford said, adding, "You can't just throw a homeless person out of a public park without providing them some sort of shelter."
Bellock brought up the Illinois Municipal League's opposition, asking Ford why they were oppossed, but Ford could not answer. However, he did say an impact study on the bill was performed and there would be no fiscal impact on local government.
But Rep. Margo McDermed (R-Mokena) then noted Ford's bill mandated a government position be created for "someone experienced in working with homeless people."
"I think local government has a responsibility to the people that they are governing over, so if they don't have someone to attend to the local homeless population then that is a poor local government," Ford said.
McDermed made it clear to provide what Ford's bill was mandating, which includes substance abuse and mental health treatment, job training and childcare as well as permanent housing and transportation, there would be a cost regardless of what his impact study revealed.
Backing up McDermed, Rep. C.D. Davidsmeyer (R-Jacksonville) wanted to know whose name was on the study. With no answer, Ford condescendingly did note the study author should have contacted very municipality.
"I assume they would at least contact the association that is actually opposed to your bill," Davidsmeyer said, adding, "The study is wrong, and I can find a study that goes along with anything."
There is a fiscal impact, Davidsmeyer said, and Ford was misinformed by the study author.
Davidsmeyer then said the bill limits the government from actually helping the homeless since if the government can't afford to help them, they can't even begin a dialogue Ford was mandating they have.
"You are either for helping the homeless population, or you are against it," Ford said.
Rep. Mike Fortner (R-West Chicago) debated the definition of the word "shelter" with Ford, who insisted that temporary lodging could be deemed a definite place to reside.
"Most shelters I know do not consider it to be permanent housing, nor do they try to be permanent housing," Fortner said. Then pointing to the bill's language, he added, "It says you have to offer a permanent housing option."
Rep. Jerry Lee Long (R-Streator) asked Ford what if a homeless person decided to sit at a Michigan Avenue intersection and block the right of way.
"Read the bill," Ford said.
"I did read it," Long said.
The debate become hotter when Ford accused Long of worrying about the "Michigan Avenue millionaires," comfort level while the homeless population needs help.
"You are not worried about the problem that we see before us," Ford said.
The bill contradicts itself, according to Long, who asked Ford to pull the bill from the record.
"I have heard the flaws of the bill and I will withdraw it and continue to work on it," Ford said.