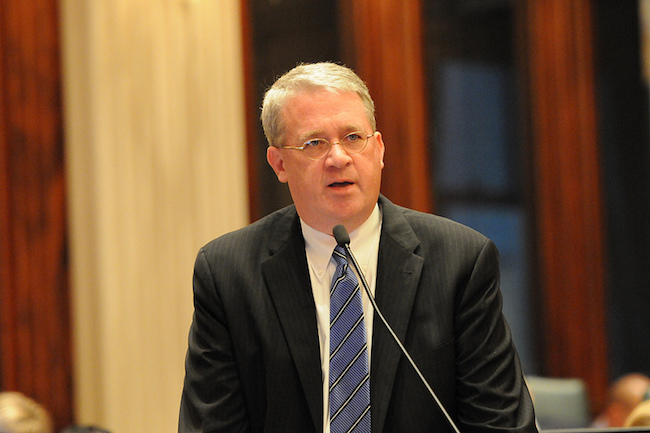 Minority House Leader Jim Durkin (R-Western Springs)
Nine GOP state lawmakers joined with Democrats to pass a bill to hike the pay of state agency department heads this week.
SB 3531 will immediately provide a 15 percent pay raise to state agency directors at a cost of $700,000 per year. Democratic Governor-Elect J.B. Pritzker has already made it clear that he will sign the bill into law.
The House vote on SB 3531 took place on Tuesday, the final day of the 100th General Assembly session while the Senate passed the measure today, the first day of the 101st legislative session.
Minority House Leader Jim Durkin (R-Western Springs) supported the bill and asked for Republicans to cross the aisle to vote for the pay raises.
Departing Rep. Jeanne Ives (R-Wheaton), who lost a close Republican primary race to former Gov. Bruce Rauner, was adamant in her disapproval of the legislation.
"I came down here to protect citizens," Ives said. "This body, not me, passed the 18th unbalanced budget in a row last year. We have lied to everybody. We have a spending problem here. Just simply getting more money for your directors is not going to change a damn thing. Nothing is going to change. You don't need directors getting paid more. You need to pass legislation that makes a difference on our pension debt and our spending. Paying them 15 percent more will do nothing for childhood education. What a farce. If you think this is a cure-all for Illinois, you're wrong. The cure-all sits right here and rests in this body. This body needs to change its policy and the direction of this state and you can do it. It's not by passing on higher salaries we cannot afford."
SB 3531 passed the House with 68 voting in favor, 37 voting against and two voting "present." In the Senate, it passed with 33 in favor and 22 against.
---
Republicans Who Voted In Favor of SB 3531
| | | |
| --- | --- | --- |
| Legislative Branch | Name | Party Affiliation |
| Senate | William E. Brady | R-Bloomington |
| Senate | Dave Syverson | R-Rockford |
| House | Tim Butler | R-Springfield |
| House | Tom Demmer | R-Dixon |
| House | Jim Durkin | R-Western Springs |
| House | Norine K. Hammond | R-Macomb |
| House | Michael P. McAuliffe | R-Chicago |
| House | Michael D. Unes | R-Peoria |
| House | Keith Wheeler | R-Oswego |
Source: Illinois General Assembly